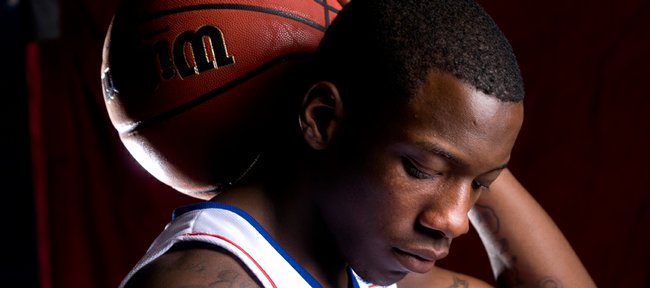 Basketball coaching legend Bob Hurley, Sr., who has won 23 state championships, three mythical national titles and more than 900 games the past 31⁄2 decades at tradition-rich St. Anthony High, remains a hoops junkie at the age of 61.
When he's not tutoring his own players at the Jersey City, N.J., prep powerhouse, he's watching games — lots of Kansas University games — at home on satellite TV.
"The KU package has been very good. I've been very excited getting to watch him play," Hurley said of his prized pupil — St. Anthony grad Tyshawn Taylor — who is off to a spectacular start his freshman season at KU.
"It's been so much fun. When Tyshawn spun against Syracuse and laid it in, Mrs. Hurley and I ... we were high-fiving each other," Bob, Sr., added of one of the highlight-film plays of the Nov. 25 CBE Classic contest in Kansas City's Sprint Center.
Hurley — who has coached five first-round NBA Draft picks — won't be shocked if No. 6 is Taylor, a 6-foot-3, 180-pound dynamo who Monday was named Big 12 rookie of the week.
"He's an athlete. There are so many things this kid is capable of doing," Hurley said of Taylor, who earned the conference honor after averaging 15.0 points and 5.3 assists in three KU victories.
"I'm impressed with the way he's guarding people. He's actually doing a better job defensively this year than last year."
Excelling at point guard
Taylor, who held Kent State senior standout Al Fisher to 2-of-11 shooting in KU's 87-60 victory on Dec. 1, is the Jayhawks' third-leading scorer at 11.8 points per game. He's also dished 3.8 assists per contest, compared to his 10.0 scoring, 5.0 assist average last year at 32-0 St. Anthony.
"We were so balanced last year. We had a team full of guards. He was the 2-man (with Fordham's Jiovanny Fontan the point)," said St. Anthony associate head coach Ben Gamble.
Taylor shared the wealth offensively on a team that included seniors A.J. Rogers (St. Joe's), Alberto Estwick (Fordham) and Jamee Jackson (Quinnipiac) as well as blue-chip juniors Travon Woodall (Pitt signee) and (undecided) Dominic Cheek.
"We had the best team in the country. We blew out high school teams by 30 points. I'd play 21⁄2, three quarters. I'd get 10 points the first half and that was it," Taylor said.
"I think I have a little more freedom here as crazy as it sounds. I may look to score a little more. I think I can score the ball pretty well, but if I can get the ball and swing it and somebody hits it, I feel better if they score. I can score as well as dish it out."
Taylor has 30 assists against 19 turnovers in eight games in his first year running the show. After scoring 23 points, but dishing just three assists in a Dec. 3 rout of New Mexico State, he distributed a career-high 11 dimes to go with 10 points against Jackson State the very next game.
"Playing point guard is an adjustment for me. I'm sure I'll get better at it soon," said Taylor.
Learning by doing
His only point guard experience in high school came during the summer months.
"We always thought at the next level he'd play the point, so in camp settings, coach Hurley put emphasis on Tyshawn running the team," associate coach Gamble said.
"During the offseason is when he developed his skills. When he came to Kansas last summer, we received early reports on how well he was handling being the point guard."
Attending both sessions of summer school — and playing in the KC Pro Am League where he scored 47 points, yes 47 points in a single game — definitely sped Taylor's development.
"When Tyshawn came back home in August for a few days," Gamble said, "people were impressed at how he had developed. His moves were a lot more explosive in going to the basket. I think weight training at Kansas has helped him a lot."
Though he's far from a finished product, Taylor has already had some big games and eye-popping highlight-reel plays — like his spin move and bucket versus Syracuse standout Jonny Flynn.
"That night they played Syracuse, it was loud in my house. Nobody went to sleep until 1 in the morning," said Taylor's mom, Jeanell.
"It was an exciting game. The spin move — everything I see him do — I say, 'My gosh look at my baby, my baby,'" she exclaimed.
"Everybody I know watched that game," Jeanell added. "That night I felt like a celebrity. Everybody was calling my phone saying, 'Did you see your baby? He's doing his thing.'
"Whenever Tyshawn is on TV, everyone is in the house watching. Coming from where we live ... there's a bond there where everybody sticks together and pulls together. Everybody wants him to do well."
Life in the fishbowl
Jeanell said Tyshawn — who is a role model for his little sisters Taquana (15) and Ghariana (6) — already feels like a celebrity in hoops-mad Lawrence.
"He says, 'Mom, everybody here loves me, loves the team. The fans are so great,'" Jeanell said. "Everytime we talk it's good, nothing negative. He talks about the people there a lot."
Fans and media members alike have compared Taylor —perhaps unfairly — to former KU standout Mario Chalmers.
"They wear the same number — that number 15," Jeanell said. "I don't mind them comparing him with Mario but I don't want them to think he'll do what Mario did. He is his own person.
"He will not overdo it trying to be somebody else to prove something to the fans. He'll try to stand out like Mario ... but he is Tyshawn."
Tyshawn Taylor smiles when asked about the Chalmers comparisons.
"I mean it's a compliment, he's in the NBA," Taylor said. "Mario was a great player here. I think a lot of people expect me to be him and I'm not. I'll try my best to be as good as I can be."
The sky is the limit, his current coach — Bill Self — says.
"Mario had a fabulous career here. I don't think any question Tyshawn is further along eight games into his career than Mario. He's further along than Sherron (Collins) was eight games into his career, further along than any guard I've coached eight games into his career — further along than Deron Williams was eight games in.
"That said, he has to be further along. He's had more opportunities to play," Self said.
"Tyshawn is playing 30 minutes a game. Mario wasn't playing that much. Will Ty be where Mario was, most outstanding player of the Big 12 Tournament as a freshman? That remains to be seen.
"If he can tighten his game a little — if he gets to the point where he can play every possession — I think he has a serious chance to be a fabulous player. He was Big 12 newcomer of the week and deservedly so. I don't think many players out there will have his type of freshman year," Self added.
That's athletically, academically and socially.
Taylor — who will head back to Jersey on Christmas Eve for a couple days then return to Lawrence with his mom and other family members who'll stick around for the Albany, Siena and Tennessee games in Allen Fieldhouse — simply loves the Midwest.
"It's a lot less stressful here. I love home, don't get me wrong, but the slower pace helps me out," said Taylor, who rooms with fellow New Jersey native Quintrell Thomas. "Just relaxing and not being so antsy. I prefer a pace like this.
"I knew coming in it'd be a great atmosphere — the coaching staff, players, trainers are great. This is living up to what I thought it'd be like and I thought it'd be very good."
More like this story on KUsports.com