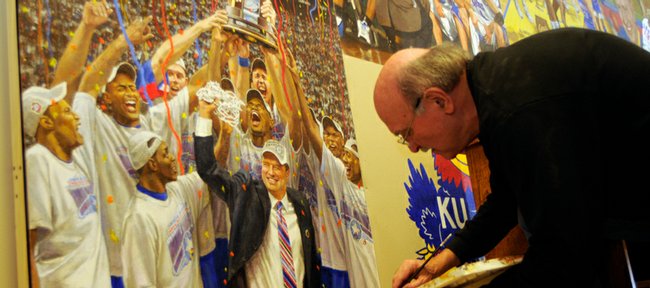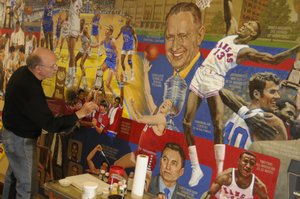 Local artist extraordinaire John Martin — who had created some eye-pleasing covers for Kansas Alumni Magazine — fielded a phone call from KU basketball coach Ted Owens back in 1979.
"Are you interested in painting a mural for the office?" Owens asked the 1959 KU graduate.
Of course, was the reply of Martin, who created a 3-foot-by-71⁄2-foot landscape featuring Dr. James Naismith, Jo Jo White, Owens and members of the Jayhawks' 1974 Final Four team.
On Monday — 29 years after the commissioning of the mural — Martin was back in KU's basketball office completing his latest addition to the masterpiece.
The addition depicts KU coach Bill Self and his players celebrating with the national title trophy in San Antonio's Alamodome — streamers dropping from the rafters — after KU's overtime victory over Memphis in the 2008 NCAA championship game.
"As far as ranking it ... it's one of my favorites. It's 29-years-old," Martin exclaimed. "You keep updating it and adding to it ... it has to rank as least a perennial favorite.
"I had no idea it'd have a life like this," added Martin, a portrait artist from Mission whose work can be seen at the Pentagon in Washington, D.C., as well the KU Alumni Center, buildings at the Universities of Texas, Michigan and LSU and board rooms of corporations all across America.
Martin stretched the mural — which now is 18 feet by 71⁄2 feet — during the Roy Williams era when the basketball offices were expanded, the walls able to sustain a much larger painting.
Martin added pictures of Danny Manning shooting over Oklahoma's Stacey King in the 1988 NCAA title game, shots of coach Larry Brown and various celebratory memories from Williams' four Final Fours.
When Self became the third KU coach to ask Martin to add onto the acrylic painting, Martin — who attended the 2008 Final Four — immediately had a vision in mind.
"Once I saw the streamers and fireworks going off after the national championship game ... that to me was really spectacular. I tried to capture that," he said of KU's April 7 celebration in the Alamodome.
He succeeded.
"It's amazing to me how he can capture that moment and bring it to life in a painting," Self said. "John's addition is first-class, just like the other pieces on the mural. It is definitely the first thing you notice when you come into our basketball office. He's a fabulous painter. It's really cool."
The mural for years has been a must see for those who visit the hoops office in Parrott Athletic Center.
"Everybody looks at it," said Barry Hinson, KU's first-year men's basketball director of external relations. "Not only do they look at it, they appreciate it. They appreciate the fact it shows the significance of the tradition in basketball at KU.
"I love it," Hinson added on a personal note. "I actually saw it for the first time with coach Self when we came to work coach Brown's camp (in 1980s). Today, I was not only was able to see it get put up, but I got to meet the artist. It doesn't get any more special than that."
The 72-year-old Martin — who has painted commissioned portraits of former major-league baseball commissioners Bowie Kuhn and Ford Frick; Kansas City Chiefs owner Lamar Hunt; golfers Arnold Palmer, Jack Nicklaus and Tom Watson; baseball Hall of Famers Joe DiMaggio, Ted Williams, Stan Musial, Willie Mays, Hank Aaron and George Brett; NFL Hall of Famer Len Dawson; and NBA Hall of Famer Bob Cousy — hopes to receive a call in the not-so-distant future asking him to tinker with the mural again.
"Any Final Four or national championship, and we'll add to it," Martin said.
More like this story on KUsports.com