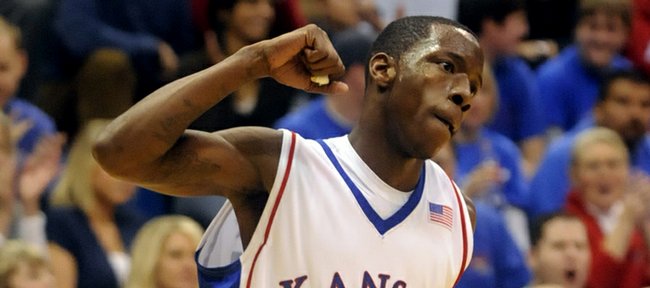 Podcast episode
The guys (Dugan Arnett, Jesse Newell) wrap up KU's 100-79 victory over New Mexico State. The two give their offensive and defensive grades, name their most valuable and least valuable players and talk about what they liked and didn't like from the Jayhawks in their 21-point win.
KU vs. New Mexico State
Reader poll
KU's 2005 team (6 games in)

32%

173 votes

KU's 2008 team (6 games in)

67%

365 votes
538 total votes.
Tyshawn Taylor scored a career-high 23 points, leading the Kansas Jayhawks to an 100-79 victory over the New Mexico State Aggies on Wednesday at Allen Fieldhouse.
Taylor went 8-for-14 from the floor, which included three dunks.
"Every single one of my teammates and the coaches said something to me about missing that dunk (on Monday), so I felt I just had to," Taylor said.
Fellow guard Sherron Collins finished with 15 points and 11 assists. Cole Aldrich added 13 points and 13 rebounds.
KU struggled some in the first half, committing 11 turnovers while allowing the Aggies to make 50 percent of their shots (11 of 22) from the floor.
The Jayhawks also had foul troubles, as Aldrich, Markieff Morris and Marcus Morris all picked up two first-half whistles.
Despite having a smaller lineup, KU ended the half on an 11-4 run to take a 42-31 lead into the break.
The Jayhawks led by as many as 26 in the second half, and Matt Kleinmann hit a left-handed hook shot with 4 seconds left to push KU to 100 points. It was the 100th time KU had hit 100 points in its history and the seventh time it had happened in the Bill Self era.
KU scored 40 bench points, led by Tyrel Reed and Quintrell Thomas. Reed had 12 points, making 4 of 6 three-point attempts, while Thomas posted 10 points on 5-for-5 shooting. He also added seven rebounds in 17 minutes.
The Jayhawks made 24 of 37 shots in the second half (65 percent). The 24 second-half field goals were the most in a half for KU since the team made 24 in the first half of its Final Four victory against Marquette on April 5, 2003.
New Mexico State (2-2) was led by Jahmar Young, who had 17 points and four assists.
KU (5-1) will take on Jackson State at 1 p.m. Saturday at Allen Fieldhouse.
Kansas scoring
Tyshawn Taylor 23, Sherron Collins 15, Cole Aldrich 13, Tyrel Reed 12, Quintrell Thomas 10, Markieff Morris 8, Marcus Morris 6, Tyrone Appleton 4, Brady Morningstar 3, Conner Teahan 2, Travis Releford 2, Matt Kleinmann 2.
Collins also had 11 assists.
KU 100/NMSU 79 — FINAL
Taylor's dunking everything now. On a cut to the basket, he finished with a one-hand, tomahawk slam, much to the delight of the KU fans. Looks like he's got his "bounce" back to me.
The slam even inspired Markieff Morris, who in transition got up high enough to dunk it home.
Reed drained another three — his fourth of the game — and for the second straight contest, KU is pulling away late.
Off a missed airball by Aldrich, instant-offense Releford catches it in mid-air and puts it in for two.
Tyrone Appleton drive to the rim for two, and KU empties its bench with 1:18 left.
Appleton, on dribble penetration, puts another two off the glass and in.
Matt Kleinmann puts in a lefty hook off the glass in the final seconds, giving KU 100 and sending the fans home happy. The Jayhawks win convincingly, 100-79.
KU 83/NMSU 63 — 3:44 left in game
Markieff Morris shows he can throw an oop, lofting the ball from the top of the key to Aldrich inside for a slam.
Taylor follows with his own dunk, driving down the middle of the lane before throwing it down. He looked to the KU bench afterwards. Maybe someone told him he couldn't do it.
Collins makes a nice pass inside, and Markieff Morris finishes with a layup.
That's two good passes inside in a row for Collins, as a lob into Aldrich gets the big man two free throws. Aldrich hits both.
Taylor gets in on the rush of assists, throwing inside to Aldrich, who pivots a few times before rattling in a short shot.
KU 73/NMSU 57 — 7:55 left in game
Reed is left alone in the corner again, and he hits another trey. Best of all, he didn't hesitate and shot with confidence. A few more of those should boost his playing time.
After a Reed rebound, Morningstar gets the ball to Thomas inside. Thomas gathered himself in the lane before putting in a baby hook for two.
Reed gets called for a cheap foul. Collins takes his mouthpiece out to settle him down: "You all right. You all right."
Aldrich shows an NBA move against a double-team, reversing to his back shoulder before putting in an 8-foot fadeaway off the glass and in.
KU 66/NMSU 51 — 10:55 left in game
Taylor misses a three from the wing, but Aldrich is working hard inside and pulls down the offensive board before sticking it in for two.
Gordo Castillo drains a three from the corner, and KU's lead is back down to eight. The Jayhawks haven't defended the outside well tonight, and the Aggies are 7-for-16 from deep (44 percent).
After a Collins layup, Castillo is left alone in the corner again, and he hits another three. A displeased Self calls timeout with KU's lead down to 58-51. The Aggies are 4-for-5 from three-point range in the second half.
A nice feed inside from Collins to Taylor, who finishes with a dunk.
Collins hits a three from the left wing, and after a Markieff Morris block, Reed swishes a three from the side against the zone.
KU 54/NMSU 43 — 15:28 left in game
Taylor spins a shot in on KU's first possession. He couldn't get any short shots to rattle in Monday, but tonight, everything seems to be falling.
Marcus Morris misses a 4-footer, but as is his style, he gets the points later on the same possession by tipping in an Aldrich miss.
Taylor goes way up to pull down a rebound on the defensive end, and he's not letting go of it, ripping it away from a pair of NMSU defenders. Taylor took the rebound all the way to the other end, where he was fouled going up for a shot. He made one of two free throws.
Taylor is starting to take over offensively, as he drives baseline, leaps, brings the ball down to his waist before pushing it back up off the glass for a lay-in.
Gillenwater hits a three for NMSU, which won't seem to go away. Aldrich gets an easy lay-in after receiving a lob pass inside.
Kansas scoring
Tyshawn Taylor 14, Sherron Collins 8, Quintrell Thomas 6, Marcus Morris 4, Brady Morningstar 3, Tyrel Reed 3, Conner Teahan 2, Markieff Morris 2.
KU was 15-for-34 in the first half (44 percent), while NMSU was 11-for-22 (50 percent). KU out-rebounded NMSU, 22-9.
The Aggies had 12 first-half turnovers, but the Jayhawks had 11 of their own.
KU should be in good shape for the second half by getting Aldrich and the Morrises all back on the floor after battling foul trouble. In all honesty, the Jayhawks were in survival mode late in the half with a small lineup, and they were still able to extend their lead from four to 11 in the final three minutes.
KU 42/NMSU 31 — Halftime
Big foul for NMSU, as Gillenwater picks up his third whistle on an offensive foul. The Aggies are already getting out-rebounded, 19-8, and the loss of their 6-foot-8 freshman won't help.
KU hasn't scored since the 6:47 mark, and another Jayhawks' turnover gives NMSU an easy two.
Collins breaks the drought at the 2:34 mark, floating in a shot from the baseline before completing the three-point play with a free throw.
NMSU goes back to the zone and pays for it. Morningstar gets it inside, then delivers a bounce pass to Thomas for a dunk. The fans go wild, as they haven't seen many dunks from big men other than Aldrich this year.
Gibson also picks up his third foul for NMSU, and he comes out. Taylor makes a pair of free throws, and KU's up nine at 38-29.
NMSU forces another pass for a turnover, and on the break, Collins dances around a defender inside before putting in a layup.
Hamidu Rahman gets a driving layup and foul with 4 seconds left before missing the free throw. That proves costly for NMSU, which commits an over-the-back foul on the rebound.
Teahan makes both freebies, and KU takes 42-31 lead into the break.
KU 31/NMSU 25 — 3:53 left in 1st half
Taylor hits a pair of free throws. He's up to 10 points just 12 1/2 minutes in.
Taylor follows with another two, arcing it high off the glass, but Troy Gillenwater hits a two and Jonathan Gibson gets a three in transition to cut KU's lead to 31-25. Timeout KU.
The Jayhawks have gone with an extremely small lineup, with Morningstar at the four and Thomas at the five. It's been tough to find scorers, even with Collins out there.
KU 27/NMSU 20 — 7:45 left in 1st half
Markieff Morris gets a layup off some fancy passing inside by the Jayhawks. The assist goes to his brother, Marcus.
Markieff Morris breaks open on a pick-and-roll, but his layup attempt is blocked from behind. The next possession, Markieff wraps a nice pass inside to his brother, who lays it in for two.
Releford checks in, but he immediately turns it over while trying to dribble in traffic. Markieff Morris is whistled for an intentional foul on Jahmar Young, but Young makes only one free throw and NMSU follows with an airball.
Conner Teahan has checked in. Self's gone much deeper to his bench tonight as compared to the last few games. I don't think he's happy with his team's defense. Also, both Morris twins have two fouls.
KU 21/NMSU 12 — 11:19 left in 1st half
Quintrell Thomas gets some early minutes, and he immediately makes his presence known. He puts in a 14-foot jumper, and on the next possession, he follows a Collins three-point miss with an offensive rebound and lay-in.
Aldrich picks up his second foul at the 13:20 mark, and Self sends in a Morris twin to replace him.
NMSU hasn't looked fazed so far. Most impressive is that the Aggies have made 4 of 7 shots (57 percent) in the earlygoing.
The Aggies go to a zone, and Collins penetrates to the middle before finding an open three from the side. This KU team attacks zones about as well as any team I can remember under Self.
After an NMSU turnover, Taylor finds Collins with a nice bounce pass in transition, and Collins drains the open three. Quick 6-0 run KU, which forces an Aggie timeout.
One of NMSU's strengths coming in was its low turnover total, as the Aggies turned it over just 13 times per game. Eight minutes in, and the Aggies already have seven turnovers tonight.
KU 11/NMSU 5 — 15:32 left in 1st half
Taylor grabs the tip and immediately races to the basket, going up to slam it before softly dropping it in.
Collins gets a steal on the next possession, and his fast-break layup misses before Marcus Morris tips it in.
KU starts up full-court pressure, and Aldrich gets a steal in the back-court. Marcus Morris gets a nice pass inside, but instead of going up strong, he fades away from contact and misses an easy shot.
Taylor beats the shot clock with a finger-roll in the lane, and this time, his short shot bounces off the rim and in.
Taylor skies for a two over an NMSU defender, and on the other end, he bounces the ball off an Aggie out of bounds for a steal.
Morningstar, behind a screen, steps confidently into a three-pointer from the left wing and drains it. He's now shooting better than 50 percent from beyond the arc.
7:04 p.m.
As expected, no changes in the starting lineup: Collins, Aldrich, Marcus Morris, Morningstar, Taylor.
6:55 p.m.
A few more fans in the northwest corner tonight, but still plenty of seats available. We'll see if that fills in before the night is over.
2005 vs. 2008
Record: 3-3 (2005) / 5-1 (2008)
Scoring: 76.8 ppg / 80.3 ppg
Points allowed: 62.5/ 59.5
Field-goal percentage: 46.6 %/ 47.1 %
Opposition FG percentage: 34.7 % / 34.4 %
Three-point percentage: 30.2 % / 34.1 %
Free-throw percentage: 71.8% / 71.4%
Rebounds per game:41.5/ 42.5
Assists per game: 17.0 / 16.7
Turnovers per game: 15.8 / 13.7
Blocks per game: 7.2/ 6.0
5:58 p.m.
Welcome back to The Newell Post Live, coming to you from Allen Fieldhouse where the Kansas Jayhawks are getting set to take on the New Mexico State Aggies.
On Tuesday, KU coach Bill Self was asked to assess this year's team compared to where he thought it would be at this point.
"We're nowhere close to where we need to be," Self said. "Certainly, we're further along than what that team was three years ago at this same stage, I don't think there's any doubt about that. But that team had great room for growth. It remains to be seen if this team can play to that level at the end of the season (like) that team did."
That made me think: What if this year's team, six games into the season, played the 2005 team, six games in. Who would win?
Let's look at the team stats from both teams through six games (the better team is bolded in the chart on the left; special thanks to KU men's basketball sports information director Chris Theisen for the stats). Keep in mind, the 2005 team's first six games were against Idaho State, Arizona, Arkansas, Chaminade, Nevada and Western Illinois. This year's team has played UMKC, Florida Gulf Coast, Washington, Syracuse, Coppin State and Kent State.
A few quick observations.
• The 2008 team wins, 8-3, in the categories listed above.
• This year's team, somewhat surprisingly, is much better offensively than the 2005 team through six games.
• I'm surprised that, even at 3-3, the 2005 team held opponents to 34.7-percent shooting. That's lower than I would have guessed. The 2008 team has been playing great defense this year (KU was sixth nationally in field-goal percentage defense in the last Division-I rankings), yet the team is only percentage points lower than the 2005 squad.
Let's look at the individual matchups:
Starters
Point guard
Russell Robinson (2005) vs. Sherron Collins (2008)
Robinson was a role player as a sophomore, averaging 6.5 points and 2.0 assists per game. Collins, meanwhile, is KU's go-to guy this year, leading the team in scoring in five of six games. The junior is averaging 18.3 points and 3.8 assists per contest. Collins wins this battle easily. Advantage: 2008
Shooting guard
Jeff Hawkins (2005) vs. Tyshawn Taylor (2008)
Hawkins, like Robinson, was a good role player for KU. Though he didn't score much (3.3 points per game), he led the team in assists through six games with 4.5 per contest. Taylor, meanwhile, is the quickest 2008 Jayhawk, and he seems to be improving each game. Taylor is third on the team with 10.2 points per game while also chipping in 2.7 assists and 1.5 steals per game. I'll take Taylor in this one. Advantage: 2008
Small forward
Brandon Rush (2005) vs. Brady Morningstar (2008)
This isn't as much of a mismatch as many fans would have thought a few weeks ago. Rush, still developing his game as a freshman, was second on the team with 13.7 points per game. He also had made 6 of his14 three-pointers (43 percent) and posted 5.3 rebounds per game. Morningstar has come on strong as of late, as he's up to 8 points per game (fifth on the team), making 8 of 16 three-pointers (50 percent) to go with 2.7 rebounds, 2.7 assists and 1.8 steals per contest. I still have to go with a raw Rush. Advantage: 2005
Power forward
C.J. Giles (2005) vs. Marcus Morris (2008)
Through six games in 2005, C.J. Giles looked to have star potential. He had a career-high 21 points against Chaminade (on 9-for-9 shooting) and was third on the team in scoring through six games, averaging 9.7 points to go with 7.5 rebounds. He also had made 27 of his 49 field-goal attempts (55 percent). Morris, meanwhile, looks to be blossoming into the inside presence that the Jayhawks need him to be. He's fourth on the team in scoring, averaging 8.5 points and 7.5 rebounds per game. His field-goal percentage (43 percent) and free-throw percentage (54 percent) have room for improvement, though, giving a slight six-game edge to Giles. Advantage: 2005
Center
Sasha Kaun (2005) vs. Cole Aldrich (2008)
This is one of the toughest to call. Through six games in 2005, Kaun led the team in scoring with 14.5 points, though that total was a bit inflated by a career effort against Idaho State (25 points, 16 rebounds). He also was averaging 8.5 rebounds and was shooting 57 percent from the floor. Aldrich, meanwhile, might be the Division-I's most improved player, taking over a leadership role for this year's team. He's averaged 14.8 points (second behind Collins), 10.0 rebounds (first on the team) and 2.8 blocks per contest. He also has made 58 percent of his shots and an impressive 89 percent of his free throws. Aldrich takes down Kaun in this battle of the big men. Advantage: 2008
Bench
Micah Downs, Mario Chalmers, Julian Wright, Christian Moody (2005) vs. Tyrel Reed, Travis Releford, Markieff Morris, Quintrell Thomas, Conner Teahan, Tyrone Appleton (2008)
Well, no one can say that Self didn't have options off the bench in 2005. Two future NBA players (Chalmers, Wright) to go along with a talented Downs and a nice role player in Moody. Downs (7.2 ppg), Chalmers (7.2 ppg) and Wright (6.5 ppg) weren't scoring much yet, but fans could start to see their potential. The 2008 KU squad has yet to develop that kind of depth, as Reed (5.8 ppg), Markieff Morris (5.2 ppg), Releford (5.2 ppg) and Thomas (1.8 ppg) still seem to be finding their roles on this team. Advantage: 2005
How would the game turn out? The 2005 team takes the early lead behind the hot shooting of Brandon Rush, and the 2008 squad looks to be in trouble after two early fouls from Cole Aldrich forces him to the bench. Sasha Kaun takes advantage with 10 first-half points, and the 2005 squad takes a 32-29 lead into halftime in a defensive struggle. Sherron Collins, however, starts to take over in the second half, and the 2005 squad struggles to find an answer defensively. Collins scores 18 of his game-high 23 points in the second half, and Aldrich hits 7 of 8 free throws down the stretch to lead the 2008 team to a six-point victory.
Prediction: 2008ers 71, 2005ers 65.