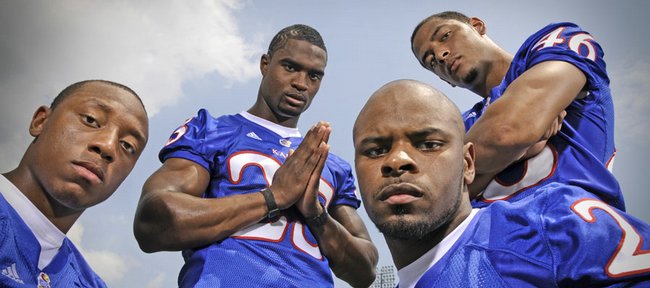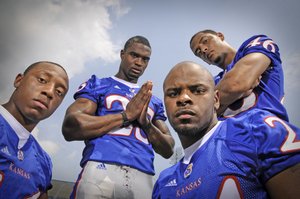 In its final test of the 2007 season, the Kansas University secondary stymied Virginia Tech's passing attack into just 171 yards, less than a 50 percent completion rating and three interceptions in the Jayhawks' 24-21 Orange Bowl victory.
It was the perfect exclamation point to a season that began with major questions about whether KU could improve its woefully low pass-defense ranking (119th in the nation) from 2006.
So now what?
Does that secondary look the same without No. 3 streaking down the Virginia Tech sideline for a touchdown and a 7-0 lead? Does that secondary carry the same type of swagger without All-American Aqib Talib speaking for it?
"Everyone's always talking about who we lost, but what they don't realize is the young guys who we had step up last year are now returning veterans," safety Justin Thornton said. "We've got plenty left."
From Thornton and Darrell Stuckey at safety - the two most experienced players in the defensive backfield - to sophomore sensation Chris Harris, who figures to inherit Talib's role of covering opposing teams' top receivers, the KU secondary appears to be in good hands.
Three starters return from a unit that improved its efficiency ranking by 70 spots, to 49th, and played a huge role in finishing the season ranked 12th in total defense. Perhaps more importantly, two other defensive backs who started at least three games in 2007 also return, giving KU five proven bodies in the defensive backfield.
Beyond the veterans, Stuckey and Thornton, Harris has received most of the preseason hype. In starting 10 of 13 games as a true freshman in 2007, Harris was sixth on the team in total tackles (65) and interceptions (2).
That, Harris says, was just the start.
"Last year I was just overwhelmed, just never knowing what to expect," he said. "This year, the game's slowed down so much. I know what's going to happen, and I do my job easily now.
"I want to have eight picks, go undefeated, win the Big 12 North, and just have a successful season," he added.
That list of goals might not sound so simple, but at least it gives a glimpse of which player is ready and willing to replace Talib in the swagger department. Replacing him on the field might not be as easy.
"You're not going to get a lot of those guys like Aqib," Mangino said. "He could make things happen in his own individual way. Chris Harris and those other guys can make things happen in a different way, within the scheme. Aqib could find a way to make a bad thing good. He was just one of those guys and they don't come along that often. So none of them have turned into an Aqib type player yet."
Despite the loss of Talib, Mangino likes what he's seen from his cornerbacks thus far.
"We've got some guys who are stepping up and playing well, including the young guys," Mangino said. "Obviously, Chris Harris and (senior) Kendrick Harper played a year ago and (red-shirt freshman) Isiah Barfield has come in and had a nice camp. Isiah is going to be a very good player. So with those three guys stepping up at corner they are more than capable. They're Big 12 football players."
There was a time not so long ago, when just saying that meant something at KU. Now, that status is expected, the coaches expect it, the fans expect it and, perhaps most importantly, the players themselves believe it.
"We have enough experience, confidence and skill to be just as good, if not better than we were last year," Thornton said.
Seniors Tang Bachieye, voted by some as the hardest hitter on the team, and Patrick Resby, a safety who started nine games in '07, add even more depth and experience to the KU defense.
Also in the mix for playing time are red-shirt freshmen Ryan Murphy, a former Free State High standout, and Eric Tyler, from nearby Kansas City, Kan., along with red-shirt sophomore Phillip Strozier, from Missouri football factory Rockhurst High, and true freshman Corrigan Powell, listed as the backup to Harris on the latest depth chart.
More like this story on KUsports.com