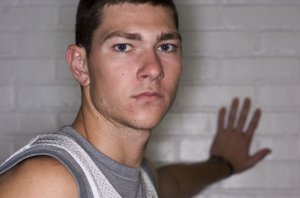 Audio clip
Tyrel Reed interview
After attending summer school, working basketball camps, lifting weights, playing pick-up games with his Kansas University teammates and competing in the Kansas City Pro-Am League - all after a hectic, eye-opening freshman year - Tyrel Reed needed a little break.
There was no place better for the Jayhawk sophomore guard to catch his breath in late July/early August than his hometown of Burlington, Pop. 2,707.
"The most fun thing I did all summer? It was just going home to see my family. You don't get to do that a whole lot," Reed said. "I went back to Burlington. It's a small town, not a lot going on. It was just kind of nice to be there and relax."
The 6-foot-3, 185-pound Reed is a hometown hero in Burlington, and not just because he was part of KU's 2008 national championship team.
In helping Burlington High to records of 26-0, 22-1, 23-1 and 24-2, he amassed school-record totals in points (1,710), steals (323) and assists (365).
"Burlington is a great community. They've all been supportive of everything I've done. They appreciate my hard work, I guess," said Reed. He scored 47 points and dished 21 assists against four turnovers while playing in 23 games during an injury-plagued freshman season at KU.
"I don't consider myself a celebrity at home. You've got Cole, my roommate, I consider him a celebrity," he added of sophomore center Cole Aldrich.
"Everybody knows him after the Carolina game. Just today on campus, he called me on the phone. He said, 'Do you see me?' I said, 'Of course I see you, you are the tallest guy on campus.' He's not hard to spot from anywhere. He's the celebrity."
Reed, who figures to play both point guard and shooting guard this year, would love to join the 6-11 Aldrich on the court for meaningful minutes.
For that to happen, coach Bill Self has said Reed must become more aggressive and be one of the team's top shooters.
"Defense ... with coach Self it's his big thing. We've been a great defensive team the past few years. Hopefully we'll do that again this year," Reed said. "I will have to be a good defender to be out on the court.
"Coach Self plays an aggressive style out there. If you are aggressive on offense and can play defense, I think there's always a spot."
Reed, who is one of four returning scholarship players from the title team, tried to show some leadership over the summer and in workouts since the start of school.
"I try to talk a lot during practice and help our younger guys get through some things," Reed said.
"During the summer, I tried to help show them different things. Just how we play ball screens, how we get in our offense, just the basics. We have smart young guys. They pick things up pretty fast. I think that will be a trend throughout the whole year."
Reed is hoping to shake the injury bug his sophomore season. He suffered a pair of severe ankle sprains that limited him a year ago.
Coincidentally, his sister, KU team manager Lacie, currently is on the injured list. She's been sporting a heavy wrap on her knee at pre-Labor Day Canada trip practice sessions.
"My sister didn't tear her ACL, she had to get it cleaned up. She had it scoped," Tyrel said. "They looked at her knee and it was pretty messed up. They did four other things to it. It's from basketball when she was younger. She's dislocated both knees. She's had it all."
¢ Still no word: There was no word from the NCAA Clearinghouse regarding eligibility of Marcus and Markieff Morris on Monday. KU coach Self said if the two are cleared at any time this week, they'll travel with the team Friday to Canada for KU's three games in Ottawa over Labor Day weekend.
¢ Golf benefit: KU coach Self held his annual Boy Scouts of America Classic on Monday at Lawrence Country Club.
"There are so many great causes and you can see this is a good one because of the number of people who turn out to support it and they have for years," he said of the more than 100 golfers who played a scramble. "Any time you put your name on something that is as positive and does as much for youth as Boy Scouts has done over time, that's a nice honor. I do hope the community helps fund this because so many causes need funding. This is certainly one of them," Self said.
More like this story on KUsports.com