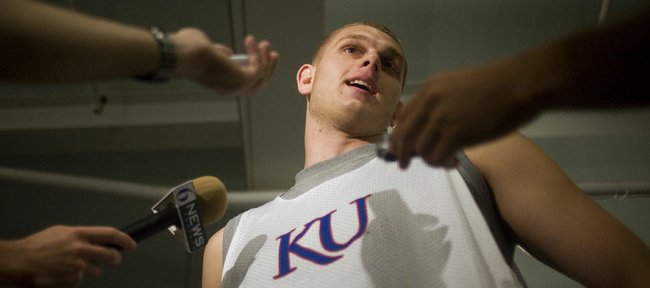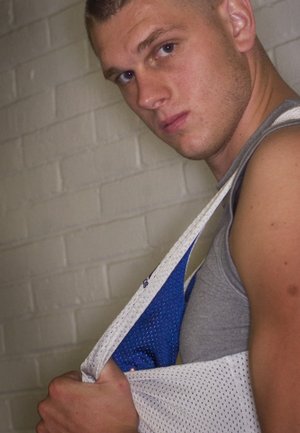 Audio clips
2008 KU basketball practice Aug. 22
All work and no play makes for a brutally dull summer vacation.
So Kansas University sophomore center Cole Aldrich, who served as a counselor with other college standouts at the Adidas Nations camp in Dallas and spent countless hours in the gym and weight room, also fit in some down time during June and July.
"I went out on the lake, went swimming once or twice. I kind of shot the breeze one or two days," Aldrich, KU's 6-foot-11, 240-pounder from Bloomington, Minn., said Friday afternoon at Allen Fieldhouse, before one of the Jayhawks' practices leading up to their Labor Day weekend trip to Canada. "I was spotted at Clinton Lake once or twice this summer."
He wasn't doing anything crazy like risking the waves water skiing.
"I used to do that when I was a kid. Now it's just basketball," Aldrich said of how he gets his thrills.
Aldrich - one of the heroes of KU's NCAA Final Four semifinal victory over North Carolina - said his national-championship offseason started slowly before he picked up the pace the past month or so.
"It was tough going through a seven-month season," Aldrich said of his freshman campaign. "I just wanted to sit on the couch a little bit. Toward the end of the summer, it was really productive.
"I went to Adidas Nations. It was really fun. We had some great workouts there," he added of pick-up games involving UCLA's Darren Collison and Jrue Holiday, Baylor's Curtis Jerrells and Kevin Rogers, Memphis' Antonio Anderson, Duke's Nolan Smith, Louisville's Terrence Williams, Pitt's Tyrel Biggs and Dejuan Blair and others.
"I worked out with one of my friends toward the end of the summer and really started to get into the groove of playing basketball."
Aldrich reported to KU in great shape. He has been singled out as an early bright spot by coach Bill Self.
"He's doing great," said Self, who has put his team through three practices with more on the tap this weekend and through next week. "Cole now would lead our team hands-down."
Aldrich and 6-11 senior walk-on Matt Kleinmann showed strong leadership skills over the summer in assisting KU's seven newcomers.
"Kleinmann and myself told Quintrell (Thomas, 6-7 forward) and the twins (Marcus Morris, 6-8, and Markieff Morris, 6-10) the different things we do in practice to give them a little edge," Aldrich said. "We showed them the post moves we work on at practice, a lot of footwork stuff. The main thing is footwork and angles at our level."
The twins have yet to appear at pre-Canada practices as they await clearance by the NCAA. That leaves KU with a shortage of big bodies, quite a different situation from a year ago when big men were prowling everywhere.
"Yes, definitely," Aldrich said, asked if he misses Darrell Arthur, Darnell Jackson and Sasha Kaun, who sometimes made life miserable on him at practice.
"Last year, I was the fourth big guy in the rotation behind the other guys. When I got on the court, I couldn't believe how fast everything was. Toward the end of the season, things started slowing down. With the help of Darnell and the other big guys, I learned a lot.
"They know so much about the game. I talk to them every once in a while to see how everything is going. It's exciting to know last year I played against three guys that are in the NBA. If Sasha wasn't in Russia (to play pro ball) he'd be in the NBA."
Aldrich said he'll do everything possible to step up his game in the absence of his big-men buddies.
"Basically, it's night and day," he said of his role this year compared to last year. "I'm one of our main guys on our team now. It's real exciting to go through the transition, progressing over the course of freshman year to sophomore year to junior year. Different expectations come with that."
Those expectations grew after Aldrich burned North Carolina All-America pivot Tyler Hansbrough for eight points, seven rebounds and three blocked shots in KU's 84-66 NCAA semifinal victory in San Antonio.
"I was doing the same things I was doing every other game, just on a bigger stage," said Aldrich, who averaged 2.8 points and 3.0 boards a game for the national champs.
He recalls what UNC coach Roy Williams said to him after the game that preceded the Jayhawks' 75-68 (OT) national title win over Memphis.
"He said, 'Great job, go win it for us.' Roy knows what Kansas tradition is. He coached here for numerous years," Aldrich said, emphasizing the word "numerous."
Aldrich also understands KU tradition and embraces Self's comment that he could be one of the best big men to play at KU in many years.
"In high school I was viewed as one of the better guys on the team. One of the things I need to do is lead by example. Leading by playing is even better," Aldrich said.
Self said he hopes the Morris twins are declared eligible by the NCAA Clearinghouse on Monday. They cannot practice until they are cleared by the Indianapolis organization.
"We have not heard one thing," Self said Friday. "I was hopeful it'd happen three days ago. Unfortunately for us, it is status quo until the first of next week."
Of the delay, Self said: "We are not a fall sport. They are busy getting all fall sports people taken care of. I don't anticipate a problem."
More like this story on KUsports.com