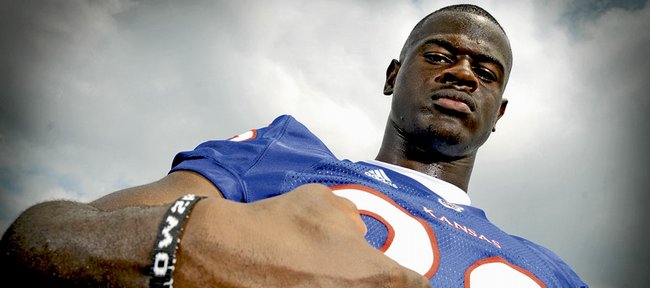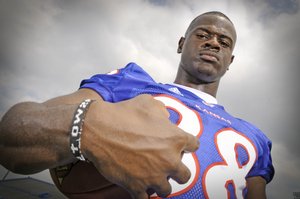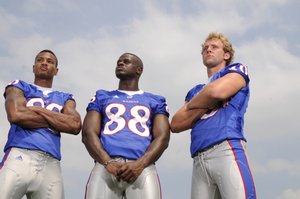 Dexton Fields has heard it a thousand times.
He knows fans and teammates marvel at his reliable hands. He's well aware that he's been pegged by many as KU's "possession receiver." And he's tired of it.
"I never really considered myself a possession guy, just the position I've played has made me a possession guy," Fields said. "But I'm capable of making big plays just like anybody else. I've always been motivated by the possession-receiver title. It's not a bad thing, but you always want to have the threat of being able to make big plays and be a big-play guy."
Fields and the Jayhawks are hoping he'll do plenty of both during his senior year.
After holding down a starting spot in each of the past two seasons, Fields is poised to break out in 2008, partly because he's finally in position to do so and also because the need has arisen.
Gone is Marcus Henry, a 2008 NFL Draft pick who led the Jayhawks in yards (1,014) and touchdowns (10) last year and was always a threat to turn a short completion into a big gain.
That opens the door for Fields to be The Man. Not that he wasn't before. In his last 25 games, Fields has 108 receptions, 1,289 yards and 11 touchdowns. That includes leading the team in receptions each of the last two seasons.
"He's got an opportunity to do that (shed the possession-guy label), but I've talked to Dexton about how sometimes that label's a good label to wear," first-year receivers coach David Beaty said. "People think that you're a possession guy, and you do more than that. If you go back and look at tapes, (Fields) catches the ball and makes plays after the catch and scores touchdowns. I think he has a chance to break out this year, and I hope he does. We need him to. Losing Marcus Henry, we need to have a guy who steps up and can be the run-after-the-catch guy. I think Dex can do it."
Fields is not the only candidate; that list is long. Sophomore Dezmon Briscoe returns, looking to build on his sensational freshman season (43 catches, 496 yards, seven TDs), and quarterback-turned-wideout Kerry Meier has the luxury of an entire offseason spent honing his receiving skills. In half a season at the position last year, Meier tallied 26 receptions, 274 yards and two TDs.
The expectations for Meier, along with all of the team's wideouts, are substantially higher in 2008.
"I certainly would say we have some talented players out there, but we also have some guys in some spots that are unproven, and we won't know what those guys are capable of until we see it in some games," Beaty said. "But all of these guys have a great work ethic, and their chemistry within the position is unbelievable."
That certainly says a lot coming from Beaty, new to the KU staff after two years in the same position at Rice University. With the Owls, Beaty helped develop All-American wideout Jarett Dillard, who led the nation in touchdown receptions (21) in 2006 and was in the top 25 in both receptions-per-game and yards-per-game in 2007.
Although Beaty has inherited a deeper unit at KU, his goals for the Jayhawks' receivers are on par with those he had for Dillard.
While Fields, Briscoe and Meier are expected to produce big-time numbers this season - how could they not in the vaunted KU passing attack? - their routes likely won't be weighed down by pressure to deliver. That's because this year's receiving corps is as deep as any in recent memory.
"I'd say the biggest strength we have is that we're deep, and we have great leaders, with myself, Dexton Fields and Gary Green," senior wideout Marcus Herford said. "We have a lot of strong leaders who really speak up and get this receiving corps going."
That chatter already has begun, and a lot of it has focused on Jonathan Wilson. Wilson, a 6-foot-3 sophomore from Houston who caught just three balls last season, has been named by the team as the player most likely to be the biggest surprise in 2008.
When a number of Jayhawks were asked why Wilson was tagged with such a label, the answers varied. All of them included a mention of Wilson's work ethic.
"He's a talented kid. He had a really productive spring," Beaty said. "He has great speed, and he has some great receiving traits that are going to allow him to be a productive player. He also is a very committed kid, one of the hardest workers we have in the weight room."
Added Fields, "Because he's a hard worker, he listens, he's willing to learn, and he's willing to put in the work. I've seen him countless times, not just in the summer but in the winter, in the weight room by himself trying to get bigger, trying to get stronger."
Whether the jersey reads Fields, Briscoe, Meier, Herford, Wilson or even someone who's not yet a household name, the Jayhawks have plenty of depth, talent and firepower at the position. Perhaps more importantly, the players inside those jerseys create plenty of competition for playing time, something KU head coach Mark Mangino believes can only help his team.
"Competition makes you better," Mangino said. "When you have competition at different positions, that's good for your football team."
More like this story on KUsports.com