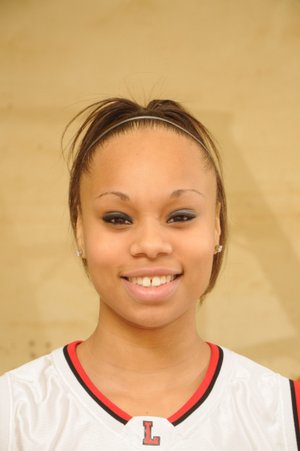 Until Wednesday, the biggest moment of Tania Jackson's basketball life came in March, when she drilled a three-pointer from the baseline that tied the state championship game and led the Lions to the 2007-08 Class 6A state title.
That changed Wednesday afternoon, when the LHS senior, accompanied by her father, Danny Hill, orally committed to continue her basketball career under the direction of coach Bonnie Henrickson at Kansas University.
"KU was just the right fit," Jackson said. "At first, I didn't want to stay home. The whole process was pretty tough on me. I was just so overwhelmed at how many coaches were calling me. That's why I made my decision so fast."
Jackson said KU first offered her a scholarship in July. She said she wanted to commit right away, but chose to wait to make sure she weighed her options.
Jackson is the most recent female basketball player from the city to commit to a Big 12 school, joining Free State High juniors Ashli Hill (Oklahoma State) and Chantay Caron (Kansas State). She did before her senior season, allowing her to shift her focus to helping the Lions defend their state title.
LHS coach Kristin Mallory said she was thrilled for Jackson and the program.
"Having a Jayhawk on your team, that's cool," Mallory said. "It's real exciting for Tania and real exciting for all of us because we get the opportunity to continue to watch her play."
Though KU topped Jackson's list during most of the recruiting process, she also drew serious interest from Cincinnati, Michigan, Missouri, Missouri State and Wichita State.
"None of them really had anything on KU," Jackson said.
Because of her size, the 6-foot-2 forward has spent most of her high school career playing inside. But Mallory's program gave Jackson the freedom to show off her perimeter game, leading to more looks from Div. I programs.
"She can defend, she's athletic, and she can rebound from that position," Mallory said. "There's no question Tania can run the floor with those girls. The biggest thing for her is that KU's system is so extensive. They're going to throw a lot of stuff at her. But I'm confident she can handle it."
More like this story on KUsports.com