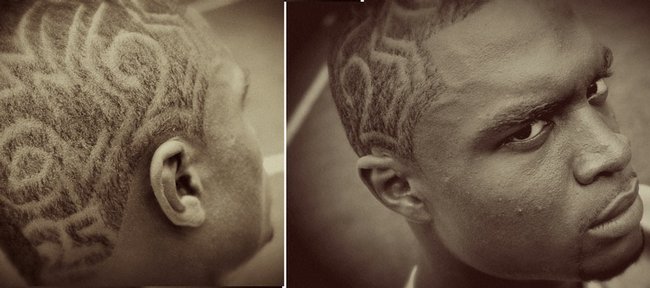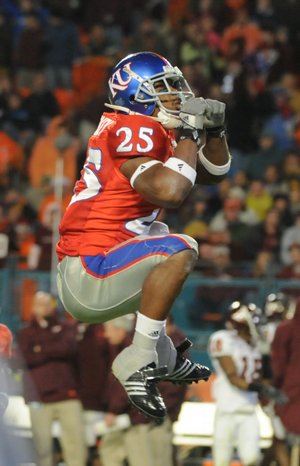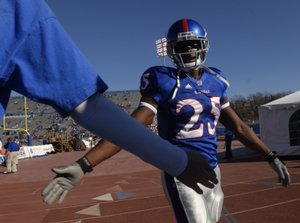 Where Darrell Stuckey comes from, football is less of a way of life and more of a way to live.
A 2005 graduate of Washington High in Kansas City, Kan., Stuckey's younger days as a three-sport standout with the Wildcats were spent surrounded by crime, violence and, perhaps worst of all, a lethargic attitude about the world around.
Through his ever-sunny demeanor and genuine zest for life, Stuckey always did his part to change that. Now, as the Kansas University junior safety prepares for the latest challenge in a life spent thirsting for them, Stuckey continues to keep one eye focused on where he came from with hopes of making it a better place for those who live there now.
"It's one of those things where it's a hard place to really recruit because a lot of the kids don't see college in their view," Stuckey said of his hometown. "A lot of the kids don't have the perseverance or the motivation to get to college because most of them live in broken homes. They have to find that source of motivation, so I try to go back any time I can and try to speak to the students.
"I've visited with some of the local football teams. Whether it was my high school or an opposing high school, it doesn't matter, because I know they're now seeing us out there, they're now seeing us being a part of somewhere they want to be and that motivates them, just seeing me come back and tell them 'You can make it, it's OK.'"
Remembering his roots
Stuckey's words and warm smile did wonders at Washington High last year, when an early-season visit with the football team helped turn the program around.
With a handful of Wildcats huddled around him, Stuckey asked the leaders of the team to raise their hands. Only a few did. That's when Stuckey stood up and delivered the meat of his message.
"He tried to stress that every one of those players was a leader in some way," Washington High athletic director Nancy Browne said. "And he talked about how every player on the team was important. From that point on, the team took on a real positive attitude. They held their heads high when they were successful and were still able to hold them high even when they were not. The message that Darrell brought that day should go to every high school athlete no matter where they live."
Browne, who is entering her 29th year at the school, was there that Monday afternoon when Stuckey spoke to the football team. What she saw on the faces of the student-athletes he spoke to was something she will never forget.
"I think there are a lot of kids here who really need to hear success stories from someone who came from their school," Browne said. "And Darrell is definitely that. The kids were mesmerized by what Darrell said. I could just see it in their eyes."
What makes the story more amazing is that the visit came before Stuckey helped lead the Jayhawks to a 12-1 season and an Orange Bowl championship.
In January, when Stuckey returned to his old stomping grounds to take in a Wildcats' basketball game, it was as if a celebrity hit the building.
"Of course, when he came in last year, none of us knew how good KU was going to be," Browne said. "But when he came back for that basketball game in January, people were all over him."
That wasn't the first time such a fuss was made. Browne said Stuckey always was one of the more beloved students at Washington High, and added that he remains so today.
"Everyone knows Darrell or knows his face or knows who he is," she said. "And everyone just really loves him. He's just a great all-around person."
An impeccable reputation
KU defensive coordinator Clint Bowen remembers when he first learned that to be true. Years ago, while recruiting Stuckey, Bowen said every time he went to Washington High he was bombarded by inquiries and insight about Stuckey.
"When we recruited Darrell, when we went into the school, every single stranger came up to us and said, 'Oh, you're here to see Darrell Stuckey, he's my favorite,'" Bowen said. "You started to think, 'Holy cow, this kid's paying people off.' He has a great outlook on life, always has energy, always has a smile and is really a great kid."
It's those traits - along with his natural athletic abilities - that have allowed Stuckey to excel in the KU secondary. In this year's media guide, players were asked to rank teammates in five different areas. Stuckey's name cracked the top five in three of the five questions, including a first-place nod for "Who is the nicest guy on the team?"
The reason?
"Just because he has that personality," senior wideout Dexton Fields said. "You never really see him get mad, he's always happy-go-lucky."
No more Mr. Nice Guy
That's not to say Stuckey can't get tough when pressed.
Fields compared the junior safety to NFL standout Ed Reed, "a guy that can hit you and will hit you, but can cover, too," Fields said. "A lot of safeties can only do one or the other."
Bowen said the environment Stuckey grew up in provided him with an edge that he can crank up whenever he steps onto the field.
"He grew up in an area where sometimes he knows you have to mix it up a bit no matter how nice you are, and he's capable of doing that," Bowen said. "He's never going to be rude or disrespectful to people off the field, but on the field he understands it's a game and sometimes a part of the game is to be physical and he's going to do his part."
Overcoming injury
Still, Stuckey prefers to play with a smile. That ever-positive attitude was put to the test during 2006 when, as a red-shirt freshman, he missed the first five games of the season because of injury. He never wavered. He worked harder than ever, smiled as often as possible and found himself starting the final four games of the season.
"It was heart-breaking when I got injured two years ago," Stuckey said. "But mentally I got a lot stronger and smarter and I learned to take less steps and get somewhere a lot faster."
The injury hampered Stuckey's body more than his mind, as his speed slowed, his strength weakened and his legs grew heavy. That, he said, was the hardest part of being injured. But even when talking about the setback, Stuckey couldn't help but crack a smile.
"Before I got hurt, I ran pretty fast, I don't know, a 4.4 in the 40 or something like that," he said. "After the injury I ran a 4.6, which is demoralizing. This year, to finally get back down to the same speed, it helps a lot mentally. I feel like now I'm finally 100 percent."
Football field general
That spells good things for the KU defense. Last year, despite not being fully recovered, Stuckey started all 13 games and was fourth on the team in tackles with 72. He added two tackles for losses, two interceptions and two fumble recoveries, making him one of the anchors of the Jayhawks' defense.
That experience, along with his natural, take-charge mentality, has Stuckey more prepared than ever for his role as one of the team leaders in 2008.
"(Former KU cornerback) Aqib (Talib) brought a lot of things to the table in terms of leadership, but even last year, Darrell was the leader of our secondary," Bowen said. "This is not a new role for him. A year ago, he had that role already and it's one that he takes pride in. He takes pride in making sure everyone on that field is going forward and working hard and doing what they need to do."
More like this story on KUsports.com