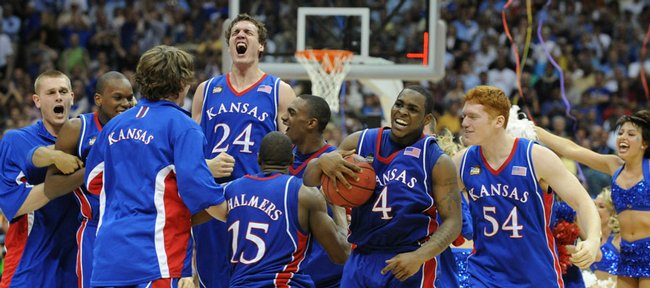 There's some added incentive for Kansas University sports fans to pack Memorial Stadium for the Jayhawks' Sept. 20 football game against Sam Houston State.
On that day, KU's 2008 national basketball champions will be recognized, likely in a halftime ceremony during the nonconference contest.
"We will honor the (basketball) team during that game," KU associate athletic director Jim Marchiony said Thursday, indicating details are not yet finalized.
That will be a special weekend for coach Bill Self's champions.
"Rings will be presented in a private ceremony with the team," Marchiony said of KU's players, coaches and support-staff members receiving their 2008 NCAA championship rings.
Self said late September was a perfect time to distribute the championship rings.
"We will be able to get some of our past players back here. Once camp starts Oct. 1, they will not be able to come back," Self said of NBA players Darrell Arthur (Memphis), Brandon Rush (Indiana), Mario Chalmers (Miami), Darnell Jackson (Cleveland) and Russell Robinson (Houston).
On hand for the football game and ring ceremony will be one of the top high school basketball players in the country.
Xavier Henry, a 6-foot-6 senior guard from Putnam City (Okla.) High, told Rivals.com on Thursday he'll be making an unofficial visit to KU that weekend, then make his official campus visit for the Oct. 17 Late Night in the Phog.
"I don't have any other visits planned right now," Henry said. He is down to a final four of KU, Memphis, Texas and UCLA. "I just know that I'll be taking a visit to Kansas in September and October."
Henry might witness one of the best-ever Late Nights, considering the Jayhawks are coming off their first national title in 20 years.
A national championship banner will be unveiled at Late Night 2008.
"It'll be a different banner than the other four that are hanging now," Marchiony said of KU's NCAA title banners in the north rafters. "We are going to have a commemorative banner at Late Night. We are still developing plans for a (banner) celebration at Late Night and (one) during the regular season."
¢
Collins update: KU junior point guard Sherron Collins, who had arthrosopic surgery on his left knee on April 22, has not yet started playing pickup basketball.
Self said Collins is progressing nicely, however, and will be ready to step up his physical activity when he returns to campus from his hometown of Chicago on Sunday.
"He's not played all summer. We held him out," Self said Thursday. "We maybe could have done a little more, but there's certainly no reason to rush it, except for him keeping his body in shape."
Self said the plan was for Collins to begin working on "basketball stuff" when he returns and have him rehab to the point he's able to begin in earnest on Aug. 21, the first day of practice in preparation for KU's Labor Day weekend trip to Canada.
"Whether he'll play in Canada remains to be seen. The last thing I want to do is set it (knee) back at all. I'm hoping he's available for practice to use him in limited reps," Self said. "If we can use him 50 percent of the reps, I'd be happy. That way he could help the young guys, show them what to do as well as give the majority of the reps to the young guys.
"I anticipate him playing," Self noted of three games in Canada, "but not 30 minutes a game."
¢
Twins update: Self expects incoming freshmen Marcus and Markieff Morris to be eligible this season. They have finished a core high school course they took this summer in Lawrence. Core courses and SAT scores combine to determine whether players are eligible to play college basketball.
"I'd say all the coursework is completed. The grades will be turned into the eligibility center. It's kind of a waiting game now," Self said.
¢
Robinson has five finalists: Another possible Sept. 20 visitor is Thomas Robinson, a 6-8 power forward from Brewster Academy in New Hampshire. Robinson told Rivals.com he has a final list of KU, Memphis, USC, Miami and Texas.
¢
Kaun cut: Former Kansas University center Sasha Kaun won't be playing for Russia's Olympic team after all.
Viktor Khryapa, who recently suffered a severe ankle sprain, on Thursday was deemed fit to play in the 2008 Games in Beijing. One player needed to be cut from the roster to make room for Khryapa. That player was KU's Kaun.
Kaun has played sparingly in pre-Olympics exhibitions. He did not score while playing seven minutes in Russia's loss to the U.S. on Sunday.
More like this story on KUsports.com