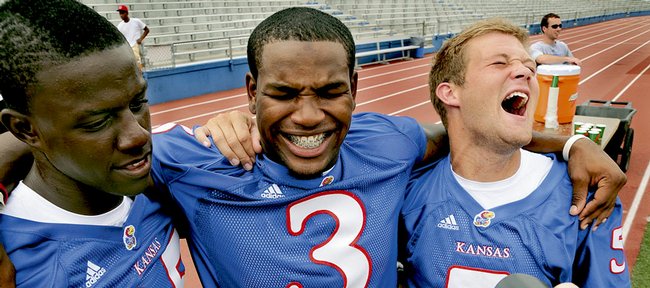 Jocques Crawford's dad, Xavier, played football at the University of Memphis.
His aunt, who ran track at UM, and uncle are die-hard fans of the Blue and Gray.
So Crawford admittedly had some mixed emotions on April 7, 2008, watching on TV in his Cisco (Texas) Junior College dorm room as Kansas University toppled his hometown Tigers, 75-68, in overtime in the 2008 NCAA basketball championship game.
"I was in a win/win situation. Either way, it didn't matter," said KU junior football running back Crawford, the reigning junior-college offensive player of the year who attended Cordova High in Memphis.
"I didn't know how the fans would react if Memphis would have won. How would I be treated here?" Crawford added. "After I signed with Kansas, a lot of people back home said, 'Hey, take those Kansas flags off your truck,' or they'd get mad seeing my Kansas stickers on my truck. They get kind of upset at that."
Crawford's aunt kept in communication with him during the title game.
"She was texting me the score. I said, 'I'm watching the game, too,''' Crawford said with a smile, speaking Tuesday at Kansas football Media Day in the Anderson Family Football Complex at Kivisto Field.
Crawford is happy to report he has been treated quite well since arriving at KU this summer.
"I've not met a rude person yet, actually," Crawford said.
Handy with a computer, Crawford says he has read KU fans' comments on various Internet sites. He senses fans expect a lot from a guy who gained a junior-college-best 1,935 yards off 283 carries with 19 touchdowns at Cisco last season.
He rushed for 328 yards and three TDs against Trinity Valley and finished his soph season with five games of 200-plus yards.
"I feel I have a lot to prove, especially with the expectations that have been set for me that I read on the Internet, things I hear when I see fans in public," Crawford said. "I will just try to live up to the expectations."
KU coach Mark Mangino believes Crawford, who will battle Jake Sharp and Angus Quigley for playing time, has a bright future in the KU backfield.
"Right now, he is a little rusty. His mechanics, footwork need a lot of work, but you can tell that he's got the ability to accelerate in the hole. He's a strong guy, a powerful guy, has good vision," Mangino said of the durable 6-foot-1, 230-pounder.
"He's making that transition from the tempo of junior-college football to Big 12 football. He's far from a finished product, but he's coming along. He's shown some signs of being a real talented guy."
Just a few days into training camp, Mangino isn't ready to name a starter at running back.
"Well, Sharp is a returning guy, and he's rushed for over 800 yards, so he has the edge in experience on him," Mangino said. "Jake knows the system. Jake's a hard-charger. Let me put it this way, he gives you everything he has, even on the practice field. He works so hard that at the end of practice, he's just fatigued. He's shot. Jocques is kind of learning. He's getting constant coaching out there.
"He's asking a lot of questions. He has not run with the ones (first team) at any time yet. He hasn't earned that right yet, but he is competing for the job, and it's good. Competition makes you better."
Quigley, who is Crawford's roommate, says it will take some time for Crawford to get used to the pace of Div. I football.
"When he first got here, conditioning-wise I'm not sure if he'd ever run like we run. I don't know if he'd lifted like we lifted. But he's picked it up," Quigley said.
Crawford gave a simple answer when asked if he'd be the starting running back.
"Time will tell. Time will tell," he said, quickly adding that KU's depth should be a plus this year.
"We have a lot of guys capable of doing a lot of things. You can't just have one running back, because what if he goes down? You need somebody else to back him up," Crawford said. We have a lot of depth. We'll try to get the best reps we can, do what we can when our number is called."
Crawford's number is 3 - the same as NFL players Aqib Talib and Charles Gordon. Is the NFL in Crawford's future?
"I pray to God. Only God knows," he said, continuing an interview in which he best could be described as humble.
"My dad told me to pattern myself after (the late) Walter Payton," added Crawford, who indicated his favorite active NFL backs are Clinton Portis (Washington) and Willis McGahee (Baltimore). "Who wouldn't want to be like Walter Payton?"
Payton was known for his cool, calm demeanor.
"I mean, even on the highlight film you won't see me celebrating," Crawford said. "I may celebrate with my teammates. I try to stay humble with that. I feel if I celebrate I may never score another touchdown."
Crawford hopes to score plenty of those at KU while earning a degree, likely in a business-related field. He already has come a long way academically after failing to qualify for a Texas Tech scholarship his senior year at Cordova High.
He also was in some trouble in high school, pleading guilty in September 2005 to a charge of misdemeanor simple assault. He spent several weeks in Juvenile Court custody before being released.
As Mangino said after signing Crawford, the player since the incident "has conducted himself in an exemplary manner."
"To be honest, I felt like my life was over," Crawford said of not qualifying at Tech. "I didn't know any guys who came out of juco. I said that to my dad and coaches and they explained to me what NFL players came out of junior college and went to Div. I. Isaac Bruce (49ers) went to junior college. He's one of my dad's best friends. I see people like that who went to junior college and are successful. That drives me and gives me a goal to set for myself."
Of his legal problems, he said simply: "I put it behind me. I stay focused. I came here to get my schooling and play football."
The only thing making his life miserable right now is his aching feet while running through two-a-days.
"Oh my gosh : if you could take a picture of my feet," he exclaimed. "It's pretty hot. That new turf (at practice fields outside Memorial Stadium) is very hot. Guys are getting blisters on their feet. You've still got to keep pushing it every day. You know it's hot, but other teams are practicing in weather just as hot as ours. Everybody is working hard. This team's focus is football. Once school starts it will be school, then football and then whatever comes after that."
More like this story on KUsports.com