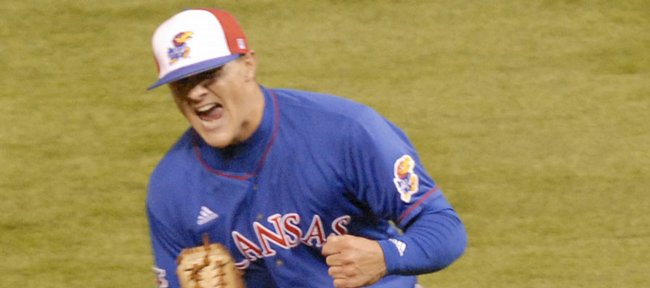 Kansas City, Mo. — Shaeffer Hall froze one last Missouri batter, tightened his arms up and let out a yell. Seven scoreless innings were in the books, and Kansas University's starting pitcher let the last drop of adrenaline come screaming out.
"I got him on a slider," Hall said afterward. "To get out of the inning without any runs, I just got a little pumped up.
"I don't really show my emotions that much, but tonight? I had to."
After such an inspiring effort, nobody can blame him. Hall pitched Kansas to a 3-0 baseball victory over Missouri on Tuesday at Kauffman Stadium, mixing pitches, velocity and location beautifully and baffling the powerful Mizzou lineup all night.
Tuesday's game meant the world to Hall. He grew up in Lee's Summit, Mo., surrounded by the Border War and spent many summer nights watching the Kansas City Royals play at Kauffman Stadium. It was his first time playing here, and he wanted to make it count.
"My nerves were running, and I got that adrenaline rush," Hall said. "It's just awesome."
It certainly helped him through a tight ballgame. Kansas (26-22) scored just one run while Hall was in the game, when Ryne Price hit a towering home run into the right-field bullpen in the second inning.
Meanwhile, Hall settled down and frustrated the Tigers, never allowing a Missouri base-runner past second base. Mizzou's biggest threat came in the seventh, perhaps, when Kurt Calvert singled and stole second with two outs. But Hall struck out Kyle Mach on a 3-2 pitch and let out that scream. A fitting end to his night.
Hall ended up scattering five hits over seven innings, striking out four.
"About the fourth inning, he found his rhythm and located the ball and was able to mix his pitches better, which allowed him to get through seven innings," KU coach Ritch Price said. "If you don't mix against them, you're going to get hurt."
Paul Smyth relieved Hall and closed it out, but not before the Jayhawks tacked on insurance runs. Tony Thompson walked to lead off the eighth inning, and it was followed by a Nick Faunce bunt single. After Robby Price moved the runners to second and third with a sacrifice bunt, John Allman poked a two-strike single up the middle to drive in two.
"In that situation, you've got to put a ball in play," said Allman, who was 3-for-4 and raised his average to .360. "I did what I could to get the ball in play."
Tuesday's Border War bash won't count in the Big 12 standings; the teams will play a three-game series that counts starting next week. But the victory stopped KU's four-game losing streak was another memorable matchup with its nemesis and was played in front of a festive crowed of 3,847 filling the lower level from dugout to dugout.
Make no mistake - the Jayhawks needed this one.
"It's a great rivalry," Price said. "KU-MU is a great rivalry in any sport, and I think just the fact that it's in Kauffman Stadium tonight and there was such a great crowd made it a really special night for both teams."
And especially memorable for Hall, who was grinning ear-to-ear after the game. Price was asked if he considered pitching Hall one more frame, and he quickly said no.
"We wanted to Shaeffer to walk off that mound in front of his hometown," Price said, "and feel tremendous about his performance."
A called third strike, a pumped fist and a emotion-drenched scream confirmed it.
Hall, indeed, felt tremendous.
"It feels really good," he said, "to be able to come out with a win tonight."
More like this story on KUsports.com