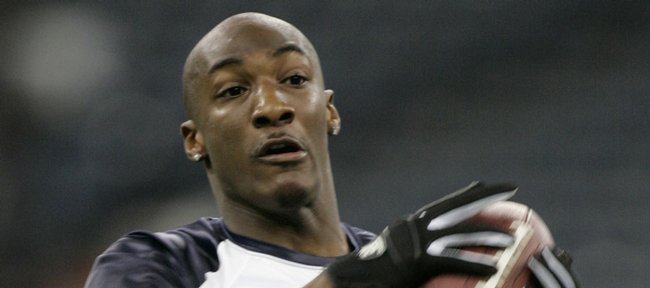 The drought is over. Kansas University finally has produced another NFL first-round draft choice.
Saturday, cornerback Aqib Talib became the first former KU player to become a top-tier draftee in 15 years, or since defensive tackle Dana Stubblefield was San Francisco's first-round pick back in 1993.
Not that there have been that many former Jayhawks who have been taken in the first wave.
In fact, only nine men fit into that category, and I would be stunned if even the most avid KU football fan could name them all.
Let's begin at the beginning:
1944 - Ray Evans. KU's first All-American (along with Otto Schnellbacher) was tapped by the Chicago Bears during World War II, but Evans enlisted and served three years in the Air Force before returning to Mount Oread. Played only one year of pro ball as a back-up QB with Pittsburgh in 1948.
1962 - John Hadl. Detroit made Hadl a first-rounder, but the KU All-American QB never played a down for the Lions, opting instead to sign with San Diego of the rival American Football League even though he was a third-round selection of the Chargers. Went on to become one of the best pro QBs of his era.
1965 - Gale Sayers. A first-round pick of both the Chicago Bears and the AFL Chiefs, the fleet, elusive running back chose the established NFL and became a legend despite a pro career shortened due to a knee injury.
1971 - John Riggins. The Jets were enamored with Riggins' speed and size, but this free-spirited ball-carrier found his fame with the Redskins. He and Sayers are the only former KU first-rounders in the Pro Football Hall of Fame.
1974 - Don Goode. Don Who??? A defensive end at Kansas, Goode was projected as an all-pro-type outside linebacker by the San Diego Chargers. Goode logged eight years in the NFL, but never became an impact player.
1977 - Mike Butler. The Packers grabbed this burly KU defensive tackle and converted him to defensive end, where he turned in seven solid years. Played his last two seasons with Tampa Bay in the USFL.
1981 - David Verser. A wide receiver, Verser was chosen by Cincinnati, which had the 10th pick in the '81 draft. Used mostly as a kick returner, Verser started just one game during five seasons in the NFL.
1993 - Dana Stubblefield. Big and fast, Stubblefield is probably the best defensive lineman KU ever has produced. Twice made the Pro Bowl while with the 49ers and was named the NFL Defensive Rookie of the Year in 1993. Pro career lasted 11 years.
2008 - Aqib Talib. Only KU defensive back ever taken in the first round and also, curiously, the only former Jayhawk ever drafted by Tampa Bay.
But wait, you might be saying. What about former NFL regulars Nolan Cromwell and Bobby Douglass? Both were second-round picks of the L.A. Rams and Chicago Bears, respectively.
How about David Jaynes? He was an All-American quarterback in 1973, but Jaynes hurt his throwing arm at the Liberty Bowl, slipped to the third round and never panned out for the Chiefs.
So there have been just nine KU first-rounders in the last 64 years, making them an elite group indeed.
More like this story on KUsports.com