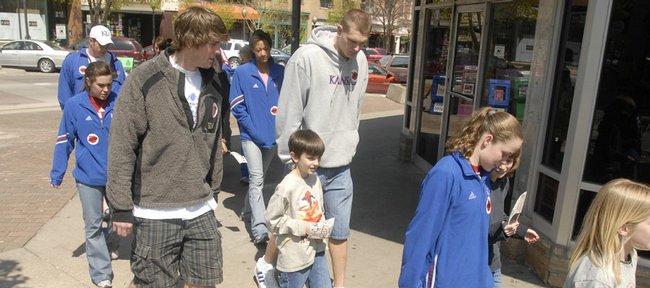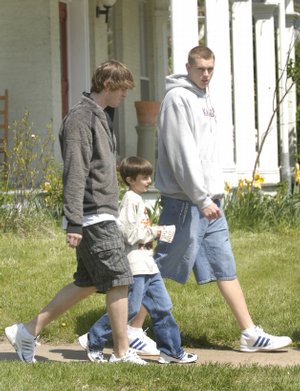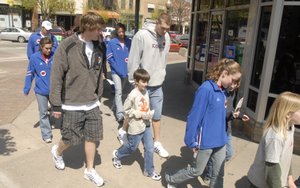 Some New York School students got moving Monday with the help of Kansas University athletes.
"They were tall," said fourth-grader Kai Blosser of his walking partners Cole Aldrich and Conner Teahan, both freshmen on KU men's basketball team. "Conner liked some of the same things that I did."
Each student was paired with a KU athlete for a quick walk from their school to Massachusetts Street and back. The extra physical activity is part of a first-ever districtwide wellness event, LPS On the Move.
The students and athletes talked about future goals, hobbies and why being active is important.
"Just going out and having fun with their friends" is a better option than eating junk food and watching TV, Aldrich said. "As much fun as that sounds, it's not the healthiest choice."
The students and athletes learned about one another, too.
"They thought that I could really do what I really wanted to do," said Jasmine Good-Decosta, a fourth-grader.
"Jasmine was pretty smart," said Chakeitha Weldon, a freshman guard for the women's basketball team. "She told us her future goal was to be a veterinarian."
And both seemed to enjoy their day.
"I liked just being able to be out and have the opportunity to be outside for a while," said fourth-grader Jai Strecker.
"It's just so much fun to be able to talk to the kids," Teahan said. "It's just a great experience to really see how they view life."
"(We get) a new little buddy that we can have memories with," Aldrich said.
More like this story on KUsports.com