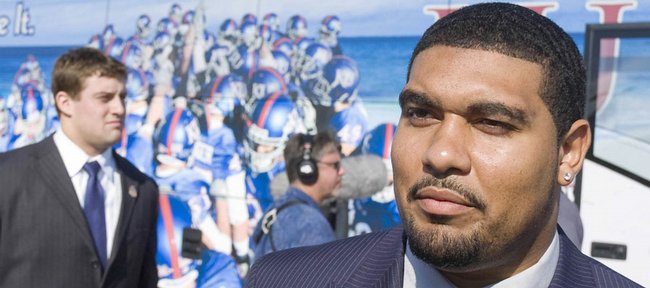 Brandon McAnderson
Lawrence High football coach Dirk Wedd received a vow from Brandon McAnderson, his former pupil, that he hopes is fulfilled this weekend.
"Sunday night," Wedd said, "he promised to call me."
By then, McAnderson will have a better idea of what his future holds. The former LHS and Kansas University running back hopes to get selected on the second day of the NFL Draft on Sunday and figures to get a free-agent offer Sunday night if he's not picked.
"I feel pretty good," McAnderson said. "I know I'm going to have an opportunity, and that's all you can ask for."
McAnderson said the Steelers and Texans had shown the most interest, and Wedd said several teams have inquired about McAnderson's prep days at LHS.
NFL franchises rarely leave a stone unturned, and digging deep means there's notable interest in the 6-foot, 235-pounder.
McAnderson's contributions to one of KU's best-ever football teams certainly padded his resume. In just 190 carries, McAnderson rushed for 1,125 yards and 16 touchdowns in 2007, helping Kansas to a 12-1 record.
He worked primarily as a single back his last season at KU, but he projects as a fullback at the next level. NFL.com views McAnderson as a player who could find a spot in the professional ranks.
"Blessed with good size for the switch to fullback," the Web site writes, "McAnderson has flashed the toughness and strength to successfully make the transition to a more traditional fullback role."
McAnderson was KU's special-teams MVP in 2006.
"If you watch him on tape, he's an NFL football player," Wedd said. "He can run the football, he can catch the football, he loves special teams, he can block his tail off. More importantly, he's a team player. He'll find a way to help his team win."
More like this story on KUsports.com