Videos
Mario Chalmers going to NBA Draft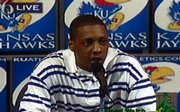 KU junior guard Mario Chalmers has announced that he's going to enter the 2008 NBA Draft, but that he will not hire an agent.
Mario Chalmers
The unofficial changing of the guards took place Wednesday afternoon on the campus of Kansas University, where the guy leaving spoke into television cameras and the guy who might replace him was given his first taste of Lawrence out of the public eye.
To the surprise of nobody, Mario "Big Shot" Chalmers revealed he will take a free look at where he stands, working out at camps and for teams so they can give him an idea of where he would go in the NBA Draft. Chances are, they will like what they see of Chalmers and he'll take his national championship ring to the NBA. What's not to like about his game?
The Kansas basketball program is at a point now that it reloads the talent stock faster than Rick Majerus reloads his plate at an all-you-can-eat buffet.
Out with one long-armed, explosive, super-quick No. 15 and in with another. Tyshawn Taylor, a savvy-loaded guard from Bob Hurley Sr.'s St. Anthony High program that went undefeated and was ranked No. 1 nationally, arrived Wednesday for his visit.
No two basketball players are exactly alike, so it's always difficult to name play-alikes. Based on watching Taylor play on two nationally televised games, we'll give it a try. Think a combination of Chalmers and Russell Robinson, only two inches taller and a great deal slimmer than either guard. Shoots more like Robinson, leaps more like Chalmers. Like Robinson, he tended to view himself as the last scoring option, exhibited no scoring ego. Like Chalmers, he had that anticipation knack and exploded at the hoop.
Depending on whether Darrell Arthur and/or Chalmers remain in the draft, Kansas has anywhere from zero to two remaining scholarships. Arthur's all but a lock to stay in the draft, so there is no need to await his decision before getting a player to commit.
At the moment, it's more important KU lines up a replacement for Chalmers than one for Arthur. Here's why:
Cole Aldrich, and incoming freshmen Markieff and Marcus Morris (from the Philly side of New Jersey) and Quintrell Thomas (like Taylor, from the New York end of Jersey), give Self an extremely young but talented four-man post rotation. In the ideal world, one more will be signed so that the Morris twins, not known as the hardest workers on the summer-tournament circuit, will have playing time as a motivator.
Still, from a pure talent standpoint, losing Chalmers makes getting another ballhandling guard a priority. Look at it this way: Two of the following three would join Sherron Collins in getting major minutes at one of the two guard spots - Taylor, juco transfer Tyrone Appleton and Tyrel Reed, unless it's a three-way Ty among 'Shawn, 'Rone and 'Rel and they share the minutes. (Sorry. Puns are the lowest form of communication. Ought not to have done that. Too late.)
At the small forward spot, Mario Little, Travis Releford and Brady Morningstar could battle for minutes.
Where will room for next year's scholarships come from? Worry about that next year. College rosters at the high-major level have become so fluid because of early departures it pays not to look too far ahead.