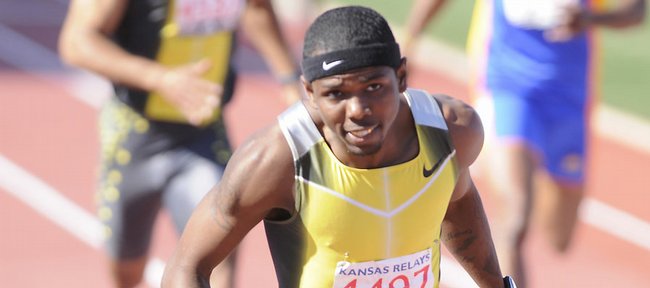 Bershawn "Batman" Jackson continues to perform superhuman feats at the Kansas Relays.
"I need to buy a cape. Look for it next year," the 24-year-old Miami native said Saturday after winning his fourth straight Relays 400-meter hurdles title and fifth in six years at Memorial Stadium.
Title No. 5 for the 2005 World Outdoor champion proved to be his most satisfying yet.
Jackson crossed the line in a world outdoor-season-best time of 48.32 seconds, bettering his old Relays-record time of 48.34 set in 2006.
The Nike team member clipped Adrian Finley of Stubbs Athletic and 2004 Olympian Ian Weakley of Total Sports, who were timed in 48.93 and 49.48, earning '08 Kansas Relays Most Outstanding Male Performer honors in the process.
"Batman is back. Batman returns once again," Jackson said, adding, "It's where I belong, on top. The past two years I've been No. 2 and 4 (internationally). It's about time I take over the No. 1 spot.
"I'm back in shape, back fit. It's going to be amazing to see what I'm going to do."
Jackson never ceases to amaze at the Kansas Relays, that is for sure.
He also won MOP honors a year ago.
Does he "own" the meet?
"Not yet," he said. "When you see billboards of me everywhere ... then I own the meet. Now I'm just up and coming."
He's hoping this performance propels him to a season that will culminate with a spot on the 2008 U.S. Olympic team.
He placed fourth in his hurdles specialty at the Trials in 2004.
"The sky is the limit," Jackson said. "I come from a terrible background. I've come through a lot of trials and tribulations and overcome it. I am one of the best hurdlers in the world - 5-foot-7 - it shows anything you put your mind to you can do it."
Jackson, who trains in Raleigh, N.C., comes from humble beginnings in Miami.
"My family wasn't that (wealthy)," Jackson said. "They weren't able to give me the things other kids got, but I'm blessed to do what I do. I don't have to worry about that (finances) anymore."
Jackson said he would give a shout out to his friends in Kansas if indeed he makes the Olympic team.
"Most definitely. This meet right here is where I got my confidence back," said Jackson, who had an injury-plagued '07 outdoor season. "This is my fastest season opener ever. It's going to be interesting to see what I do."
With his personality, he could be network TV's dream if he does make the Olympic Games.
"I am bringing personality. I am bringing character. Me and other guys in this sport will make it (400 hurdles) the No. 1 event in the world."
Batman said no matter what happens at Olympic Trials in Oregon and/or the Games in China, he'll be back in Kansas next April. He's not miffed the public address announcer did not notice Jackson was winning the race and had Weakley, not Jackson in the lead.
"People make mistakes. It's no big deal," Jackson said. "Coming here means a lot to me. You'll most definitely see me in years to come. I'm loyal to people who are loyal to me. People have always treated me well here in Kansas."
More like this story on KUsports.com