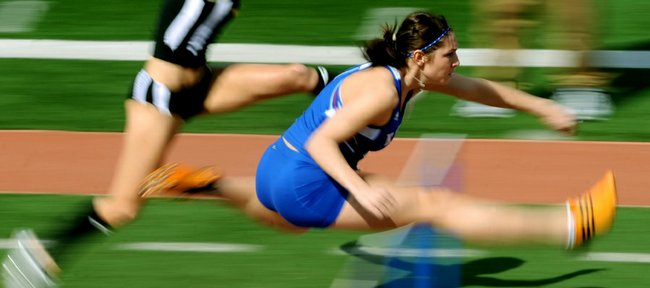 Four events and five hours in, Kansas University's Jacob Breth must have felt he had a crick in his neck from staring up at the decathlon field above him Wednesday afternoon during the 81st annual Kansas Relays.
The 6-foot-4 sophomore stood in 10th place out of 11 competitors and needed something - anything, really - to give him hope before heading off for Day Two.
"I thought I would be doing a little bit better," Breth admitted afterward.
Taking his mark in lane seven for the 400-meter dash, his final event offered that chance to salvage the day.
When the starter pistol popped, Breth blazed down the track. Less than 51 seconds later, he was back in the decathlon hunt.
Breth won his heat with a time of 50.74, took third overall in the 400 and moved up to seventh place in the decathlon standings.
It was the highlight of the day for KU, which is hosting its lone meet of the outdoor track season. The Jayhawks had one male competitor in the decathlon and one female competitor in the heptathlon - the only events on Wednesday's schedule.
"I kind of wish I had a teammate here because all these other guys do," Breth said. "But I love running here. It's the atmosphere in the stands that makes this great."
Breth's teammate was supposed to be senior Josh Kirk, who won the decathlon crown last year at Memorial Stadium. Instead, Kirk did not participate because of an injury, meaning every male athlete in the field was an underclassman.
Breth, with 3,230 points, now trails Minnesota's Garret Wankel by 40 points for sixth. Missouri's Nick Adcock leads the way with 3,905 points.
On the women's side, KU sophomore Chelsea Helm felt the same frustration as Breth. Despite setting a personal record in the high jump with a leap of 1.50 meters, she still found herself in 12th place out of 14 at day's end.
"It stinks when you come out and this is your one chance to work on it, and it ends up like this," Helm said. "But, it's not conference, so hopefully I'll improve by then."
Helm did her best to stay positive, noting that one or two bad events don't always make or break the seven-event heptathlon.
"The good thing is, it's a two-day thing," she said. "I have (today) to come back and improve and salvage some of my score."
Helm's total of 2,405 trails Wichita State's Stephanie Hammond by just four points for 11th place.
Minnesota's Liz Roehring leads the field with 3,591 points.
The decathlon picks up again at 8:30 a.m. today with the 110-meter hurdles followed by the heptathlon long jump at 9.
More like this story on KUsports.com