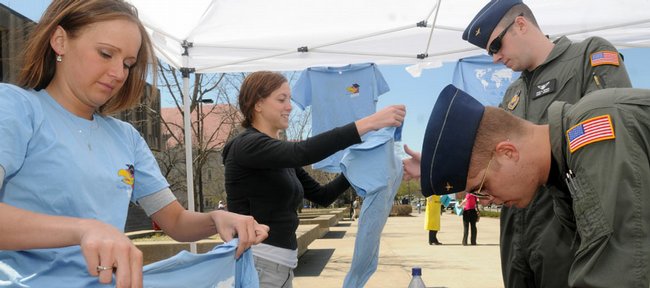 Reader poll
Yes.

65%

485 votes

No.

34%

254 votes
739 total votes.
It's been hard to ignore Kansas University this year.
Athletic achievements such as the Orange Bowl victory and the NCAA basketball championship have put KU in the spotlight nationally and geared up school spirit on campus.
"It's a phenomenal year to be a Jayhawk, and to graduate at this time is great," said Ebony Howard, a KU senior from Fort Worth, Texas.
Howard is on the Senior Advisory Board and helped decide to make her senior class gift just as noticeable as the university's winning teams.
The gift is a 6-foot Jayhawk inlay that will be embedded in a sidewalk near the David A. Ambler Student Recreation Fitness Center, which is undergoing an expansion.
"I think it's excellent," Howard said. "We have a new emblem plus a new facility."
She said because the recreation center is also a high-traffic area for students, the gift won't go unnoticed.
The inlay will feature the Jayhawk mascot and two stalks of wheat. Waving the wheat is a KU tradition in which fans wave their hands from side to side above their heads during sporting events or other activities. The Board of Class Officers and Senior Class Advisory Board have worked together on the concept, design and fundraising.
"This year we've been able to wave the wheat a lot," said Clinton Everhart, assistant director for the office of student financial aid and adviser for the Board of Class Officers. "We've had a lot of reason to do it, so we decided to make sure that was part of the picture because it's been such a stellar year for us. We wave the wheat and we'll wave it for eternity with this new inlay."
To raise money for the $3,000 project the Board of Class Officers has been collecting money on Wescoe Beach from seniors in exchange for an official senior class T-shirt. Today from 9 a.m. to 4 p.m. is the last chance to make a donation at Wescoe Beach. Donations also can be made online at kuendowment.org until the end of the semester. At that time, students will be informed of how they can collect their T-shirts.
The senior class gift fund is managed by the KU Endowment Association.
"It's a good way for seniors to leave their mark," said David Decker, the association's director of annual giving. "I think we're seeing a lot of interest, more so than in years past because of all the great excitement at KU."
More like this story on KUsports.com