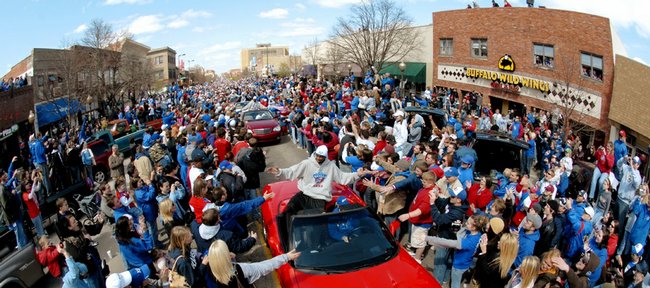 Sunday capped nearly a month of high-fives, hugs and impromptu celebrations, courtesy of Kansas University's men's basketball team. A victory parade in downtown Lawrence was the final chapter in a season that kept Jayhawk fans on edge but ultimately brought a national championship home.
Sunday's parade drew about 80,000 people, according to a police spokesman, who called the tally "unofficial." Earlier reports estimated about 100,000 fans showed up.
They were wrapped in blankets, cupping coffee in their hands and doing just about anything to keep warm.
But when the team puttered down Massachusetts Street with players perched atop convertibles, the cold didn't matter. Fans mobbed players' cars, shaking their hands and snapping on-the-go photographs.
Staking a spot
Parking spots on Massachusetts Street were nonexistent, as Jayhawk fans staked their claims early.
Lawrence resident Stan Ring grabbed a parking spot between Eighth and Ninth streets Saturday night. He waited for the parade to begin with his wife, Mary Ann, his daughter Elizabeth Hall, her husband Brian and their two children, Nathan, 7, and Garrett, 4.
They planned early "just so we could have a good place here today, get up close to the action, so my grandkids can see," Ring said.
The Halls drove to Lawrence from Olathe, said Elizabeth, a 1997 KU graduate.
"It's just really fun," she said. "It's fun to share it with my kids and my parents. It was nice to finally make it to the end."
Scott and Kathy Gates snagged the last parking spot available in a parking lot at 10th and Massachusetts streets. Their two sons, Michael, 10, and David, 8, sat in the bed of the truck, waiting for their Jayhawks, and more specifically, their favorite player, Mario Chalmers.
Families and children populated every sidewalk, a marked difference from the boozy bashes that followed KU's victories in the NCAA tournament.
"Families can come to do this," Kathy Gates said. "Monday was a school night. By the time the game was over, a lot of kids were in bed."
Youngest fan
One of Lawrence's newest families celebrated the win with perhaps the parade's youngest participant.
Angela and Isaiah Eberhart welcomed their daughter, Kaidren, on Saturday, and by Sunday had christened her a Jayhawk. Kaidren was released from the hospital at 1 p.m. yesterday, and was soon wrapped in a KU blanket - and a few others to keep warm.
"We bundled her up, and we were out for a couple of hours. So (the parade) was her first destination," Angela Eberhart said. "She was great. She slept. She was totally out, and then the band got real close. Then all of a sudden she started getting a little fussy."
'Just pride'
Second-floor windows were open and fans stuck their heads out to watch the massing crowds, before the parade began. Music blared from cars and street musicians entertained passersby.
Felicia Miller sat with her parents on their flatbed truck outside Ernst and Sons Hardware, 826 Mass., which is owned by Miller's father-in-law, Rod Ernst. They watched the parade celebrating KU's 1988 national championship in virtually the same spot.
Ermina Gauna, Miller's mother, said she felt "just pride, pride."
"The national spotlight that has been on Lawrence and KU, anywhere you go, people know about the university and what it stands for," Miller said. "There aren't may schools that have a football team and a basketball team that are tops at the same time. The recognition for Lawrence, Kansas, is outstanding."
'Best sports year'
KU students Ashley Trent, Mike Courtney and Beau Winfrey found an open spot at Seventh and Massachusetts streets. They were surprised they were able to snag such prime real estate.
"I'm pumped. I'm really excited," Trent said, as she did homework before the parade. "We're trying to hit as many events as possible."
The group planned to migrate from its spot - where the Jayhawks would pass at the beginning of the parade - to Allen Fieldhouse, to watch the basketball team's awards ceremony.
Courtney, a graduate student from Boston, felt lucky to have seen KU win the national championship.
"This is the best sports year of my life. It's like coming from championship city to a championship school," he said, listing off New England's recent athletic successes, such as the Red Sox's World Series victory.
Business booming
It was a good day for business, as well. Bars were packed before the parade, and fans were hungry for anything and everything KU. After the parade, a line formed outside Joe-College.com, 734 Mass., a T-shirt vendor, as fans were eager to commemorate the victory. The store was at capacity and had an employee allowing customers in only as others left.
Few problems
The crowd was well-behaved and there were no serious problems, Lawrence police Sgt. Michael Monroe said.
"Everything went very well. Everybody was having a good time," he said.
Traffic near the downtown area moved slowly, but that was to be expected, Monroe said.
Few disturbances were reported, but at least one parade-goer suffered a bruised foot after a car carrying Chalmers ran over her foot.
The 12-year-old girl's mother, Lois Orellana, was upset that no one helped her daughter, who walked from Massachusetts Street to Lawrence High School to meet her mother.
"She took a picture, and the next thing she knows, she heard a crunch," said Orellana, who took her daughter to Lawrence Memorial Hospital for treatment.
The parade route took the team, which followed the KU pep band and cheerleaders, south on Massachusetts Street from Seventh Street to 19th Street and west on 19th Street to Naismith Drive. The team was met by some 10,000 fans at Allen Fieldhouse for one last chance to commemorate an unforgettable season.
- Staff writer Mike Belt contributed to this report.
More like this story on KUsports.com