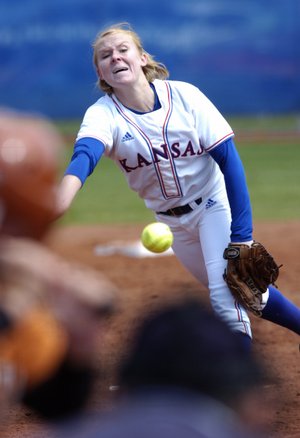 Dougie McCaulley is climbing into rarefied air.
McCaulley, a junior outfielder, elevated her batting average over the .400 plateau as Kansas University divided a softball doubleheader with Texas on Sunday.
McCaulley went 2-for-3 at the plate in each game - an 8-1 romp in the opener and a 2-1 loss in the nightcap.
Officially, the 5-foot-7 native of Victorville, Calif., is batting .402. That's lofty territory considering she hit only .265 in her first season with the Jayhawks last spring.
"I had my first go-round last year," said McCaulley, who spent her freshman year at Odessa, Texas, Junior College, "and I regained my confidence last summer."
As the only slap-hitter on the Jayhawks' roster, McCaulley was usually at the top of the order last spring. But coach Tracy Bunge has been using her behind leadoff hitter Stevie Crisosto lately.
"I like it more in the No. 2 slot," McCaulley said. "I like to hit with runners on base."
Although she collected four hits Sunday, more remarkable was her base-running. In the first inning of the second game, she dumped a single into left field, then stole second and third bases.
Minutes later, after Val Chapple had reached first after being hit by a pitch, Chapple and McCaulley executed a double steal that enabled McCaulley to steal home.
"It's been awhile," McCaulley said when asked the last time she had stolen home.
Not known as a base-stealer, her three thefts in the first inning doubled her season output in that category and were probably a career first.
"I can't remember ever doing that before," she said.
As it turned out, McCaulley's steal of home was the only run the Jayhawks managed off Texas ace Megan Denny, who allowed only four singles and fanned 11.
KU's Valerie George matched Denny in the opener, allowing just four hits to record her 16th victory in 19 decisions. George struck out seven.
"It's nothing fancy," Bunge said of George's pitching. "She's not going to blow the ball by anybody. She's in and out and has a nice change, and she doesn't throw many balls over the plate."
Kansas (30-11 overall, 4-4 Big 12) will travel Wednesday to Missouri. Texas moved to 20-16-2 and 6-5.