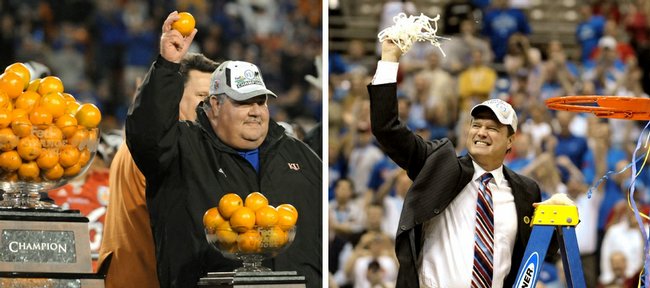 It's been a banner year for Kansas Athletics: an Orange Bowl victory for the football team and a National Championship for the basketball team.
In addition to promoting good feelings across campus, there's the chance that all of this promotion - something that a value can't easily be affixed to - will provide tangible benefit to the university.
A recent national study showed that the university that wins the basketball National Championship can expect an average 7 percent to 8 percent increase in enrollment. Just finishing in the football Top 20 - KU was ranked seventh in the final Associated Press poll - results in an average enrollment bump of 2.5 percent.
"Certainly, college administrators have known about this for a while, but I think this study helps to pin down what the average effects are," said Jaren Pope, an assistant professor in applied economics at Virginia Tech University, who conducted the study with his brother Devin Pope, an assistant professor at the University of Pennsylvania's Wharton School.
The brothers compared information on freshman classes at 330 NCAA Division I schools with how the schools' teams fared from 1983 through 2002.
At KU, enrollment officials aren't so sure they are going to see any major jump because its basketball program has been nationally known for some time, and the championship came after the university's admissions deadline, said Gail Sherron, associate director of admissions and scholarship.
"Students who really truly had a strong interest we believe already had applied," she said. "We may get students from far away who have an interest in what KU has to offer - a strong collegiate environment, good athletics, good academics - who may think 'You know, this is a great choice.'"
The football team's strong finish did come before the admissions deadline, but Sherron said it didn't really lead to a spike in applications, but the university is meeting expectations.
What can't be determined, though, is how the victories on the field and the court will play out next year - and in August and September when KU's admissions counselors are at high schools around the country.
Good for giving
Of course, it's not just admissions that hopes to benefit from the Jayhawks' athletic success. The Alumni Association has included the basketball team in its advertising, even mentioning the victory in advertising on the popular Facebook social networking site.
The Endowment Association last week sent an e-mail from Robert Hemenway to the e-mail addresses of a number of alumni, encouraging them to make a donation to the university in honor of the team. Dale Seuferling, Endowment Association president, said the team would be involved in determining how that money is spent.
"We had inquiries from people asking what (they) can do, how they can honor the team," he said. "We decided to create a fund that bears the team's name."
Seuferling compared the idea of letting the team help decide how the money will be spent - it is expected to benefit students in some way - to similar campaigns that have been done in honor of recently retired faculty or university leaders.
"We'll give (the team) some ideas," he said.
Seuferling said he hoped that the victories would lead to a good year for the endowment association.
"Anything that's positive in the life of the university impacts giving," he said. "It's positive to have that much media attention. If you have an association with the university, you know about this team."
And that, everyone hopes, will lead to a bump for the university in all aspects of its operations.
- The Associated Press contributed to this report.
More like this story on KUsports.com