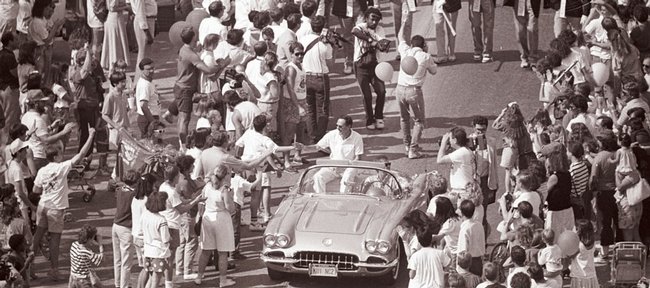 Downtown simply isn't big enough for Jayhawk Nation.
Organizers of Sunday's parade of champions for the KU basketball team are extending the route beyond the central business district, aiming to accommodate tens of thousands of people expected to descend on Lawrence to celebrate the university's first national championship in 20 years.
Anywhere from 40,000 to 100,000 people are be expected to show up by the parade's 3 p.m. Sunday tipoff, and a four-block section of Massachusetts Street simply wasn't going to cut it.
"The sidewalks of downtown just aren't big enough to handle that many people," said Jane Pennington, executive director of Downtown Lawrence Inc. "For safety reasons, we needed to stretch it out."
Details emerged Friday for extending the parade beyond its initial downtown footprint, a somewhat inevitable development following the team's 75-68 victory in the NCAA championship game against Memphis. About 40,000 people had rushed into the middle of Massachusetts Street once that game ended, and officials feared that even more people would find even less room this Sunday when squeezing onto the sidewalks on the sidelines.
"It's going to be a full house," said Jim Marchiony, an associate athletics director. "We'll have people traveling here from throughout the region and from outside the region.
"It's very exciting - for the fans, for us, for the coaches and the players. It's something we're thrilled to be a part of."
Parade details
Here's the plan for the parade, gleaned from conversations with officials from Kansas Athletics Inc., Lawrence police and Downtown Lawrence Inc.:
¢ The parade begins at 3 p.m. at Seventh and Massachusetts streets. Participating will be all players, coaches and managers, riding in 21 convertibles and a flatbed truck. Members of the Spirit Squad will lead the parade, followed by the pep band and then the vehicles, with all heading south on Massachusetts to 19th Street, then west to Naismith Drive.
¢ Parking will be allowed throughout the downtown area, with all 2,700 municipal spaces - in parking garages, along streets and on surface lots, including the lot south of the Judicial and Law Enforcement Center, 111 E. 11th St. - available for use. People will be able to park on both sides of Massachusetts along the route between Seventh and 11th streets, but parking will be prohibited between 11th and 15th streets. From 15th to 19th streets, parking will be prohibited on the west side.
¢ Shuttle buses will be available. The free rides will run from 1 p.m. to 5 p.m. from two stops along Mississippi Street - adjacent to KU's lot 94 at the east side of Memorial Stadium, and next to KU's parking garage north of the Kansas Union - to the Douglas County Bank parking lot at 300 W. Ninth, within easy walking distance of the parade. Parking in lot 94 and in the garage will be free. Sponsors are the bank, Downtown Lawrence Inc., KU on Wheels and Knoxville Racewear.
¢ The pep band will play from Seventh Street to Central Junior High School, before peeling off.
Police are advising spectators to show up early to grab optimum spots, and merchants are looking forward to having thousands of people visiting downtown for the festivities.
High-scoring sales
Lois Tooker, who manages Yummy's Over the Top Frozen Yogurt at 1119 Mass., is bringing in extra help for the expected Sunday rush. Her place, which opened five months ago, normally banks about $600 for a Sunday, but she figures that number could jump by up to 50 percent with parade activity.
Tooker remembers attending the last championship parade, which came in 1988, soon after she'd received her social welfare degree from KU.
"This one will be bigger," she said. "KU basketball is more popular than ever."
Doug Compton, president of First Management Inc., plans to enjoy this parade even more than the last one. Just as he did 20 years ago, Compton will be driving his 1959 Corvette convertible down the middle of Massachusetts - only this time his passenger in the back will be current KU Coach Bill Self instead of KU's 1988 coach, Larry Brown.
"I'm going to try to take more of it in this time," Compton said. "I want to see all the people. I want to take it all in and see the players enjoy the celebration. That's one good thing about being a fan: You're there to enjoy it."
Cleaning up
Mike Wildgen, president of the Old West Lawrence Association, knows that the parade will bring plenty of cars and pedestrians to his neighborhood just west of downtown. But that's to be expected.
During each of the past two weekends, he and his neighbors have endured blocked sidewalks and driveways, plenty of noise and enough discarded aluminum cans to make any recycler happy.
"We could have supplied the Alcoa aluminum company with a year's supply of cans after those games," he said, of the revelry following KU's tournament victories over Davidson, North Carolina and, ultimately, Memphis.
But he wouldn't have it any other way.
"I was happy to clean it up," said Wildgen, who has lived in legendary KU Coach Phog Allen's old house on Louisiana Street for more than 20 years. "Most people are excited for the coach and players and the program. I'd rather have this than the reverse."
In case fans can't get enough of the parade, the celebration will continue into the evening. Cars carrying players, coaches and others will end up at Allen Fieldhouse, where the champions will join their families for a private afternoon reception upstairs.
Fieldhouse doors will open to the public at 5 p.m., and a free, open-to-the-public awards ceremony is scheduled for 6 p.m.
The celebrations never get old, Marchiony said.
"We'd do this 10 years in a row, if we had the opportunity," he said.
More like this story on KUsports.com