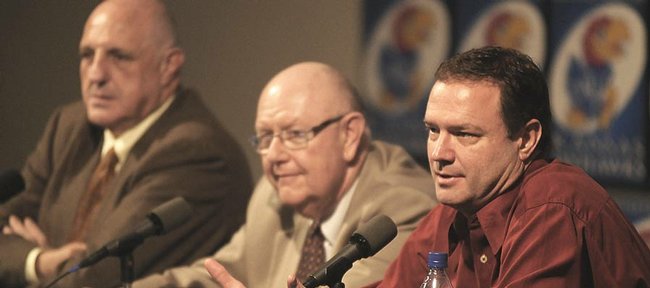 Videos
Bill Self, still a Jayhawk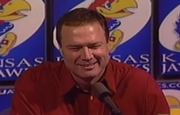 Coach Bill Self has announced that he plans on staying at the University of Kansas.
Podcast episode
KU coach Bill Self met with the media Thursday afternoon, flanked by athletic director Lew Perkins and Chancellor Robert Hemenway, to announce his intentions to remain as the Jayhawks' head coach for years to come.
During his days as a point guard at Oklahoma State University, Bill Self began to dream of someday being named head basketball coach at his alma mater.
"I will not lie. It's true," Self, Kansas University's fifth-year coach, said Thursday.
He was speaking four hours after declining an offer to fulfill a fantasy of returning to Stillwater, Okla., to rebuild the Cowboy program.
"Home called. And we love home. But this is home now," Self said at a news conference to announce his decision to accept a hefty raise in pay and a contract extension at KU - a school the Edmond, Okla., native just led to its first national title in 20 years.
OSU athletic director Mike Holder gave the Cowboys' best pitch to Self during a two-hour, face-to-face meeting Wednesday night at a Shawnee hotel.
Holder's spiel came several hours after Kansas AD Lew Perkins assured Self he'd be a wealthy, secure man if he'd remain at a place committed to improving its basketball facilities.
"Coach Holder did an unbelievable job of striking the right chords," Self said of the former OSU golf coach the 45-year-old Self has known since he was 18.
"He did it in a way that provoked thought of why it'd be a great fit for me and my family at this time. It wasn't done in a way you'd imagine it would be done," Self added, apparently referring to the alleged megabucks booster T. Boone Pickens might throw his way.
"This was strictly from an opportunity to come home and to lead a program through a transition and go to great heights it has not seen in a while.
"He said, 'We know you care about the school (KU). We just want to give you some things to think about.'''
Self slept on Holder's job offer - KU's coach insisted no dollar figures were bandied about - and, after visiting with Perkins late Thursday morning, called Holder to say thanks, but no thanks, at 12:30 p.m.
"I told him he broke my heart, and I'm serious about that," Holder said. "I put a lot of energy and thought into the moment of truth with Bill Self when I sat down with him, and I think at the end of the day I had myself sold on him coming to Oklahoma State. But I couldn't sell Bill Self on coming to Oklahoma State.
"I think I had him scratch his head just a little bit about it," Holder added. "I think what won out was Kansas."
In order to keep its coach, Kansas promised Self:
More Money
"Bill is going to be compensated and rightly so at the highest level," Perkins said, indicating details of the contract probably won't be released for a couple of weeks, until after it is reviewed by lawyers and signed.
Self, who has three years remaining on his contract, makes $1.375 million a year. Florida coach Billy Donovan reportedly makes $3.5 million and Kentucky's Billy Gillispie $2.3 million per annum. Texas' Rick Barnes is the Big 12's highest-paid coach at $2 million per year.
Self, one source said, may receive between $2.5 and $3 million a year for eight years.
KU's coach would only say, "yes," when asked if he received the amount of years he wanted and felt he now had the stability he so desires.
¢ Facility upgrades
KU soon will construct a new basketball practice facility next to Horejsi Center. Allen Fieldhouse improvements on tap include new locker rooms, a film room, a cardio room, dining hall and an extension to the Booth Family Hall of Athletics. An upgrade to athletic dorm Jayhawker Towers is also on the wish list.
"These things were already in the works. Lew wants the same things," Self stressed. "My administration knows now there won't be a shadow of doubt of how important I think that is. It won't be put on the back burner. We just want to have the best of the best so we can recruit the best of the best."
¢ Salary boost for his assistant coaches
"The reason we won big is our guys have done a good job recruiting the right guys," Self said. "It's not just the head coach. It's important to me our assistants be in a situation they know they will not be tempted to leave here for a similar position someplace else."
Self also wanted to stay at KU for family reasons. His daughter, Lauren, will be a senior in high school next year.
"I don't see a scenario that would be best for our family to be separated," Self said. "That would have been the case. I would not have asked her to do that.
"She (Lauren) came to me when it was reported before Monday's championship game this might happen. I was trying to sleep. She woke me up and said, 'Hey, dad, I saw we may be going to Stillwater.' I said, 'Babe, trust me, nobody is talking like that.' She said, 'If that's best for us, do it. I'll be fine.' She let me know she wasn't going, that 'I'll be fine back here (in Lawrence a year).' I thought it was pretty sweet of her, but probably a way for her to get away from her parents," Self joked.
More than anything, Self, who in a 15-year career already has been head coach at Oral Roberts, Tulsa, Illinois and KU, said he wants to set anchor.
"You love the people you work with on a daily basis as well as the players who have put in so much hard work," Self said. "We just love it here. We left ORU to go across town when we were really good at ORU and left those kids behind. We left Tulsa after the Elite Eight when we were really good at Tulsa. We left Illinois and those guys to come here. I really want to enjoy being somewhere. I'd really like to enjoy being at a place longer.
"We came to the conclusion the time is right for my family to be in Lawrence, Kansas, and lead this program to hopefully bigger and better things in the future."
As far as possibly entertaining an OSU offer again someday, Self said: "I will not say never. I mean, I had a chance to be there. I can't see those things changing. I don't think it's a fair question. I don't have a crystal ball. I can't imagine a scenario (he'd go there)."
Could Self retire at KU?
"I see the finish line being here," he said. "I don't want to say positively. You never know. Things do change. You may have a new administration, a lot of different things. I will say I am excited coaching at a place as I have been my entire coaching career."
He said he'll be as motivated as ever trying to keep KU hoops on top.
"How humbling it is. We say Phog Allen won three (national titles), technically won one," he said of one NCAA title and two Helms Foundation poll crowns. "Coach (Larry) Brown won one. Now we've won one. How cool would it be to win two? To me that is great motivation. We'll work hard to try to get it accomplished."
More like this story on KUsports.com