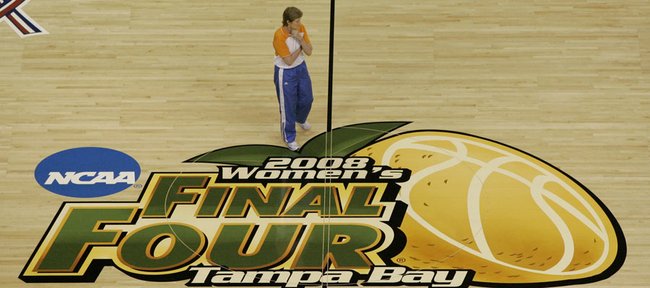 Tampa, Fla. — Candice Wiggins, Candace Parker, Maya Moore and Sylvia Fowles have led their teams to the Final Four with All-America performances in the NCAA Tournament.
For Stanford, Tennessee, Connecticut and LSU, winning the national championship could come down to which team's role players best complement its star.
"I think if you're not coaching one of the best players in the country, it's hard to get to the Final Four," Connecticut coach Geno Auriemma said. "It's not a coincidence that the last three years we've not been able to get to the Final Four."
UConn (36-1) plays Stanford (34-3) tonight in the first national semifinal, with Southeastern Conference rivals LSU (31-5) and Tennessee (34-2) meeting in the late game.
Stanford's Wiggins has been almost unstoppable in the tournament, scoring 40-plus points in two games. However, the Cardinal probably wouldn't be in the national semifinals if J.J. Hones hadn't contributed 23 points against top-seeded Maryland in the regional final.
Alexis Hornbuckle hit a deep three-pointer late in the game against the Aggies to give the Lady Vols a chance to repeat as champions.
"I thought Alexis and Nicky (Anosike), they were key for us, and we didn't shoot the ball well, and when you struggle offensively sometimes it affects your defense," Tennessee coach Pat Summitt said.
With Parker's shoulder still not at 100 percent, Tennessee is going to need big efforts out of point guard Shannon Bobbitt, Hornbuckle and Anosike.
UConn's Moore had only seven points in the regional final, and the Huskies survived an off night from their fabulous freshman because - in large part - the performance of Ketia Swanier.
The senior guard, who won the inaugural Big East Sixth Man award, scored 12 of her 15 points in the second half and hit six straight free throws in the final minute to seal the victory.
"I wanted to shout it right then when they announced my name, 'Ketia deserves the MVP,'" Moore said.
For the Lady Tigers to be successful they'll need steady play out of 5-foot-3 point guard Erica White.
Marist went to a triangle-and-two defense in the second round, and LSU struggled in the first half as Fowles couldn't get the ball and Quianna Chaney couldn't hit from the outside. White stepped up scoring 15 points in the second half to break open a close game.
More like this story on KUsports.com