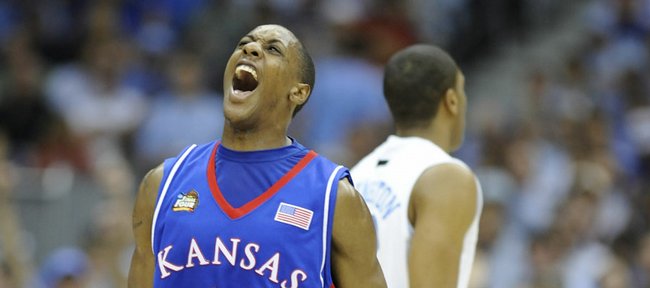 Reader poll
0-20

3%

30 votes

20-30

29%

240 votes

30-40

53%

441 votes

40-50

10%

85 votes

Uh oh ... 50 plus again

3%

28 votes
824 total votes.
Feature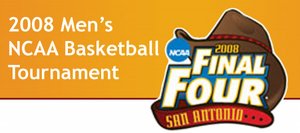 Get your March Madness fix at KUSports.com.
Go figure
28
KU's largest lead (40-12 with 6:48 to play in the first half)
4
KU's smallest lead thereafter (at 54-50 with 11:15 to go)
24-29
Free throws made-attempted by both teams combined
7
Points by UNC's Tyler Hansbrough in the second half
53.1
KU's shooting percentage (34 for 64)
35.8
Carolina's shooting percentage (24 for 67)
5
Three-pointers by each team (KU put up 15, UNC 24)
1, 3
Bench players who scored for UNC (15 points), KU (23)
San Antonio — Bill Self surveyed the locker room, looking at each of his Kansas University basketball players one by one, square in the eyes.
"I told 'em, 'I hope you have as much fun playing tonight as I will coaching,''' said Self, Kansas University's fifth-year coach.
"I think they did. I think they surpassed it," Self added, beaming with pride after his Jayhawks' 84-66 victory over North Carolina in a thrilling NCAA semifinal game Saturday night at the Alamodome.
The Jayhawks indeed took their beloved coach's pregame message to heart, making sure they had a blast on what Self called the "country's biggest stage."
"Before we ran out of the tunnel, the guys were saying, 'Let it go, have fun, smile tonight.' Next thing you know, we're up by 28," KU senior power forward Darnell Jackson said.
Playing their best basketball of the season - perhaps the best basketball in a big game in storied school history - the carefree Jayhawks raced to a 40-12 lead with 6:51 left in the first half.
Brandon Rush scored 10 of his game-high 25 points, while Mario Chalmers had five and sensational big-man sub Cole Aldrich four in the surge.
"It's the best 15 minutes I've ever had a team play because you're playing the No. 1 (overall) seed in the tournament on the biggest stage," Self said.
"I felt instead of having 10 hands out there, we had 14 or 16. Guys were all after every ball. We were so active defensively, I won't say it put them on their heels, but gave us confidence to be in the attack mode."
KU drilled 16 of its first 23 shots in building the 28-point lead and forced six early turnovers. KU also frustrated junior phenom Tyler Hansbrough, who was held to 17 points all night off 6-of-13 shooting.
"They hit us right between the eyes. They just kept hammering," said North Carolina coach Roy Williams, the former KU coach whose eyes moistened during his postgame meeting with the media.
The game wasn't over at 40-12, but the Jayhawks appeared to be well on their way to their 36th victory, most in school history.
"That's the best basketball we've played," senior guard Russell Robinson said. "I think the main thing is we were loose, relaxed and came out running, having fun. Coach Self told us to try to get the Davidson game behind us (59-57 Elite Eight win), to create tempo and run with the ball."
Carolina, which finished the season 36-3, used a 15-2 run to cut KU's big lead to a manageable 15 points (42-27) with 14 seconds left before halftime. Sherron Collins (11 points, four assists, four rebounds, seven turnovers) hit a big bucket at the halftime buzzer to keep things comfy, 44-27, at the break.
"We knew they would make a run," Rush said. "They were missing so many shots early. We knew North Carolina had a great team and wouldn't give up."
Not only did UNC not quit, the Tar Heels opened the half on a 27-6 run to cut KU's lead to four points, 54-50, with a whopping 11:11 to play. KU was 0-for-7 shooting with six turnovers in that horrid stretch.
"We made dumb plays, but the main thing was not to panic," senior center Sasha Kaun said.
That was Self's message during a stoppage of play when KU's lead had dipped to six.
"Coach Self said, 'Everybody take a deep breath; do it with me,''' Jackson said, indicating the players actually exhaled with Self in front of the bench. "We were fine after that."
Rush and Jackson scored to give KU a 58-50 lead, yet Wayne Ellington's three made it 58-53 at 9:19.
Danny Green, who was huge during UNC's comeback on a night he had 15 points, had a three flip in, then out - a three that could have cut KU's lead to just two points.
"At that point, my heart was racing a bit," Rush said.
Instead, Aldrich hit two free throws at 7:53, and Kaun followed with a bucket off a Collins lob, and KU led, 62-53, at 7:09.
KU led just 64-59 at 5:44 when Collins iced a three upping the lead to eight. It was back to six, 67-61, at 5:11, when KU put the game away for good.
Rush scored on a drive to the hole, and Jackson scored off a feed from Rush to open a 13-0 run that had KU fans dancing in the aisles with an 80-61 lead with just 1:41 to play.
"As good as we played early, we played poorly in the middle," Self said.
"I told the guys (during a stoppage), 'Hey, if I told you before the game we were going to be up nine with 10 minutes left, would we have taken that? If I told you we'd be up four at the under-eight timeout, would you have taken that?' Of course we would have. Momentum just switched jerseys.
"The thing I was most proud of is, on the biggest stage, we were in attack mode for 40 minutes," Self added.
KU's players were thrilled to finish the job and advance to the title game.
They stood on the court swaying to the school song with CBS announcer Billy Packer after the game, before heading to the locker room where several players hugged injured senior Rodrick Stewart, who is finished for the year after fracturing his kneecap trying a dunk at shootaround on Friday.
"It's great to be in the title game. It's one of my goals getting back from rehab," said Rush, who worked so hard in coming back from last spring's ACL surgery.
For KU's fans, it obviously meant a lot in beating KU's former coach.
"I know it's a big deal to our people. I never once said, 'We're playing against Roy,''' Self said of the man who said plans to stick around and cheer for KU in Monday's title game. "It was a big deal to our fans. Maybe our players knew that, but we talked about playing Carolina, not coach Williams. Our guys wanted to guard Lawson (Ty, nine points, two assists), Ellington (18 points) and Hansbrough and beat a great North Carolina team, not a coach."
Now the Jayhawks play former KU assistant John Calipari's Memphis Tigers.
"It's been a remarkable week," Self said "Hopefully it can continue for another couple days."
More like this story on KUsports.com