Feature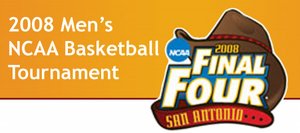 Get your March Madness fix at KUSports.com.
San Antonio — With every dazzling pass, drive, steal, swat and slam, the University of Memphis showed Saturday just how beautiful basketball can be.
And that sweet style of play earned the Tigers a trip to the NCAA championship game.
Memphis topped UCLA, 78-63, in the Final Four's first game on Saturday, entertaining a packed house at the Alamodome with a speedy, razzle-dazzle kind of ball that UCLA had no chance of matching.
"This is a dream team!" Memphis coach John Calipari shouted after the game.
Sure looked like one. Memphis improved to 38-1 on the season and will play Kansas University on Monday with the national title at stake.
Right now, Memphis has it all - phenomenal athleticism, good coaching, top-echelon talent and a healthy dose of cocky confidence to carry it along.
Take Derrick Rose, Memphis' freshman point guard who had 25 points, nine rebounds and four assists Saturday. He was asked after the game if he felt the Tigers had control most of the night.
"Going into the game, we knew we were going to win," Rose said matter-of-factly. "So : ain't too much to say."
The answer made Calipari laugh out loud.
Rose showed Saturday that he's going to make a lot of money playing basketball soon. He brilliantly captained the Tigers' fast-pace attack, one the Bruins (35-4) couldn't keep up with. It was a plan Rose implemented aggressively since he observed the Bruins at the end of the first half and thought they acted tired enough to be run over - after UCLA tried keeping up early on.
"You got to take good care of the basketball and try to stop their transition game," UCLA coach Ben Howland said. "We failed to stop the transition game early, sometimes off of a quick shot. : We had to play it maybe a little slower paced than Memphis would like to give ourselves a chance."
The Tigers were having none of that. Rose and Chris Douglas-Roberts (28 points, four rebounds) provided an aggressive 1-2 punch that led to a 14-2 advantage in fast-break points. It also took the duo to the free-throw line often - the pair hit 20 of 23 charities in what seemingly was a team weakness.
"Tough-minded kids will make free throws," Calipari said. "When you have a tough-willed kid, they're going to do what they have to do."
The only Bruin able to play Memphis' style was Russell Westbrook, who had 22 points on 10-of-19 shooting. Darren Collison had two points and five turnovers before fouling out, and Kevin Love wasn't built for the fast-pace style. He had 12 points and nine rebounds but missed seven of 11 shots.
Luc Richard Mbah a Moute had the only other respectable line for UCLA, chipping in 12 points and 13 rebounds.
It was hard to remember just how good the Bruins were this season when seeing how badly Memphis picked them apart.
"The reality of it is," Calipari said, "I've got a good team."
Instead of an all-tradition championship game on Monday, the Tigers added to their impressive resume of victories, further building the case of being the country's best team.
Afterward, CBS analyst Billy Packer informed Memphis' players that their 38 victories was an NCAA record.
"My team didn't even know," Calipari said. "My team (said) 'is it? That's the most wins?'
"I told them, 'No, no, no, you've got to get to 39 to have the most wins. Hopefully we have one more in us."
More like this story on KUsports.com