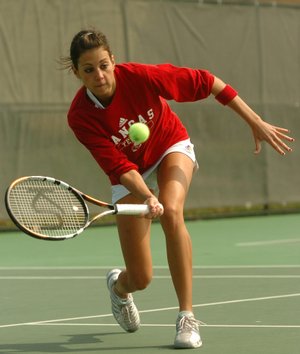 Kansas University's women's tennis squad continues to get strong performances from the No. 6 singles spot.
The latest showing was from Stephanie Smith, who subbed in for regular No. 6 singles player Lauren Hommell, who suffered a shoulder injury in KU's match Saturday with No. 4 Baylor.
Smith's 6-3, 6-1 victory over Baylor's Natalie Holmes was the only bright spot for KU, which lost to BU, 6-1.
"It was great to be out there playing again in the lineup," Smith said after the match at Robinson Courts. "I think she (Holmes) was struggling a little bit with the wind, and I just tried to take her out of her game as much as I could."
The Jayhawks had an opportunity to claim the doubles portion early on.
Hommell and Kunigunda Dorn won the No. 2 doubles match, 8-6, but No. 1 doubles duo Elizaveta Avdeeva and Edina Horvath and No. 3 tandem Maria Martinez and Magdalena Tokarczyk dropped their matches by the same score, 8-4.
"I was impressed with the way we came out today," KU coach Amy Hall-Holt said. "We came out real strong, and then Baylor started building confidence in their game. They're a good team, but we were right there with them."
After losing the first set 6-2 in No. 2 singles, Avdeeva attempted to send the match to a third set with a 4-1 lead in the second. Baylor's Taylor Ormond won the next five points to defeat Avdeeva in straight sets, 6-2 and 6-4.
KU will have to brush off the loss quickly as it plays host to Texas Tech today.
"We'll be ready. We're looking forward to Texas Tech," Smith said.
More like this story on KUsports.com