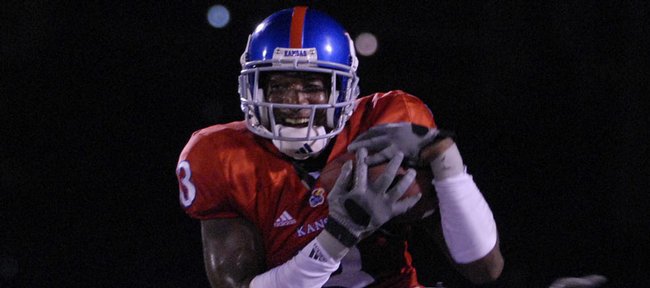 Go figure
100 Length of Aqib Talib's school-record interception-return touchdown415 Yards of total offense by KU's Todd Reesing (368 passing, 47 rushing)8.2 KU's average yards per offensive play (for a whopping 75 plays)615 KU's total offensive yards (most since 641 vs. Jacksonville St. in 2003)3.5 Florida International's yards per offensive play (for 72 plays)1 Times Kansas was forced to punt6-for-7 KU's scores-chances inside the red zone0-for-1 Florida International's scores-chances inside the red zone
It has come to this: A single fan sitting in the west side of Memorial Stadium on Saturday used every bit of his voice box to scream a message at Kansas University cornerback Aqib Talib.
"One more year!" the voice echoed. "One more year!"
Don't get your hopes up, buddy.
Not if Talib continues to make plays like the one he had in KU's 55-3 victory over Florida International on Saturday. Talib set a school record by returning an interception 100 yards for a touchdown, though it probably was a yard or two more than that, even.
Talib made a leaping grab in the end zone for the pick, sprinted up the left sideline, cut across the field about the KU 30-yard line, straightened back out at the right sideline and waltzed into the right corner of the end zone to put Kansas up 47-3.
Four FIU players were sitting on the turf, defeated, when Talib finished making another case for being one of KU's best players in decades. The junior standout's fifth touchdown in five games - he plays a little offense, too - was the result of solid blocking and his running roughly 150 yards total, every step seemingly the correct one.
Talib has college eligibility through 2008, but it's highly probable the NFL will want him after this year. Talib's pretty much ready, too - plays like that just aren't something many college cornerbacks can pull off.
"I've had the good fortune to be around a lot of quality defensive players - All-Americans, first-round draft picks," KU coach Mark Mangino said. "I've got to tell you, that's one of the more impressive plays that I've seen.
"The people in the stadium tonight? They got to see a real treat."
Talib could've kneeled in the end zone when he intercepted it and given KU a touchback. It probably was the safe bet.
But, c'mon, this is Aqib Talib we're talking about.
"If I'm getting an interception, I'm bringing it out," Talib said. "I've got to."
Added Mangino: "If it's a guy wearing No. 3 out there for us tonight : he can run it out any time he likes."
Talib's dazzling return punctuated a highlight-filled nonconference season for KU. The Jayhawks finished 4-0 and dominated each one of their opponents with big plays and stifling defensive stands.
None of the four foes - Central Michigan, Southeastern Louisiana, Toledo and Florida International - had much of chance in Memorial Stadium this month. Collectively, they were outscored 214-23.
"I feel like we've been tested about as much as I wanted to be for the first four games," Mangino said. "This was the way we planned it with our team. We wanted to be 4-0, and there's a lot of teams that got tested in games they were supposed to win and ended up with a lower score.
"We didn't, and here's the key: We're winning the ones we're supposed to. There was a time here when that didn't happen."
Kansas scored a touchdown on each unit against the Panthers - a blocked punt that was pounced on by Dakota Lewis in the end zone, Talib's electric return on defense and five touchdowns on offense by four different players.
With Kansas up 41-3 after three quarters, KU quarterback Todd Reesing's night was done. With each game out of hand, Reesing still hasn't taken a snap in the fourth quarter of any game.
And yet, he continues to put up monster numbers. Against FIU, Reesing completed 23 of 37 passes for 368 yards and a touchdown. It upped his four-game, 12-quarter total to 1,199 yards and 11 scores.
But his play is no longer statistically perfect. Reesing threw his first interception of the year Saturday, an occurrence that was more unlucky than boneheaded.
Reesing found Talib open in the third quarter, but a vicious hit by FIU safety Ashlyn Parker knocked the wind out of Talib and sent the ball straight into the air. FIU's Cory Fleming caught the ball in the end zone for a touchback.
"I'm disappointed in the interception," Reesing said, "but the fact that I didn't misread something or throw a terrible ball to one of their guys, it kind of takes a little bit off that."
So even the errors have a "Yeah, but :" attached, which is a sign that KU's high-octane engine is warmed up nicely heading into Big 12 Conference play.
Kansas gets a week off before tangling with Kansas State on Oct. 6. Just enough time, perhaps, to find more ways to get Talib in the end zone.
Like he hasn't been there enough.
"Aqib's incredible to watch," tight end Derek Fine said. "How many times has he touched the ball and scored? Give that kid the ball."
More like this story on KUsports.com