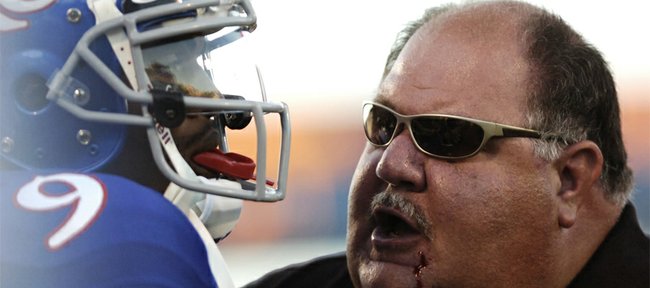 Raimond Pendleton's struggles as Kansas University's punt-return specialist Saturday don't necessarily mean he's going to lose his job.
But they might.
After stellar play in his first two games, Pendleton struggled in KU's 45-13 victory over Toledo, fumbling two punts and losing one that eventually led to the Rockets' first score.
Pendleton remained KU's return man for a couple of punts after the two muffs, but the Jayhawks' other option, freshman Dezmon Briscoe, came in later in the game and fair-caught a boot by Toledo's Brett Kern.
Briscoe and Pendleton were battling for the job through much of August. Now, they might be battling again.
"I think there's a chance that would happen," KU coach Mark Mangino said. "We're not going to make a quick decision."
Mangino did dish credit to Kern, an NFL prospect who booted one ball 58 yards and pinned Kansas inside the 10-yard line four times Saturday.
"He's the best punter I've seen in the last couple of years," Mangino said. "I think the fact that he got the ball so high created some problems."
Still, KU's coaches long have stressed the No. 1 priority for a punt-return specialist in their program - the ability to retain possession. Getting a return for any yards whatsoever is a distant second.
Last year's personnel at the position clearly illustrated that. Brian Murph returned two punts for a touchdown, but he had only nine career returns because of concerns about holding onto the ball.
Sure-handed Jonathan Lamb returned 15 punts last season.
With both gone, the Kansas coaches tried a number of players at the position in the offseason, including Pendleton, Briscoe, Tertavian Ingram and Anthony Webb.
Pendleton, who returned a punt 77 yards for a touchdown in the season opener, won the job initially.
But like many positions, it's subject to change as the season progresses.
"We'll continue to work with Raimond and Dezmon," Mangino said. "We'll keep at it, and I think we'll be OK."
¢
Harper back?: KU is hopeful that cornerback Kendrick Harper is able to return this week.
Harper suffered an undisclosed injury on Aug. 3 and just recently returned to the practice field.
"I'll know more about that probably (today)," Mangino said. "He's going to visit with the doctor."
If Harper isn't back Saturday, he'll almost surely be ready to go for the Oct. 6 game at Kansas State.
¢
Panthers struggling: Florida International - KU's foe Saturday - will come to Lawrence carrying the luggage of the longest active losing streak in the Football Bowl Subdivision.
The Panthers (0-3) have lost 15 games in a row. It wasn't the longest drought in the FBS until Saturday, when Duke's 22-game slump ended with a 20-14 victory over Northwestern.
Florida International, located in Miami, lost to Miami University, 23-9, on Saturday and also has losses to Penn State and Maryland this season.
Kansas opened Sunday night as a 30-point favorite.
More like this story on KUsports.com