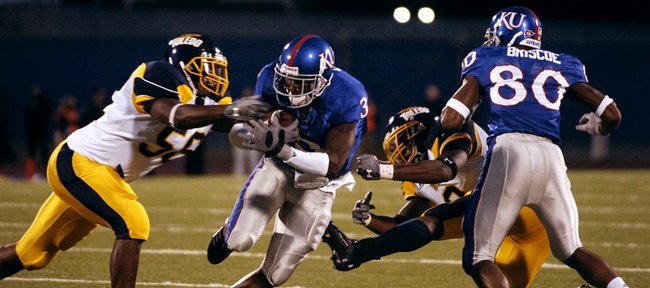 Go figure
64
Total offensive plays run by Toledo
85
Total offensive plays run by Kansas
3.9
Average gain per offensive play for Toledo (251 total yards)
6.6
Average gain per offensive play for Kansas (557 total yards)
4, 313
Passing TDs, passing yards for KU's Todd Reesing (KU soph. record)
0, 38
Passing TDs, passing yards by Toledo starting QB Aaron Opelt
1, 21
Receiving TDs, receiving yards by Toledo starting QB Aaron Opelt
5-3
Fumbles-lost by Kansas (compared to 1-1 for Toledo)
Aqib Talib wasn't asked about his tumbling skills. But he did shed some insight on his track-and-field days growing up.
"I long-jumped in high school a little bit," Talib said. "I wasn't no good at it."
Could've fooled us.
With Kansas still trying to separate from Toledo on Saturday, Talib caught an improvised Todd Reesing pass, tip-toed up the right sideline and unleashed a five-yard leap toward the pylon with a defender ready to knock him out of bounds.
He landed it beautifully, a 58-yard touchdown reception that helped Kansas cruise to a 45-13 victory over Toledo at Memorial Stadium.
The second-quarter firework put the Jayhawks up 10-0. It was an extraordinary play for even the best playmakers, and Talib - a cornerback who lines up for a handful of offensive plays - punctuated it by landing on his shoulder pads and rolling into the end zone, a somersault that Olympic judges would find positives in.
"I felt a couple of cats coming, a couple of cats with the angle on me," Talib said. "I wasn't going to let nobody catch me. I had to get in that 'zone."
As if Kansas hasn't reached it enough. With the six touchdowns on Saturday, Kansas (3-0) has reached the 'zone 21 times in three games this year and has outscored opponents 159-20.
What's impressive about Saturday's game was that the Jayhawks continued scoring at a high rate even when their offense lacked the cleanliness that defined their first two games.
KU receivers dropped several passes, the quarterbacks were sacked four times and the Jayhawks fumbled the ball five times, losing three of them. Still, the game never was in doubt after halftime.
"I think its a good thing to know that if we don't have our best night on offense, we're still going to be able to put up some points and put ourselves in a position to win," Reesing said. "But at the same time, if the game would've been closer and our defense hadn't played so great, those mistakes could hurt us."
Reesing stood out statistically once again. He completed just 16 of his 35 passes, but several big plays led to 313 yards passing and four touchdowns.
For the season, Reesing has put some dramatic numbers in the stat book: 831 yards passing, 10 touchdowns and zero interceptions.
"When you're with him on the practice field and you see him in the meetings and how he conducts himself, you know he has high expectations. So we have high expectations for him," KU coach Mark Mangino said. "But I'll tell you that after three games as a sophomore and never starting at this level, I would say that he's probably exceeded our expectations.
"And we hope he continues to."
Defensively, the Jayhawks stayed sharp, limiting the movement of their opponent and this time sprinkling in turnovers.
Kansas had three interceptions Saturday - a Darrell Stuckey pick on a deep ball, a Talib interception on an underthrown deep ball and a pick by defensive end John Larson on a screen pass.
Until the last play of the game against KU's backups, Toledo's only score of the night was on a trick play, where wide receiver Nick Moore took a lateral in the flat and threw the ball right back at Toledo quarterback Aaron Opelt, who ran in for a 21-yard score.
At that point, Toledo (0-3) cut the lead to 17-7 before halftime. But Kansas answered immediately, when a 26-yard touchdown reception by Dezmon Briscoe finished a 60-yard drive in just 1:05.
Kansas piled it on from there, the offense scoring 21 points in the third quarter while the defense refused to budge.
With that, the nonconference mission is just about complete. Kansas remains unbeaten, with 0-3 Florida International the last underdog to conquer before Big 12 Conference play begins Oct. 6.
The Jayhawks certainly looked human Saturday, the mistakes scattered and, at times, costly.
But the Jayhawks, like they have every week to this point, looked overpowering too. And that's why the season is continuing to stay on course one-fourth of the way through.
"We're not going to play flawless every week. Nobody is," Mangino said. "But you can see the kids have a good mental edge to them. A good mental edge is about overcoming mistakes, too."
More like this story on KUsports.com