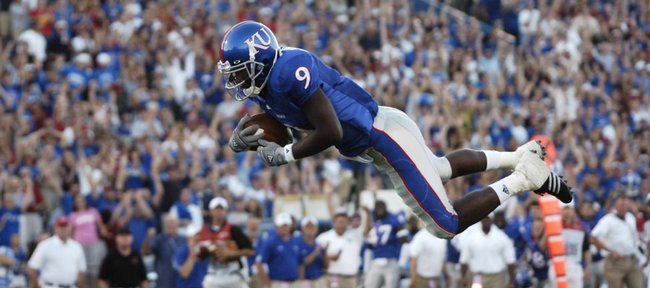 If Kansas University's football team is plagued with any glaring weaknesses this year, they'll have to be exposed another time.
Because what 46,815 fans witnessed during Saturday's season opener was a shiny new team, a superior product that did little wrong and a performance that had the supporters dreaming of what might come to be over the next three months.
The Jayhawks turned a potential nail-biter into an annihilation, crushing Central Michigan, 52-7, and sending the defending Mid-American Conference champions back home wondering what in the heck just knocked them silly.
If the Chippewas still don't have the answer figured out today, here are a few good guesses:
¢ KU quarterback Todd Reesing, in his first career start, completed 20 of 29 passes for 261 yards and four touchdowns. That included a beautiful 49-yard touchdown strike to Aqib Talib, a bomb that traveled 51 yards in the air and hit Talib in perfect stride.
"That was as good as it gets," said Talib, a full-time cornerback. "I couldn't ask for a better throw."
¢ The passing game was opened up by the run game, with Brandon McAnderson rushing for 110 yards on 16 carries (all in the first half) and Jake Sharp running for 106 yards on 15 rushes.
The two combined to average seven yards a carry, a testament to the play of the offensive line in front of them.
"Our O-line was tremendous," McAnderson said. "Those guys were up there moving guys."
¢ The defense didn't allow a point until the fourth quarter and made CMU's skilled trio of quarterback Dan LeFevour, running back Ontario Sneed and receiver Bryan Anderson look overwhelmed and mediocre throughout the night.
¢ Raimond Pendleton had a giant seam open up for him, and he took it to the house for a 77-yard punt-return touchdown in the second quarter. He later added a 21-yard touchdown reception in the fourth.
It was that kind of night for the Jayhawks. The question then is, with so much going right, just what stood out as something that was done wrong Saturday?
"(Reesing) took a sack in the second quarter over by the opponents' bench," Mangino said, "when he should've thrown the ball to the tuba player."
Oh, that's right. The only rush for a loss out of 43 attempts.
Kansas had no turnovers Saturday, a sparkling debut to a fun offense crafted by Mangino and new coordinator Ed Warinner. At one point, fullback McAnderson was lined up as a slot receiver. At another, slot receiver Dexton Fields was next to Reesing in the backfield.
More than the personnel puzzle pieces, though, it was a mental makeover accompanying the reform that stood out. With the score still 0-0, Kansas went for it on fourth-and-one from its own 41-yard line. Reesing found tight end Derek Fine for a seven-yard gain, and the Jayhawks scored the first of seven touchdowns later in the drive.
"I told Ed Warinner, you better have some fourth-and-shorts and fourth-and-mediums ready, because we're going to go for them," Mangino said. "We're going all-out. We're not holding anything back at any time.
"We can't tell our kids to go all-out if we're not going to go all-out."
The Memorial Stadium scoreboard showed just what an all-out team can accomplish, even against a Central Michigan squad that went 10-4 a year ago.
Mangino said he felt his team was playing with something to prove Saturday, a year after a 6-6 record was considered a step backward in a program that has little choice but to make progress.
His sophomore quarterback agreed.
"We want to bring more respect to this program," Reesing said. "We're tired of being looked at as 'Oh, they're going to be a 6-6, 7-5 team and finish in the bottom of the Big 12.' We don't want that anymore.
"I think we're going to play like that every week."
That'd certainly make for an entertaining season in Lawrence. The view inside and outside the program calls for 2007 to be a breakthrough campaign for the Jayhawks.
Saturday, the first shoulder was driven into the door. The force was impressive, to say the least.
"Everybody's got a weight room, everybody's big and strong," Mangino said. "The teams that win are the guys who have the mental edge. On offense, defense, special teams - we had it tonight. We had it through two-a-days, and we need to continue to do that.
"And if we do? We have a chance to be a pretty good football team."
Go figure
538
Total offensive yards by the Jayhawks
294
Total offensive yards by the Chippewas
6.9
Average yards per offensive play for the Jayhawks
4.5
Average yards per offensive play for the Chippewas
172, 1
Passing yards, TDs by ballyhooed CMU quarterback Dan LeFevour
261, 4
Passing yards, TDs by first-time KU
starting QB Todd Reesing
1-1
Red-zone scoring successes, chances for CMU
5-5
Red-zone scoring successes, chances for Kansas
More like this story on KUsports.com