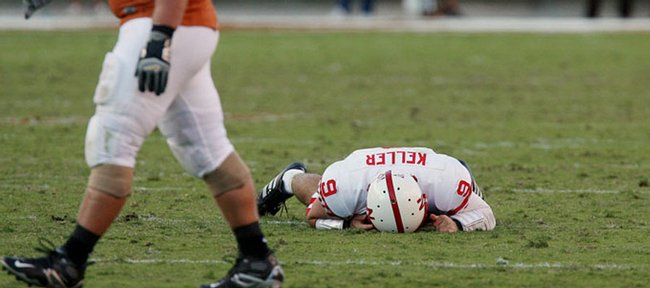 Reader poll
Yes

87%

480 votes

No

12%

66 votes
546 total votes.
Kansas University's football team has answered every challenge it has faced so far this season.
But here's a new one: a quarterback who is almost completely unknown.
Nebraska coach Bill Callahan, whose team is preparing for Saturday's game against the unbeaten Jayhawks, said Monday that NU starting quarterback Sam Keller is out for the season because of an injury to his left shoulder.
Keller was hurt in the Huskers' 28-25 loss to Texas on Saturday when he absorbed a big hit by UT defensive end Eddie Jones with 2:37 left. Keller was replaced by Joe Ganz, who will start against No. 8 Kansas on Saturday at Memorial Stadium.
"This creates an opportunity for Joe Ganz to step up," Callahan said Monday during the Big 12 coaches conference call. "He's ready to do that. He's prepared and trained for this particular role."
Ganz has played in three games this season, attempting just four passes. After Keller was injured, Ganz finished the Texas game and was 2-of-3 passing for 17 yards, including a four-yard touchdown pass to Maurice Purify.
Really, there's not much more film out there of Nebraska's new quarterback. Ganz, a 6-foot-1, 200-pound junior, was Zac Taylor's backup in 2005 and '06 but attempted just 13 passes in those two seasons, one while lined up as a kicker.
"We don't know a whole lot about him," KU coach Mark Mangino admitted Monday. "He has not played a whole lot. Just what we have of videotape on him, (and) some reports we got from spring ball in the summertime. But not really a whole lot."
Keller and Ganz fought for the starting quarterback job through the spring and summer, though the feeling all along was that Keller - an Arizona State transfer - ultimately would win the job.
He did, and in nine games completed 205 of 325 passes for 2,422 yards and 14 touchdowns. He threw 10 interceptions, though, and was unable to move the offense enough to make up for Nebraska's struggling defense. The Huskers are 4-5 overall and 1-4 in Big 12 play, having lost their last four games.
With Keller out, this will be the first time ever that Nebraska will prepare an offensive game plan knowing Ganz will be at the wheel. That alone creates a bit of mystery.
"I don't know how drastically different they'll be," Mangino said. "I'm sure they'll have some things that fit his ability. They'll run schemes that feature his strengths. We'll just have to do the best we can on videotape to evaluate their offense and what we know about Ganz."
The Huskers certainly have a tough task in Ganz's first start. The Jayhawks (8-0, 4-0) have the fifth-ranked defense in the 120-team Bowl Subdivision, allowing just 263.9 total yards and 10.3 points per contest.
Ganz told the Nebraska media after the Texas game that he would be ready if needed. Callahan, for one, thinks that proclamation is more than just talk.
"We lose a good player," Callahan said, "but we feel confident that we have another good player stepping up and stepping in."
- Sports reporter Ryan Wood can be reached at 832-7152.
More like this story on KUsports.com