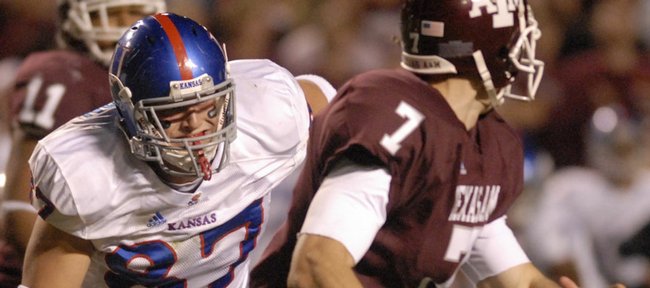 Kansas University's football team has been incredibly consistent with its starting lineup on defense this season. With just two exceptions, it has been the same 11 every week of KU's remarkable 8-0 start.
But the number of key contributors on that unit, in actuality, is closer to 20 players. And that's one reason the Jayhawks have stayed fresh enough to hold off fourth-quarter rallies in their three road victories to date.
"We're using a lot of kids," KU coach Mark Mangino said. "Some of those guys, the quote-unquote 2's, are playing a lot of repetitions. They're actually becoming '1-minuses' maybe. Those guys are getting a lot of playing time and playing well."
A look up and the down the stat sheet confirms it. Freshman Jake Laptad leads the team with three sacks. Freshman Maxwell Onyegbule is right behind him with 21â2, and sophomore Jeff Wheeler is right behind them both with two. Wheeler has added two pass breakups and a fumble recovery, as well.
In addition, defensive back Justin Thornton is tied for the team lead with three interceptions and has four pass breakups. Senior safety Sadiq Muhammed has a pick and two breakups.
Those five players have something in common. They're all key parts for KU's nationally ranked defense, yet not one of them has registered a start this season.
"There are several of them doing a great job and giving our kids a break and playing in certain packages," Mangino said. "It's been a big boost. We have some depth, and we're able to rotate some guys."
Laptad, Wheeler and Onyegbule have filled up the depth chart at defensive end behind starters John Larson and Russell Brorsen. It's a position lacking a physical specimen like former Jayhawk Charlton Keith, but the rotation coupled with the sound play has prevented the ends from becoming the liability some pundits forecasted before the season.
Thornton and Muhammed, meanwhile, have provided secondary depth and boosted the nickel package. In addition, Kansas has three capable Big 12 Conference cornerbacks in Aqib Talib, Kendrick Harper and Chris Harris. Talib is putting together All-America credentials, while Harper and Harris continue a healthy battle at the other starting spot.
That depth - along with the defense staying injury-free once Harper returned for conference play - has helped Kansas soar in the national rankings.
The Jayhawks are fifth in the 120-team Bowl Subdivision in total defense, allowing just 263.9 yards per game. They're also fifth against the pass and sixth against the run. The 10.3 points allowed per game ranks second nationally.
Saturday's 19-11 road victory over Texas A&M; may have been the most impressive defensive effort yet, considering how the Aggies' lauded rushing attack was stuffed to just 74 yards on 27 carries.
Statistical comparisons to past units will work themsevles out in time. But Mangino was asked Sunday if the 2007 defense is the deepest he's had at Kansas, and the answer was a favorable one.
"I think it rivals what we had in 2005," Mangino said. "We probably have an edge on that group. So yeah, I'd say it's the best."