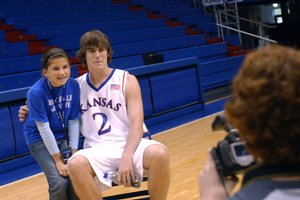 Conner Teahan's dad's name is Mark Teahan. No, not THAT Mark Teahen, not the Kansas City Royals' baseball player. Note the subtle difference in spelling.
"One time I was sitting in class," Conner Teahan said, "and the teacher asked if my dad's name was Mark, and I said yes."
Momentarily, however, Teahan realized the teacher mistakenly believed he was the son of the Royals' outfielder, and Conner quickly set the record straight.
"It's been confused a lot," said Teahan, a walk-on freshman on Kansas University's basketball team. "One time, some people came to our house bringing furniture for him."
The Teahans live in Lenexa, one of the K.C. Metro's numerous Johnson County suburbs, so the confusion is inevitable even though the Royals' Mark Teahen couldn't possibly be Conner's father because of the age factor.
Mark Teahen and Conner Teahan are only seven years apart. Curiously, though, their birthdays are nearly the same. Teahen was born on Sept. 6, 1981; Teahan on Sept. 7, 1988.
It goes without saying that Mark Teahen is better known to Kansas Citians than Conner Teahan, yet the KU freshman cut a large swath of his own while starring in both football and basketball at Rockhurst High in Kansas City, Mo. Twice he was named Missouri's Gatorade Player of the Year and in April received the DiRenna Award as the Metro's top athlete.
Although a handful of Rockhurst products have gone on to play football for the Jayhawks - Sal Capra, Kevin Kane and Jim Davis, to name a few - Teahan is the first Hawklet to pt for basketball on Mount Oread.
"Football is such a huge deal there," Teahan said. "They have a great football tradition. They have the second most wins in Missouri high schools. Of 200 freshmen one year, 120 went out for football."
Yet even though he was a standout quarterback for the Hawklets - good enough to earn recruiting interest from Missouri, Kansas State, Wisconsin and Stanford - he never envisioned wearing a helmet in college.
"My football interest wasn't as much as people thought," he said. "I told myself that if I had the opportunity to play basketball I'd do that."
After averaging 25 points and eight rebounds for state-runnerup Rockhurst, he had plenty of offers, including several offers of full rides. Basically, what it came down to was whether he would pay his own way at Kansas or accept a scholarship offer from then-Wichita State coach Mark Turgeon.
"Telling him I was going to KU was probably the toughest thing I've had to do," Teahan said. "I really did not want to tell him since he's such a great guy."
Money may talk most of the time, but not in the case of Conner Teahan, who has lived and died with the Jayhawks ever since he was in the second grade and his folks took him to games in Allen Fieldhouse.
"I was here a lot," he said. "We'd come three or four times a year, and I would just sit in awe of guys like (Greg) Ostertag and (Raef) LaFrentz. I remember being so upset if KU would lose."
Quite likely, if Teahan had opted for Wichita State, he would be penciled in as a probable starter right now. Not at Kansas, however, where walk-ons customarily wind up as mop-ups late in blowout victories.
"I'll do my best to change that," he said. "I want to play immediately, but I understand. Playing as a freshman...only the best players do that."
Kansas coach Bill Self has compared Teahan to Christian Moody, a walk-on who defied the odds and became a starter. Moody made it, in large part, because he was accomplished, if not gifted, in all phases of the game.
Unlike Moody, however, Teahand comes with a reputation as a talented three-point shooter, and players who can nail the trey coming off the bench usually can count on some playing time.
"Coach Self talked to me, and he was just like, 'You're known as a scorer. I want you, when you are open, to shoot the ball,'" Teahan said. "He was like, 'I don't want you to hesitate at all,' and that's what I'm trying to do."