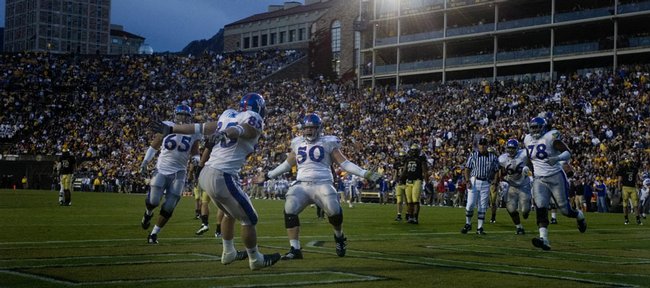 Go figure
333
Kansas University's total offensive yards
353
Colorado's total offensive yards
5.5
KU's average yards per rush (on 33 carries)
2.0
Colorado's average yards per rush (also on 33 carries)
minus-8
Yards gained by CU on its final possession
1995
Year Kansas last beat Colorado in Boulder
84
Game-high rushing yards for KU quarterback Todd Reesing
66
Rushing yards by the Colorado team combined
1
Sacks by Colorado
2
Times Colorado reached the red zone (CU capitalized just once)
Boulder, Colo. — With a short wave, a thumbs up and a quick smile, Kansas University football coach Mark Mangino gave the go-ahead to the 2,500 Jayhawk fans celebrating in the northwest corner of Folsom Field.
Party on.
There's no mistaking it now. The Jayhawks' 19-14 road victory over Colorado on Saturday affirmed that every one of the program's haunting demons of the past has been exorcised. Every one.
Kansas is rolling toward historic success, gaining steam in its quest for a Big 12 Conference title and making more and more pundits across the nation believe in what KU is capable of.
And rest assured, it's plenty.
The 15th-ranked Jayhawks are now 7-0 and 3-0 in Big 12 Conference play. Saturday's victory was a gritty performance in front of a mostly hostile crowd of 51,940, with multiple tests of perseverance that KU overcame every time.
"We have some hard-nosed, tough kids," Mangino said afterward. "We have some talented kids, but the heart and soul of this team is the overachiever, hard-nosed kids. They were the ones that really buckled down here tonight."
They had to. Colorado (4-4, 2-2) made the game interesting late, scoring a touchdown with 3:42 left to get within five and then getting the ball back almost immediately after a Kansas three-and-out.
In the past, it was a situation which put the Jayhawks' defense on its heels.
But now?
"We were pumped," said linebacker James Holt, one of the hard-nosed types who finished with 15 tackles. "We dream for stuff like that."
The ensuing stop illustrated KU's readiness. CU quarterback Cody Hawkins was sacked by Jeff Wheeler on the first play, then he muffed a snap and threw two incompletions into shut-down coverage to turn the ball over on downs with 1:46 left.
So ended KU's second straight Big 12 road victory, after Mangino's squads won just two of 20 in the coach's first five years.
Yes, it is quite different around here.
"We never feel unbeatable," cornerback Aqib Talib said. "You just have to prepare every week : Once you go out there feeling unbeatable, that's when you end up upset."
It hasn't happened yet. An entertaining defensive battle broke out Saturday, as KU and CU struggled to score in the first half.
The only scoring before halftime, though, was impressive. KU kicker Scott Webb overcame a bad snap, stutter-stepped and still delivered a 48-yard field goal early in the second quarter.
"I was just trying to get it down as fast as I could," said Kyle Tucker, the holder. "If I didn't get it down the first time, I was going to run. Webb had an awesome kick. A (48)-yard, one-step kick."
Kansas led 3-0 at halftime, but Colorado took a 7-3 lead in the third quarter on a 27-yard pass from Hawkins to Tyson DeVree.
Here was another test for Kansas, and it took all of 90 seconds to pass it. The Jayhawks marched 58 yards on five plays on the ensuing drive, finding paydirt when Jake Sharp dove across the goal line just 1:30 after DeVree scored.
A quick point was proven that the Jayhawks weren't rattled. And, in fact, they never trailed again.
"They took the lead, and it was on our shoulders to go out there and take it right back," said quarterback Todd Reesing, who completed 20 of 29 passes for 153 yards and a score. "When the pressure gets put on us, we really respond well."
A trait of a champion. The Jayhawks have no hardware yet, but with Saturday's victory, they stay a stiff-arm's length away from the rest of the Big 12 North. At the same time, they kicked Colorado to the middle of the pack.
Kansas plays at Texas A&M; next week, and the popular stance in sports is to spend the rest of Saturday enjoying the outcome before looking ahead to next week.
But for all that the Jayhawks have done right, their focus may trump it all. Yes, KU players and coaches were excited afterward. Certainly, the fans were in a giddy mood as they hit downtown Boulder.
But after a raucous locker room spent celebrating their own perfection to date, the Jayhawks were back to business before many of them even boarded the bus to head toward Lawrence.
After all, bigger goals await for this team. And it seems they finally have put it all together in a quest to reach them.
"It was crazy, exciting," Tucker said. "We're 7-0 now. We're ready to go out and get eight."
More like this story on KUsports.com