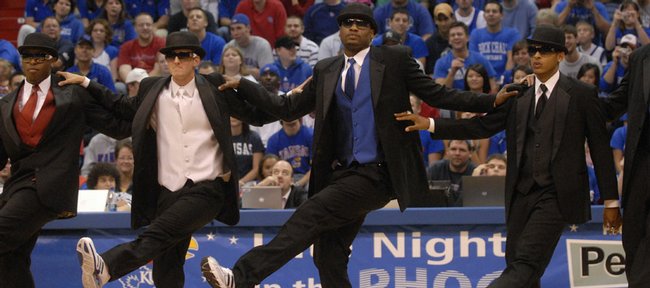 Kansas University's basketball players arrived in style for Friday's Late Night in the Phog at Allen Fieldhouse.
A Corvette, Infiniti, Mercedes-Benz, Lexus, BMW, Hummer, Avalanche and stretch limousine transported the Jayhawks onto a Red Carpet for interviews with "Survivor" winner and KU grad Danni Boatwright. They received heroes' welcomes in the building, where more than 15,000 fans treated the suit-and-tie-clad Jayhawks as the local celebrities they are.
There was thunderous ovation after thunderous ovation - with many laughs thrown in during a "Singing Bee" skit - for a KU team expected to vie for Big 12 and national championship honors.
"It's a little goofy, but a great way to tip off the season," said KU coach Bill Self, who received one of the many standing ovations of the evening.
His players - who ran through a 20-minute scrimmage highlighted by perfect 5-of-5 shooting by Jeremy Case (12 points), as well as inspired play from Sherron Collins (13 points), Sasha Kaun (nine points, six rebounds) and Darrell Arthur (eight points) - actually sang karaoke at LN 2007.
Conner Teahan and Tyrel Reed sang "Ring of Fire," Chase Buford and Cole Aldrich "Livin' on a Prayer," Arthur and Brady Morningstar "Don't Stop 'Til You Get Enough," Collins "Soulja Boy," Brennan Bechard and Matt Kleinmann "Boot Scootin' Boogie," Brandon Rush and Mario Chalmers "The Good Life," Sasha Kaun and Brad Witherspoon "Sweet Caroline" and Rodrick Stewart, Jeremy Case and Darnell Jackson "'Til the End of Time." Russell Robinson concluded with "New York, New York," what else?
"I thought Chalmers and Rush were into it from a dancing standpoint. I thought they were in sync well," Self assessed. "I thought Russell had the easiest song to sing, but 'New York, New York,' was the best one."
The fans - there were some empty seats in the rafters and some of the chairbacks - actually sang along with the Jayhawks on some of the numbers.
"I thought it was relatively funny with the singing and skits," said Self, who laughed out loud during the proceedings.
Self - he will run the players through the first official practice of the season today (closed to the public) - watched the running-clock scrimmage with interest.
"One good thing is the Red team shot well," he said of the Arthur-Kaun-Chalmers led squad that hit 60.6 percent of its shots in winning, 44-34, over the Blue. Case hit two three-pointers in as many tries, while Kaun was 4-for-4 shooting, and Arthur, who sank a hook shot from 10 feet, 4-of-8.
"We didn't guard anybody. That was not real ball," Self said.
Collins missed five of six threes but still scored 13 for the losers. As far as the freshmen, Conner Teahan hit a pair of threes in as many tries, Tyrel Reed had four points, an assist and turnover, Chase Buford had a rebound and steal and big man Cole Aldrich didn't score with three turnovers in nine minutes.
"There were probably some things that happened tonight that all freshmen need to go through. It'll be good for them in the long run," Self said. "They were nervous. The other guys are experienced, and it shows.
"I told Cole that I remember when J.R. (Giddens) did Late Night. That was, 'Welcome to college basketball.' It was bad. Cole was a little nervous. Little guards are diving down, getting on him. He'll adjust. The game is fast right now."
Self believes fifth-year senior Case's performance was not a fluke.
"He shot the heck out of it. I've said before he's the best shooter on the team," Self said.
Case relished his final Late Night.
"It's probably the most fun I've had at a Late Night. This year I'm trying to not put as much pressure on myself as past years, have fun and go out with a bang," Case said.
As far as one guy who didn't play ... junior Brandon Rush dressed and acted as if he wanted to join the pre-scrimmage layup line, but was stopped by the coaches and trainers.
"I'm doing pretty much everything, but only playing at 80, 90 percent full speed right now," Rush said. "They said I can begin doing things with the team next weekend."
He's confident he'll soon be the Rush of old following right ACL surgery on June 1.
"I can do stuff like run, jump, just no contact," Rush said. "It might take a couple games to get back to my old self, but I'm very confident."
Self may have put it best: "Brandon will not be the Brandon we saw at 100 percent last year, but I think he can be 100 percent of the new Brandon."
More like this story on KUsports.com