Call me on the phone, send me an e-mail - or drop a card or letter in the snail mailbox - to correct me if I'm wrong.
But until I hear from you, I'm going to make what I consider a can't-miss assertion: That, after tonight, I will remain the only person to have attended all 23 season-opening "Late Nights" in Kansas University's tradition-rich Allen Fieldhouse.
Here's my reasoning :
KU has had three head men's basketball coaches and also three athletic directors in those two-plus decades, making me believe nobody but myself has been "assigned" to be in the hoops palace for the three Late Nights With Larry Brown, 15 Late Nights with Roy Williams and five Late Nights in the Phog, hosted by Bill Self.
Remember, KU's first Late Night attracted a mere 6,000 fans - meaning there are only 5,999 other possible individuals who have witnessed each and every one.
Consider also that it has not been the most convenient event to attend. All but the last two Late Night scrimmages started at midnight, and for many years Late Nights took place on weeknights - school nights.
The NCAA finally wised up two years ago and gave schools permission to hold the proceedings during prime time.
Maybe I'm full of hot air on this one, but I think not.
If I'm wrong : hey, it's going to be fun finding out how many of you also have attended all 23 Late Nights.
For now, since I'm claiming to be a know-it-all, let me at least provide some memories from each Late Night for you:
1985
KU's inaugural "Late Night With Larry Brown" was not a big deal.
As stated above, it attracted 6,000 fans.
Instead of whining about the small gathering, the former New Jersey Nets coach was ecstatic at the turnout.
"It was fabulous. I was thrilled with the students," Brown said of the fans who showed at 12:01 on a Tuesday morning.
Many of the students wore T-shirts that read, "Late Night With Larry Brown. Starring the 1985-86 Kansas basketball team : all the way to Dallas."
That KU team prophetically, did advance to the Final Four in Dallas. Current Jayhawk coach Bill Self was a grad assistant on that team, and like me, was definitely in the house.
I don't remember seeing him there and I'll bet he doesn't remember seeing me, either.
1986
"Late Night With Larry Brown" became a major happening in 1986.
Fans were pumped up following the Final Four season and also, believe it or not, jazzed to see the guest of honor - Larry Bud Melman of the "Late Night With David Letterman Show."
Melman signed autographs at the satellite union before a huge throng of fans, then made a brief appearance at Late Night before being whisked out of town.
1987
Current KU assistant coach Danny Manning and teammate Scooter Barry sang The Temptations' song: "My Girl." Normally reserved, Manning was willing to grab center stage prior to his senior season.
KU went on to win the national title.
Perhaps Sasha Kaun and Russell Robinson should sing that good-luck tune tonight.
1988
Roy Williams' first Late Night - it actually was called "Later With Roy Williams" - drew 10,000 fans. Alonzo Jamison shattered the backboard, thrilling the attendees, but delaying the proceedings and angering Journal-World pressmen who were waiting on a story that arrived about 2 a.m.
Amazingly, Williams, a rookie head coach in '88, became a Hall of Fame inductee less than 20 years later.
1989
KU officials charged a $5 fee to gain admission to what was billed as both a concert and season-opening basketball celebration.
Kansas City rock band "Shooting Star" performed on a huge sound stage. Fans were allowed to dance on the floor, with plastic covering protecting the fieldhouse surface.
I'll never forget walking in the stands with KU sports information director Doug Vance, both of us shocked to be sniffing the distinct smell of marijuana in the fieldhouse.
The doobie lovers left after the bands were finished, giving way to hoops fans who breathed a lot of second-hand smoke that night.
Suffice it to say, admission was never charged again and no bands besides the KU pep band, ever played at Late Night again.
1990
More than 13,000 fans showed for the late Sunday night/early Monday morning proceedings.
During the 1990 scrimmage, Rex Walters scored 16 points and amazed the crowd with some violent dunks.
Rex, one of my favorite Jayhawks of all time (do you realize how much that guy wanted to win?), will be back in Allen on Nov. 28 with his second Florida Atlantic team.
Resist any temptation to boo the visitors that night.
Rex Walters deserves cheers, not jeers, from the KU faithful, and assuredly will get them.
1991
Williams decided Late Night would be better suited on a Friday night, not Monday, the first day KU could practice in accordance with NCAA rules.
It was a controversial move at the time, but a smart one, made so he could bring recruits to town for the made-for-recruiting event.
The fans responded by packing the building. It has been "sold out" ever since.
1992
Nobody has had more fun at Late Night than the 7-foot-2 Greg Ostertag, who showed dressed not as Falkenstien, but Frankenstein.
Roy Williams' entrance was followed by a ribbon-cutting ceremony for the new James Naismith fieldhouse floor. The place was packed, even though Late Night was televised. The TV show, however, drew poor reviews. I've been told the event doesn't play well on TV. You sort of have to be there.
1993
Fans dressed as their favorite TV sitcom characters before the scrimmage. The Lone Ranger, Silver, Tonto, Gilligan's Ginger and Granny Clampett all were on hand.
This Late Night marked the debut of freshmen Jacque Vaughn, Scot Pollard, B.J. Williams and Nick Proud, as well as Cal transfer Jerod Haase. Proud didn't last long at KU, but the other guys were part of a lotta victories.
1994
Baseball Hall of Famer George Brett and golfing great Tom Watson joined former Royals' center fielder Brian McRae and ex-Chief defensive back Deron Cherry as honorary coaches.
The honorary coach experiment lasted just the one season. Williams never said so, but I think he felt guilty those dignitaries had to stick around until after midnight to coach. None of the four complained. They all seemed to have a blast.
1995
Fans showed early for the Saturday night event which started when former KU football coach Glen Mason took the court and yelled, "Live from Allen Fieldhouse, it's Late Night With Roy Williams."
Now a color analyst for the Big Ten network, Mason has said one of his favorite moments at KU involved the reception he received at that Late Night. Earlier that day KU had won a football game at Oklahoma during a 10-2 season.
I think it was one of the few times in his tenure Mason actually felt truly appreciated.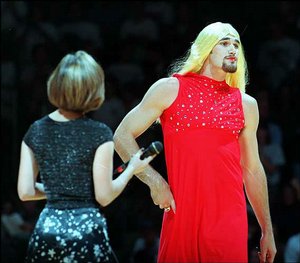 1996
Scot Pollard became the first basketball player in KU history to score 14 points, grab seven rebounds and block four shots while wearing bright red polish on all 10 fingernails.
That's the night Pollard, who is now with the Boston Celtics, proposed to his girlfriend, Mindy Camp. She accepted.
They now have three kids, two girls and a boy, his newly born son named Ozzy.
Time flies, doesn't it?
1997
A transfer from LSU, Lester Earl wore a black leather jacket in a spoof of 1950s music. Earl had some vicious dunks, as did Kenny Gregory and Paul Pierce in a pre-scrimmage dunk-athon.
A quiet, but friendly, guy, Gregory hasn't been spotted back in Lawrence since his playing days.
I'll never forget the recruitment of Gregory.
Back in the pre-Internet days when Bob Gibbons and Mike Sullivan were really the only two recruiting gurus : I made hundreds of intrusive phone calls to KU's prep prospects during the decision-making process.
I remember calling Gregory's high school coach 21 straight days to see if he his prize pupil was ready to pick between KU and Ohio State.
I'll never forget the cooperation of his coach, saint, Dave Feyh, who updated me every single day until Kenny was ready to announce for KU.
1998
The theme was "Night at the Naismiths" - an awards show in which guest judges rated acts and presented not an Oscar, but a "Naismith'' to the winners.
Ever-athletic Gregory rammed home several windmill dunks during a warmup drill.
The show was kind of hokey, but nobody told that to Williams, who was protective of those Late Night skits.
1999
Big men Eric Chenowith and Jeff Carey played electric guitar as Nick Collison sang vocals for the Limp Bizkit song, "Faith."
It was noise more than music, but kind of funny nonetheless to see the three tall guys horsing around in front of 16,300 adoring fans.
Best wishes to Eric as he tries to make the roster of the New Orleans Hornets.
2000
Drew Gooden sat in a canoe with John Crider as the canoe was pulley-ed across the fieldhouse floor. Jeff Carey, who showed with a wavy head of hair instead of his trademark crewcut, had teammates shave his head under the South goal. The canoe bit was funny; it took longer than expected to shave Carey's moptop.
2001
Keith Langford, Wayne Simien, Michael Lee, Aaron Miles, and Jeff Hawkins serenaded their mothers in a song and dance that I thought was neat, but one coach Williams didn't enjoy.
He said he couldn't hear anything because of an antiquated fieldhouse sound system. Late Night had a patriotic theme coming a month after the horrific events of Sept. 11, 2001.
2002
KU seniors Collison and Kirk Hinrich stole the "Mardi Gras"-themed show. Collison played Texas Tech coach Bob Knight in one skit and Hinrich played Missouri coach Quin Snyder in another.
"It was the most fun I had in my four years," Collison said.
And this year the sound system was improved.
Hey : what Williams wanted, Williams received at KU.
2003
Bil Self's first Late Night took on the name, "Late Night in the Phog."
Self received a thunderous ovation after a showing of a highlight video of the coach's introductory press conference on some makeshift TV screens put up in the four corners of the building.
The fans also rocked the fieldhouse when the 1988 title team, led by coach Larry Brown, was introduced.
2004
Tuxedo-clad Kansas University seniors Langford, Lee, Miles and Simien bowed their heads reverently while grasping KU's 1988 national-championship trophy at the conclusion of a dramatic skit to start Late Night.
"It wasn't like it was a fun thing. It (skit) was a serious matter," Miles said of the Fab Foursome answering a series of questions from 1988 title winners Manning and Mike Maddox before being allowed to touch the title trophy.
I thought it would prove to be an omen of another national title.
But it wasn't to be.
KU fell in the first round of the NCAAs.
2005
For the first time ever, the festivities started at 6:30 p.m. instead of 10 or so. KU took advantage of an NCAA rule that allowed schools to move Late Night to Prime Time.
KU didn't rename the event : electing to continue the Late Night tradition.
"Hey, it's late some where in the world," KU coach Self cracked.
A brand-new video board was unveiled to the delight of the fans.
2006
A spoof of "Dancing with the Stars," highlighted last year's Late Night.
The junior class of Jeremy Case, Sasha Kaun, C.J. Giles, Darnell Jackson, Russell Robinson and Rodrick Stewart "waltzed" their way to a dance competition victory over the Jayhawk sophomores, who "tangoed," and freshmen, who twirled to the "swing" in front of judges Self, Manning and Aaron Miles.
"The waltz, the jitterbug, the tango. We just try to educate our guys. You get the full cultural experience at Kansas," Self said.
More like this story on KUsports.com