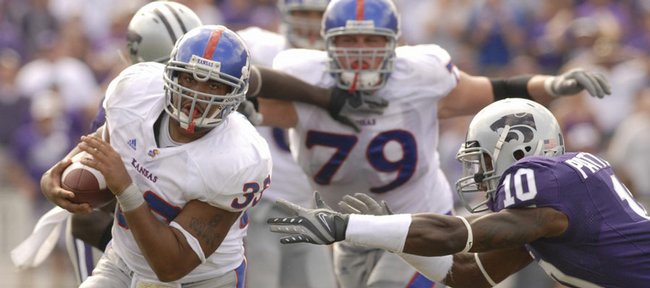 Go figure
24
First downs by Kansas University
17
First downs by Kansas State
5.8
Yards per offensive play for Kansas (437 total yards)
5.2
Yards per offensive play for Kansas State (363 total yards)
170
Kansas rushing yards
53
K-State rushing yards
0, 3
Fumbles, interceptions by each team
1999
The last time KU scored a touchdown in Manhattan (it had 4 Saturday)
Manhattan — The doubters have nothing left.
Some will still lurk, of course, questioning Kansas University's football team for this, or showing skepticism because of that.
But as of right now, the peg leg those cynics were standing on was chopped down Saturday, after Kansas triumphed over No. 24 Kansas State, 30-24, in a thrilling showdown at Bill Snyder Family Stadium.
"We finally played a Top-25 team, on the road, and we got the win," KU cornerback Aqib Talib said. "What are they going to say now?"
What could they possibly come up with? After Saturday's gritty, come-from-behind victory, Kansas stands at 5-0 and has proven its worth away from Lawrence against Big 12 Conference competition.
It was exactly what critics thought was the chink in the Jayhawks' armor: A soft nonconference schedule in September did little, they cried, to prepare them for the Big 12.
Well, maybe it did and maybe it didn't. Either way, 50,924 hostile fans and some early adversity didn't rattle the Jayhawks like they might have in the past.
No, this looks like a different team. A special one.
"I told our players that this was the day," Mangino said. "The time was right. Our program, our players are confident. They feel good about themselves. This 2007 team feels like they can win anywhere."
They felt it. Even after throwing an interception on the first play from scrimmage. Even after Talib, the team's unabashed star cornerback, got toasted for a 68-yard touchdown early on. Even after a Todd Reesing pass boinked off of Dexton Fields' facemask in the fourth quarter, went straight in the air and was intercepted, setting up a touchdown that put K-State up 24-21 with 7:32 left.
"That was the kind of game," Talib said, "we would've gave away last year."
But there's something to be said for KU's unprecedented combination of talent and will. The two working together, like they did Saturday, could take this team out of the darkest and deepest of tunnels.
Exhibit A: After Fields had the pigskin clank off his face, he caught two passes for 53 yards on the ensuing drive, including a 30-yard touchdown strike that put the Jayhawks back on top, 27-24, with 6:27 left.
Exhibit B: After getting burned for the early score in the hyped matchup with KSU's Jordy Nelson, Talib came back and clinched the game by intercepting a Josh Freeman pass with 1:12 to play. Oh yeah, and he caught a critical touchdown pass with 11 seconds left in the first half to tie the game at 14.
Exhibit C: Reesing looked out of place in the first quarter, throwing the interception and struggling to figure out K-State's aggressive defense. But in the end, the intangibles that make him a winner bled through. The rest of the team followed, sure that the game never would get away.
"He's awesome," Mangino said of Reesing, who had 267 passing yards and three touchdowns. "There isn't anything in the world that he thinks he cannot do."
It started with such an attitude, continued with KU's victories on the offensive and defensive lines and culminated with just enough playmaking to seal what might be the biggest victory in the Mangino era.
But what looms largest from Saturday's thrilling victory isn't so much the present as it is the future. It dares Kansas fans to dream.
The Jayhawks already are one victory away from bowl-eligibility with seven to play. They might be placed in the Top-25 poll released today. There's no doubt they should be considered a real candidate in an up-for-grabs Big 12 North race.
"I thought clearly (KU) was the best team we have played all year," said K-State coach Ron Prince, whose team also has battled Auburn and Texas. "I tried to say it very clearly to our team, to anybody that would listen, that this team had no weaknesses."
It remains to be seen how far the Jayhawks will go with what they have. But after Saturday's big rivalry victory, KU surely will continue on with a few more believers.
About time, the players will tell you. They've believed all along.
"It was really great," running back Brandon McAnderson said. "The camaraderie of the team and the way we came together? That was one of the best experiences of my life."
More like this story on KUsports.com