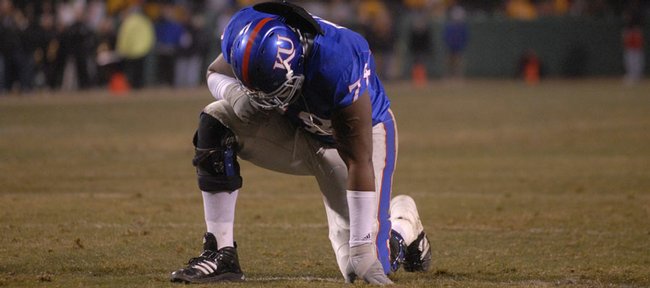 Videos
The Border War 2007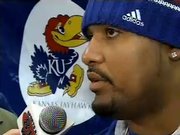 ¢ 6Sports video: Beaten but still in top 5<br /> ¢ 6News video: Fans cheer on Hawks from Lawrence<br /> ¢ 6News video: Crowds brave cold for ESPN's Gameday<br /> ¢ 6News video: Broken dreams<br />
Reader poll
Fiesta Bowl

54%

3311 votes

Orange Bowl

10%

638 votes

Sugar Bowl

3%

203 votes

Cotton Bowl

21%

1305 votes

Holiday Bowl

5%

337 votes

Gator Bowl

1%

84 votes

Elsewhere

3%

226 votes
6104 total votes.
Kansas City, Mo. — Well, that's that.
Just as the pretty girl was really showing some interest, the nemesis grabbed Kansas University's football team by the collar and threw it out the door.
Oh well. The Jayhawks crashed the party anyway.
No. 3 Missouri proved Saturday that it probably is the Big 12 North's more worthy representative. The Tigers appeared unstoppable at times, using a loaded offense and brilliant quarterback play to beat No. 2 Kansas, 36-28, Saturday at Arrowhead Stadium.
The Jayhawks made it interesting in the frantic final minutes, but dropped to 11-1 and now will wait until next week to see which bowl extends an invitation. Missouri, also 11-1, gets the tiebreaker and will play Oklahoma in the Big 12 championship game Saturday in San Antonio.
"They're probably going to win the national championship," KU cornerback Aqib Talib said matter-of-factly of the Tigers.
Saturday's game certainly narrowed down the candidates. It definitely won't be the Jayhawks winning the crystal football, despite an inspiring 11-0 start shooting them into the list of contenders.
Talib, in fact, was a part of a KU defense that was humbled the entire night in front of 80,537 freezing fans. Missouri's offense, led by gifted quarterback Chase Daniel, moved like a machine against KU, a brilliant combination of pass and run that led to 519 total yards and its 12th straight 30-plus point outing.
Kansas, meanwhile, squandered precious opportunities and had an uncharacteristic two giveaways in the red zone. It allowed Mizzou to bolt ahead - 28-7 at one point - and the Jayhawks spent the entire game catching up to the world-class sprinter.
Admirable, but not probable. Kansas, down six, did get the ball back on its own 11-yard line with 17 seconds left. But quarterback Todd Reesing was sacked in the end zone to give the Tigers two final points and the go-ahead to reserve a sideline at the Alamodome.
"Except for the first couple of series, I never felt our offense was out of sync," KU coach Mark Mangino said. "We just didn't make plays in third-down conversions, red-zone conversions, that type of thing."
Kansas gained just one first down on its first three drives, and Missouri was able to get a 7-0 lead after one quarter. The second quarter then broke the Jayhawks' legs, even if the scoreboard didn't reflect it.
Mizzou scored just once in the second frame, but it was on a 98-yard drive prolonged by a fourth-down defensive-holding penalty on Kansas. Furthermore, KU quarterback Todd Reesing threw an interception at the Missouri two-yard line, and Scott Webb missed two field goals within his range.
With room to breathe, the Tigers stayed comfortably ahead by piecing together second-half drives and getting at least some points out of most of them. Daniel launched himself even farther into the Heisman Trophy race by completing 40 of 49 passes for 361 yards and three scores. A rushing attack led by Tony Temple's 98 yards kept the guessing game alive.
"I thought our defensive effort was good," Mangino said. "Missouri's offense is really talented, and I thought our kids played their tails off.
"I give MU credit. They pitch-and-catch very well. Their receivers don't drop many balls, and they ran the ball pretty decent today, too."
The Jayhawks didn't start storming back until the fourth quarter, when Reesing scored on a naked bootleg with 13:02 left to cut the deficit to 28-14. Reesing threw two more touchdown passes in the final 8:28 to cut the deficit to six, but time ran out, and opportunities dried up. KU's championship hopes - and the likelihood of a No. 1 ranking in the new polls - swirled down the drain.
"That's the way it went," KU's Kerry Meier said. "Missouri played well tonight and they're probably going to be No. 1 come tomorrow. We just didn't take care of business."
For Kansas, the waiting game is here. The Jayhawks still have a chance at getting an at-large bid for a BCS bowl - perhaps the Fiesta - but certain situations beyond KU's control need to unfold.
The Jayhawks, meanwhile, will lick their wounds - and there's plenty with this banged-up team - and tune into the television next week to see if any of the high-dollar BCS bowls want them. If not, the Cotton Bowl or Holiday Bowl seem the most likely destinations.
Either way, Mangino and his players seemed ready to look ahead past Arrowhead and all the Border War hype.
It's really all they can do now.
"I certainly was disappointed in the way it ended, but we'll live to fight another day," Mangino said. "Get ready, make preparations for the bowl game and try to do our best to finish this season on a winning note.
"It's been too good of a season not to work hard and try to finish it off on a winning note."
Go figure
6
Points missed by the Jayhawks on first-half field-goal misses
519
Total offensive yards by the Tigers
391
Total offensive yards by the Jayhawks
2
Interceptions by KU's Todd Reesing (after 213 attempts without one)
6
Jayhawks with double-digit tackle totals
93
Offensive plays run by Missouri
71
Offensive plays run by Kansas
14:50
Missouri's advantage in time of possession
More like this story on KUsports.com