Videos
The Border War 2007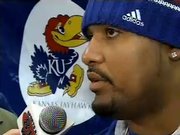 ¢ 6Sports video: Beaten but still in top 5<br /> ¢ 6News video: Fans cheer on Hawks from Lawrence<br /> ¢ 6News video: Crowds brave cold for ESPN's Gameday<br /> ¢ 6News video: Broken dreams<br />
Kansas University football coach Mark Mangino is in his sixth season as head coach. Missouri coach Gary Pinkel is in his seventh.
Yet both remember clearly their first run-ins with the new fan base they'd be out to please. Not surprisingly, the subject went to the Border War game quite quickly.
"When I got done with my (introductory) press conference, I went to a reception at one of the hotels immediately afterward," Pinkel said. "The first 10 people came up to me right in a row and said, 'Coach Pinkel, great to have you here. But we better beat Kansas.'"
Perhaps it's never more important today for either coach, as No. 2 Kansas plays No. 3 Missouri for the Big 12 North title. Kickoff is at 7 p.m. from Arrowhead Stadium in Kansas City, Mo.
But even before the stakes got THIS high, they were still way up there.
"When I first arrived in Kansas as the head coach and they were taking me around to meet various people, a lot of the fans would say, 'I don't care what you do all year as long as you beat Missouri'" Mangino recalled. "I would hear about beating Missouri all the time."
Mangino is 3-2 all-time against Missouri. Pinkel is 3-3 against Kansas.
¢
Newfound pride: Mangino said that former players of all ages have been in touch with the football office recently to express their support for the 11-0 Jayhawks.
"One particular gentleman told me that he feels good about telling his son about his days of playing football at KU, and they follow it on TV," Mangino said. "He's proud. He's proud now of the football program."
¢
Prince on showdown: Kansas State coach Ron Prince suffered losses at the hands of both Kansas and Missouri this year. He was asked earlier this week about the matchup.
"When we watched (Kansas) getting ready for the game, I thought they were clearly the best team we had seen to that point, including Auburn and Texas," Prince said. "But now after playing Missouri, there was several weeks there where we haven't played KU. I just find Missouri very, very challenging. I think they're a very difficult team to deal with. They have so many weapons, and they're so good on defense."
¢
Staying grounded: Without question, players from both teams will be jazzed for today's game, with Arrowhead Stadium sold out and so much at stake.
It's crucial, Mangino says, to keep his players calm and collected as kickoff nears.
"If you rely on emotion, it lasts until maybe two plays after the opening kickoff. And then you're pooped," Mangino said. "We're taking a technical approach to the game. This is about blocking, tackling, running, throwing. Playing good, sound, fundamental football.
"That's what we're focused on. That's what the kids know is important."
¢
Split crowd: KU played Oklahoma at Arrowhead Stadium in 2005, though the atmosphere resembled a KU home game in a strange stadium.
This will be different. A sold-out crowd of nearly 80,000 is expected, and roughly 30,000 could be Missouri fans.
"I'm picturing the Red River Shootout," defensive tackle James McClinton said of the Oklahoma-Texas game in Dallas. "That's going to be kind of cool. Half and half."
¢
South complications: The winner of today's game will win the Big 12 North and advance to next week's Big 12 championship game at the Alamodome in San Antonio.
The Big 12 South champ will be either Oklahoma, Texas or Oklahoma State. If Oklahoma beats Oklahoma State today, the Sooners are in. If Oklahoma State and Texas both win, the Longhorns are in. If Oklahoma State wins and Texas loses, all three would have a 5-3 conference record and a series of dead tiebreakers. It could then come down to who's placed highest in the BCS standings Sunday.
More like this story on KUsports.com