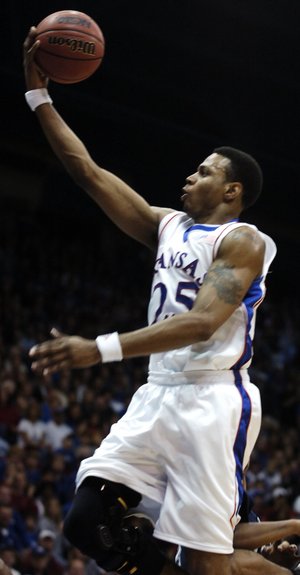 Kansas University's men's basketball team will shoot for its 600th victory in Allen Fieldhouse Wednesday night against Northern Arizona.
It could be yet another festive evening in KU's tradition-rich building provided the Jayhawks, who have a 599-106 all-time mark in Allen, take care of business, and if the enthusiastic student section is filled for a game played on Thanksgiving Eve.
"It's Kansas ... you know the crowd will be hyped," junior Mario Chalmers said, confident his comrades on campus will stick around for the 7 p.m. tipoff between the Jayhawks (3-0) and Lumberjacks (3-1).
"I think we'll still have good attendance, and there will be a lot of people around," junior Brandon Rush said. "They (Lumberjacks) almost beat Arizona at home. It'll be a good game."
Northern Arizona, which won, 65-56, Monday night at Mississippi Valley State, also has defeated UMKC (77-62) and Adams State (78-65) at home. The Lumberjacks kept it close throughout, but fell to Arizona, 76-69, on Nov. 13 in Tucson.
KU officials say there are no special promotions going on with the game, which, as usual, is a sellout.
Folks in attendance Wednesday figure to see junior Brandon Rush play more than he did in last Thursday's return game from June 1 ACL surgery - one in which he had seven points in 12 minutes in a 92-60 rout of Washburn.
"I hope to come out and play a few more minutes to help the team," Rush said. "Maybe 15 minutes or something like that."
Rush said his knee "felt pretty good. It didn't feel sore at all," after the Washburn game.
KU coach Bill Self will go by what medical personnel tell him on the day of the game.
"He should play more than last week unless he has a setback. He's doing well now," said Self, who indicated Rush was not yet ready to return to the starting lineup. "Hopefully he can play enough minutes it would have to be split up (whereas Rush would play in both halves instead of just the first half as he did Thursday)."
Rush said he was touched by the standing ovation he received when entering the game in the first half versus the Ichabods.
"I got chills in my body. It was fun," Rush said. Of his performance, he added: "I felt good, but I was a step slow."
¢Tendinitis issue: Senior guard Russell Robinson wore a brace on his left knee at practice on Monday.
"My tendinitis is back a little bit (from) a lot of running, a lot of jumping. I have a brace on it to keep it stable during practice. It (knee) is not a problem. I won't wear it for the game, just practice for the sake of all the running, jumping," Robinson said.
¢Round numbers: KU's 100th win in the fieldhouse was 79-56 over Xavier on Dec. 9, 1968. 200th win: 88-54 over Farleigh Dickinson, Dec. 7; 1977. 300th win: 72-56 over SMU, Jan. 11, 1986. 400th win: 69-50 over Western Michigan, Nov. 17, 1993. 500th win: 92-69 over Tulsa, Dec. 16, 2000.
¢Turkey Day: The Jayhawks, who will play home games Wednesday and Sunday (Arizona), will remain in the area for Thanksgiving.
"They (players) are all going respectively with their teammates, or their families are coming to town," Self said. "All will have someplace to go. We'll literally break bread Thursday morning, bring 'em back that night (for practice)."
¢Recruiting: Self, who has signed five players in the early signing period, reiterated Monday on his Hawk Talk radio show he's not finished pursuing players for the Class of 2008. KU technically has filled its allotment of five scholarships, but Brandon Rush and Darrell Arthur are considered locks to enter the NBA Draft with Mario Chalmers and Sherron Collins possible early entrants as well.
"Our recruiting is incomplete. We need to sign at least one more. We think we could sign two more to be honest," Self said. "Even though we have five seniors, the percentage play would be to sign two more. Guys potentially could leave. If guys make the decision to leave hopefully we are not sitting ill-prepared."
More like this story on KUsports.com