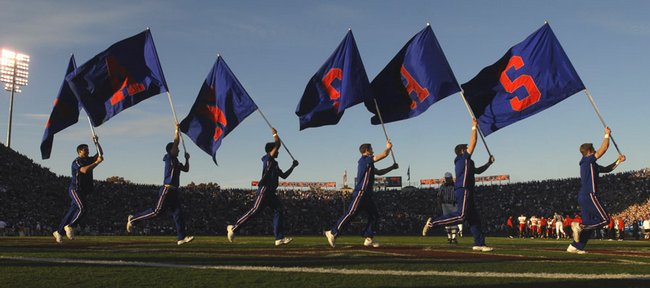 Go figure
205
Passes without an interception for KU's Todd Reesing
17-of-18
Reesing's first-half passing, for 221 yards
1,009
Season rushing yards for Kansas' Brandon McAnderson
7:00
Kickoff (p.m.) for the KU-Missouri game Saturday in K.C., Mo.
9-98
Penalties-penalty yards for KU
3.7-31.4
Penalties-penalty yards for KU on average coming in
69-234
Offensive plays-yards by Iowa State (3.4 yards per play)
72-566
Offensive yards-yards per play by Kansas (7.9 yards per play)
Welcome to Missouri week - officially.
Don't be alarmed by the massive, beyond-your-wildest-dreams hysteria that will surround this edition of the Border War. It's expected, especially after both No. 4 Kansas University's and No. 6 Missouri University's football teams defiantly took care of business all season long.
For the Jayhawks, it was a 45-7 victory over Iowa State on Saturday that punctuated the resume heading into the Missouri showdown - expected to be an out-of-this-world rivalry game that never has seen better days.
"I'm sure : " KU coach Mark Mangino started, before catching himself. "I'm not sure, I am absolutely positive that (the players) are looking forward to that game."
Funny, because the Jayhawks showed a remarkable amount of maturity in keeping Missouri in the future and focusing on Saturday's task - pulverizing the lowly Cyclones.
Lost in the forward spin is yet another reminder of how good Kansas is this year. Saturday's victory, a businesslike beatdown if ever there was one, moved the Jayhawks to an unprecedented 11-0 on the season, including 7-0 in Big 12 Conference play.
Some dings were noticed on the armor - KU had an uncharacteristic nine penalties, several costly, and had three starters out due to injury - but the Jayhawks made it work anyway.
Outgaining the opponent by 332 yards probably is enough to beat any poor soul. Kansas did just that, making Senior Day at Memorial Stadium a quick mismatch.
Add another win to the pile. It's getting tall.
"The guys in the locker room are not surprised with how we're doing," linebacker Joe Mortensen said. "In our eyes, we can be even better."
Even Todd Reesing? KU's sophomore quarterback has been good all year long, propelling himself into the Heisman Trophy race. But in the first half Saturday, Reesing was darn-near flawless.
"Sparky" was 17-of-18 passing for 221 yards and four touchdowns in the first half alone. His only incompletion was a throw-away just one play before hitting Dexton Fields for his second touchdown of the game.
One incompletion in the first half. And he did it on purpose.
"You never really know how you're doing or what your numbers are," said Reesing, who finished with 253 yards, four touchdowns and five incompletions. "I felt pretty in sync. The offensive line was giving me time and a chance to throw the ball, and the receivers were finding a way to get open. When all that's going well, it makes my job real easy."
Not surprising, then, that the Jayhawks smoothly rolled to 566 total yards and 45 points - more than enough for yet another victory.
But the most impressive part of Saturday's game was that Kansas easily stepped around a potential trap on the schedule. With Missouri, a 49-32 victor over Kansas State on Saturday, looming with the Big 12 North title at stake, the eyes of the surrounding community began to move toward Nov. 24 and the Border War game at Arrowhead Stadium in Kansas City, Mo.
Any hint, then, that the players were thinking about the Tigers? Even a little bit?
"It never really entered our minds," said running back Brandon McAnderson, who had 70 yards rushing and joined the 1,000-yard club Saturday. "That's not the way we operate."
Added Mangino: "The practices were normal tempo and focus. Everything was in order."
Like always.
Now, the players can stare at Mizzou like everyone else. Kansas (11-0) and Missouri (10-1) likely both will be in the top five of all the new major polls released today. A primetime game at the always-loud Arrowhead Stadium in Kansas City, Mo., is upcoming with national-title considerations at stake.
But remember: It's also a rivalry at its roots. Players like KU's Chris Harris, a true freshman cornerback out of Oklahoma, soon will find out the animosity between the two schools, be it talk by his older teammates, students on campus or former KU coach Don Fambrough, the ultimate Missouri hater.
Harris recognizes what's at stake - mostly. Fortunately for him, he now has free rein to explore it even more.
The pre-Missouri business officially is done.
"I still hate Kansas State now," Harris said with a smile. "But I'm pretty sure come Saturday, I'm going to hate (Missouri) too."
More like this story on KUsports.com