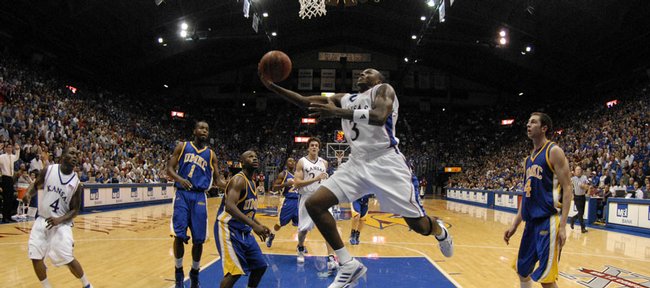 Go figure
50.0
UMKC's first-half field-goal percentage
37.9
UMKC's second-half field-goal percentage
9
Points by which KU outscored UMKC from free-throws
15
Steals by the Jayhawks, contributing to 26 points off turnovers
30
Field goals by the Jayhawks
24
Assists by the Jayhawks
71
Points scored by Kansas' five starters
14
Points scored by KU's five reserves
A pure shooter with a mentality to match, Mario Chalmers shook his head 'No' when asked if Kansas University's basketball players launched too many 3-pointers Sunday night at Allen Fieldhouse.
"I don't think so. We shot 22 3s. That might be our new game plan," the 6-foot-1 junior marksman said, grinning, after the Jayhawks' 85-62 victory over pesky University of Missouri-Kansas City.
"I think it was (the game plan) this game, just because they were sagging off us so much. Anytime you are open, you've got to take it."
Chalmers iced a career-high six 3-pointers (he had five against Texas last year) in nine tries and tied a career high with 23 points.
Russell Robinson made three 3-pointers in six tries, good for 15 points.
The two accounted for all nine of KU's treys, while teammates were a combined 0-for-7. Add it up, and KU hit nine of 22, for 40.9 percent.
Sherron Collins, who had 10 points, missed six threes without a make, while Tyrel Reed missed the only other trey try against UMKC's 1-3-1 zone.
"Anytime a team doubles our big guys, or sags back, it will leave the guards open. If the shot is open, we'll take it," Chalmers said.
KU coach Bill Self applauded Chalmers' long-range shooting, informing reporters - without the benefit of a stat sheet - the Anchorage native is 14-for-22 in four games, counting two exhibitions. He's seven for 13 from beyond the arc in two regular-season contests.
"Mario shot the lights out. Obviously, he's off to a good start," Self said. "We needed him tonight. Russell (who had career-high-tying nine assists) is shooting it better, too. Sherron didn't shoot it in, so it was just a role reversal from the last game."
In Friday's opening-night rout of Louisiana-Monroe, Chalmers made one of four three and had eight points, while Collins hit four of seven and tallied 22. Robinson made two of four and had 10 against the Warhawks.
"We didn't attack their zone very well tonight, so it was good to have guys step up and make shots," said Self, who used just three big men, figuring smaller, quicker UMKC provided a bad matchup for rookie Cole Aldrich.
Darrell Arthur hit five of 12 shots good for 13 points and 10 boards, while Sasha Kaun had 10 points and three boards and Darnell Jackson six points and four boards. The three big men hit just nine of 20 free throws.
"UMKC did a good job," Self said of the Kangaroos, fired up playing their opener under new coach Matt Brown, whose Princeton offense and sagging defense had the 'Roos within 10 points - 62-52 - with 8:41 left.
"We scored 80 points in a limited-possession game," Self added, noting his squad did something right.
As far as the overall number of 3s (22 of KU's 57 overall shots or 38.6 percent), Self had no complaints.
"I'd say 30 percent of our shots should be 3s. Last year we averaged 18 (3s) a game and were about 28 percent. When a team plays zone like that, you'll shoot a higher percentage of 3s."
Chalmers iced perhaps the biggest shot - a 3, of course - of the game. His trey with 8:14 left, answered a 4-0 UMKC burst that sliced KU's game-high lead of 19 points to 10.
Rodrick Stewart followed that with a hoop, and KU was safely in front once again.
"I feel confident," Chalmers aid. "I did a lot of work in the offseason, getting my jumper right. I had more repetitions, sometimes shot 500 or 250 or would make a quick 50 3s before practice. I do it during the season, too."
One thing he didn't do well Sunday was dunk. Chalmers missed a one-handed slam on a breakaway and also another dunk try on a night Arthur also missed two dunks (but was fouled on one attempt).
"I was a little bit too excited for that one," Chalmers said. "We've got a lot to improve on, especially on defense. We have to have the mind-set we make it hard on them to score."
KU will take a 2-0 record into Thursday's 7 p.m. home battle against Washburn in KU's second game of the round-robin Jayhawk Invitational.
"It was a good win tonight," the coach assessed. "It was good for us to sweat and play under some duress. We did poorly executing, blocking out and free-throw shooting (16 of 31), still we win by 23. We have to get better."
More like this story on KUsports.com