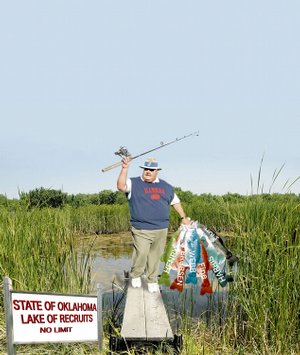 They can profess their love for Kansas University all they want, and it's probably genuine.
But the truth is, many of the Jayhawks' native Oklahomans are playing football at KU because competing in the Big 12 Conference meant leaving their home state.
Oklahoma State and Oklahoma, in most cases, didn't want them.
"We were all a little bit smaller, a little bit under the radar," defensive end Russell Brorsen said. "(Kansas) came in and took a chance on us."
It's an interesting twist that gets highlighted today, as No. 5 Kansas and Oklahoma State battle it out at Boone Pickens Stadium in Stillwater, Okla. - Brorsen's hometown, of all places.
Brorsen is one of 10 regular contributors for KU who grew roots in Oklahoma. Yet he and seven others were not offered scholarships by Oklahoma State. None were offered by OU.
Now, those 10 are coming back home touting contributions on a 9-0 team ranked fourth in the BCS standings. While the Cowboys are figuring themselves out and shooting for a bowl bid, the Jayhawks - with those smaller, under-the-radar players - are being whispered among national-championship contenders.
Funny how it all works out. One man's trash truly is another's treasure.
"We're very pleased with the kids we've gotten from the state," KU coach Mark Mangino said. "Many of them are playing a major role for the team this season."
The support
Stealing a Division I-caliber player out of a conference foe's backyard always is intriguing discussion.
Brorsen is such an example. A state champion wrestler and standout football player at Stillwater High, Brorsen wasn't offered by OU or OSU and signed with KU in 2005. He played as a backup tight end his true freshman season, moved to defensive end in 2006 and has been a regular starter ever since.
Today is his one chance to play in Stillwater his entire career, so you can bet he's ready for it.
"Of course," Brorsen said. "I get to go home, back to Stillwater, and play a football game. I haven't played there since high school."
Brorsen may have expected a long list of ticket requests from friends and families. Didn't happen.
"Not as many as you'd think," Brorsen said. "A lot of people in Stillwater already have tickets."
Most of the 10 - Brorsen, receiver Marcus Henry, tight ends Derek Fine and Bradley Dedeaux, linebackers James Holt and Dakota Lewis, kicker Scott Webb, cornerback Chris Harris, defensive end Jake Laptad and long snapper Kayl Anderson - expect to have fans in attendance cheering for them today.
Holt, for one, expects a lot of friends to be there, scattered across the 44,700-seat stadium.
"Tons of them," Holt said. "I come from a country town (Altus), and Oklahoma State's an agricultural school. Farmer John-type stuff."
The pipeline
Holt was one who received an OSU offer, according to Rivals.com. Dedeaux, KU's backup tight end, is the other.
All of the Oklahomans on KU's roster - there are 13 total - were recruited by KU defensive coordinator Bill Young, an Oklahoma City native and OSU grad.
"We've been real lucky with some players coming out of the Oklahoma area," Young said. "The high school coaching there is outstanding. I think football people don't realize how good of football it is. We've been fortunate."
The crop of Oklahomans is further proof of KU's ability to find diamonds in the rough and develop them to Big 12-ready talent - sometimes immediately.
Brorsen, Holt, Henry, Harris and Laptad all played as true freshmen, a startling number considering none of them was rated better than a two-star recruit out of high school by Rivals.
Though in-state talent always is a priority, and Texas remains ripe with Division I players, the Jayhawks don't see Oklahoma as being that far behind.
"I think some people underrate it," Young said. "We certainly don't. We think it's an outstanding place to recruit."
Choosing Kansas
When the in-state schools don't call, the lure of playing at Kansas partly stems from the promise that each player will get to play in Stillwater once and Norman once before his college career is up.
Scott Webb was a freshman kicker when the Jayhawks played in Norman. Today's game in Stillwater will be his last homecoming as a college player.
"It's been a few years since I've played down there," said Webb, a Tulsa native. "It's always exciting. You're going to see a couple of people in blue in the OSU student section. Those will be my friends."
Webb actually was one of the highest-rated prospects Kansas landed out of Red Clay Country. He was the 17th-best recruit out of Oklahoma his senior year in 2003 according to Rivals.
For most of the rest, it was a recruiting process that left a little to be desired. But now? It has been a college career that's been more fulfilling than anyone could imagine.
Call them small if you must. But they're not under the radar anymore.
"We weren't the five-star guys," Brorsen said. "We came in and worked hard and tried to do the best we can. It's worked out pretty well."