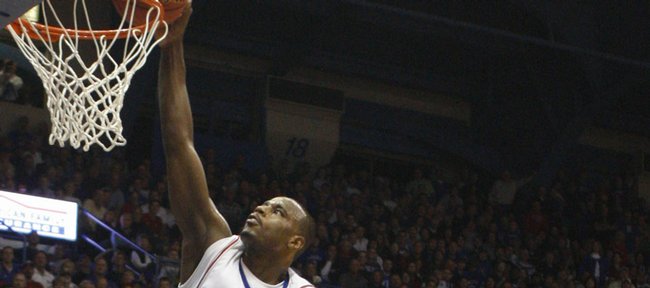 Darnell Jackson wears thick pads on both thighs underneath his shorts at Kansas University basketball practices and games.
"I don't get bruised. I get scratched a lot," the 6-foot-8, 250-pound senior enforcer explained.
The protective equipment didn't weigh him down any Friday night at Allen Fieldhouse.
Jackson resembled Michael Jordan in taking off past the free-throw line and skying for a vicious dunk - easily the most memorable basket - in the No. 4-ranked Jayhawks' 107-78 rout of Louisiana-Monroe.
Jackson came off the bench to cash a career-best eight baskets in nine attempts and score a career-high 21 points with four rebounds and four steals in 18 minutes.
"I shocked myself. I thought I was going to miss it," Jackson said of the Jordanesque slam. "Mario (Chalmers, who had assist on the play) told me he was going to set me up, and he did. He was counting my steps. He knows the way I set my feet."
Jackson was one of five KU players to score in double figures - Sherron Collins was one off a career high with 22 points despite being rested the final nine minutes - on a night the Jayhawks topped the century mark in an opener for the first time since a 122-point outing against Maryland-Baltimore County back in 1991. It tied for the most points by the Jayhawks in Bill Self's five years as coach. KU hit for 107 against Niagara in March of 2007.
"I thought Darnell was terrific," Self said. "He will be the first to tell you he had a couple of breakdowns defensively, but I thought he was really good."
Indeed, Jackson bemoaned the fact the Jayhawks allowed an opponent to shoot 50 percent or better for just the third time in the last 75 games and second straight game (to go with UCLA game in NCAA Tournament). ULM made 26 of 51 shots for 51 percent.
"We all need to buckle down on defense," Jackson said.
He was the best of KU's big men Friday. Darrell Arthur missed eight of 12 shots in scoring 11 points with six boards. Sasha Kaun hit for eight points off 4-of-6 shooting with five boards, and Cole Aldrich had six points off 2-of-3 shooting with six boards in 10 minutes.
Don't get the idea Jackson will be clamoring for a starting spot in the lineup, however.
"If I was 10th man, I'd be fine with that," the Oklahoma City native said. "If I played one minute with two rebounds and we won, I'd be happy. I'm just glad coach Self has confidence in me enough to put me in the game."
Jackson insists individual stats do not matter. His 21 points shattered his old point high of 13, which he had reached five times, most recently against Kansas State on Feb. 7.
"Twenty one points makes me feel no different than if I had zero points and 10 rebounds," he said. "Twenty-one points is 21 points. I have a long way to go - blocking out, post moves, footwork."
The Jayhawks won't have much time to enjoy this victory, which was made possible by sizzling 55.6 percent shooting, including 12 of 24 threes. They will meet UMKC at 7 p.m. Sunday at Allen Fieldhouse.
KU again will try to avoid the fate of some major programs early this season. Kentucky lost to Gardner-Webb, while Ohio State lost to Findlay and Michigan State to Grand Valley State in the exhibition season.
"It's been on everybody's mind, coaching staff, players. We've seen other teams fall to Div. II schools. We've seen it (watching TV) in our rooms and locker room on 'SportsCenter.' All those teams losing ... we didn't want to be one of those teams getting upset," Jackson said.
Not on Opening Night, thanks in large part to sixth-man deluxe Jackson.
More like this story on KUsports.com