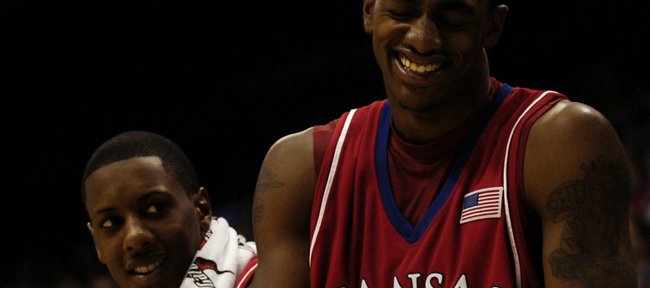 Those weren't smudge marks on Darrell Arthur's shoes Tuesday night at Allen Fieldhouse.
The black markings on his Adidas sneakers were autographs of his Kansas University basketball teammates next to numbers of the players.
Sixteen players.
"I had all my teammates sign my shoes. I was going to give them to my mom, but found out we had limited pairs. I think I'll keep them awhile. I'll probably wear them again," Arthur said with a grin.
Who knows? The shoes might prove good luck charms for the 6-foot-9, 225-pound sophomore, who scored a game-high 20 points off 9-of-15 shooting - with eight rebounds and two blocks - in the Jayhawks' 93-56 exhibition annihilation of Fort Hays State.
Arthur, who had 12 points and four rebounds in KU's exhibition-opening victory over Pittsburg State, hit some jumpers and also finished lobs off passes from Russell Robinson, who had 10 assists to go with seven points and six rebounds in 24 minutes.
Arthur's money move in his 22 minutes of work?
"Little dribble to the middle, spin back off my right shoulder off the glass. It's what I've been working on with coach (Danny) Manning," said Arthur, who indicated he also shoots 50 threes and a batch of free throws after each practice with assistant Joe Dooley.
"Our big men have to be consistent. We need a lot of scoring on the post," Arthur added. "We have to keep working down there."
The Jayhawk game plan included pounding the ball inside against the smaller Tigers of NCAA Div. II, who on Saturday lost by 36 points to Kansas State and three days later 37 to KU.
Darnell Jackson scored 10 points off 4-of-8 shooting with eight rebounds, while Sasha Kaun had nine off 4-of-8 shooting with eight boards and four turnovers, and Cole Aldrich had six points off 3-of-4 shooting with three boards and three blocks.
"We were trying to get the bigs going. We tried to get them involved early," said sophomore guard Sherron Collins. He had 12 points and an assist, while Mario Chalmers tallied 14 points and five assists to go with four turnovers on a night KU suffered 19 miscues to the Tigers' 25.
Nobody was more involved than Arthur.
"He was pretty good tonight. He got touches early and did a great job," Collins noted.
Coach Bill Self believes Arthur is much improved from his freshman year, when he averaged 9.8 points and 4.7 boards a game.
"I think the game is slowed down a little for him. I think that's the biggest difference," said Self, whose Jayhawks outboarded the Tigers, 47-31, after getting outrebounded by three by Pitt State. "Even though he can still get sped up. He made a couple of plays today that he hasn't been making. He tried to get a step closer a couple of times instead of just elevating and shooting over 'em. He played to his left shoulder too much when he could have played to his right shoulder.
"He's not a guy that just naturally by being in the game like Wayne (Simien) he can go get you 20, just by natural scoring. But he's a guy who has enough moves, enough athletic ability that he can score 20 any night, but I don't know if he thinks that way. I don't know if he thinks, 'How can I score every possession?' Wayne thought that way, and Darrell doesn't. He has to get more of a scorer's mentality. If he does that he could be a guy that averages an awful lot of points.
Arthur sure will try.
"I'm trying to attack the glass more," the Dallas native said. "I think I'm more aggressive this year just because I'm a year older and am involved in the offense a little more comfortable than I was last year."
His shoes felt mighty comfortable Tuesday night, too.
More like this story on KUsports.com