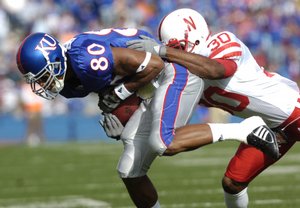 Dezmon Briscoe, a Kansas University freshman football player and one of the Jayhawks' leading receivers, will appear in court at the end of the month on charges of theft by deception, less than $1,000.
According to court filings last week, Briscoe, of Dallas, tried to steal merchandise from Wal-Mart. The district attorney's office, citing the case's juvenile status, had no comment.
Briscoe is being charged as a juvenile because the theft is alleged to have occurred in June before Briscoe - who was in Lawrence preparing for the football season - turned 18. Many KU athletes come to Lawrence over the summer to take part in the athletic department's summer bridge program, which helps athletes adjust to the college academic and athletic environment.
Neither Briscoe nor the athletic department had any comment Wednesday afternoon, except to say the department has been aware of the alleged incident since June.
Briscoe has scored seven touchdowns and has racked up 322 yards on 26 receptions in nine games this season. His seven TD catches are a team-high, and three of those came in last Saturday's 76-39 win over Nebraska at Memorial Stadium.
In addition to Briscoe, his mother Shannon Greene has been ordered to appear in Douglas County District Court at 4 p.m. Nov. 29. That would be after that last game of KU's regular season, but before a possible Big 12 Championship game or bowl appearance.
More like this story on KUsports.com