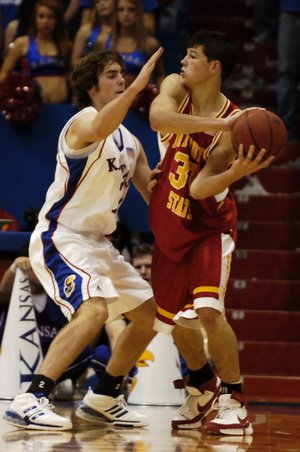 It's time to see if all that practice time has paid off for Kansas University's basketball players.
The Jayhawks, who have been working out on an almost daily basis since Oct. 12 - with just one exhibition game to break the routine - will play three games in six days.
"Guys are ready to play some games. We've been practicing forever. To get to play three games is great," senior guard Russell Robinson said.
The busy slate begins with tonight's exhibition against Fort Hays State. Kansas will open the regular season against Louisiana-Monroe on Friday, then play UMKC on Sunday - all three 7 p.m. tips in Allen Fieldhouse.
KU already has played one tune-up game - last Thursday's 94-59 rout of Pittsburg State.
"I'm looking forward to it. I think all the guys are. We've been practicing for three weeks now," freshman guard Tyrel Reed said. "It will be different. Three games ... you've got to mentally prepare for each game, different opponents one at a time."
These three games could test the players' early-season conditioning.
"We are all excited to get out there again. I know the young guys are," freshman center Cole Aldrich said. "It's going to be a blast. At the same time we have two games in three days. It's going to be tiring on the body. We'll work to get through it.
"We love playing games," added Aldrich, who had eight points and six boards in 17 minutes against Pitt State. "We can't get enough games out there, (but) practice is where you get better. We definitely need our time in practice."
KU coach Bill Self said he wasn't sure what he'd see on the court in the next six days.
"Whenever you get ready to start the season you are always nervous: 'Do we have enough stuff in?' That kind of stuff," Self said. "That's why there are so many upsets early in the season, in large part because you can't prepare for what other people do, because they haven't shown you how they play yet."
He said he'd like to see improvement in several areas tonight.
"I'd hope we'd build on last week, do some things better than we did (against Pitt State), i.e., rebounding," Self said. KU was outboarded by PSU, 36-33 on a night the Jayhawks made just 19 of 33 free throws.
"Maybe having different combinations play better. (Today) is important, but all it is, is preparation for Friday."
¢Teahan talk: Self, who will red-shirt sophomore Brady Morningstar this season, was asked if he'd red-shirt freshman walk-on guard Conner Teahan, who scored two points (1-of-4 shooting) with an assist in five minutes against the Gorillas.
"I haven't talked to Conner about red-shirting. I'm not saying we wouldn't talk about it. That is something that hasn't even been mentioned," Self said.
"The way he can best help this team is come in and be able to knock down shots. Still there's a lot more (to playing) than knocking down shots. All players have to learn to play without the ball as much as with the ball. He is one guy ... I do trust his shot."
Self envisions Teahan making an impact at KU.
"The reason he didn't get a scholarship is we didn't have any available," Self said of the K.C. Rockhurst graduate. "We still wanted him to come here. He put himself in a position where he thinks he can impact the program over time. I certainly won't disagree with that from what I've seen so far. He'll be a good player for us before all is said and done."
¢Charities: The Jayhawks would like to fare well from the free throw line tonight and every night.
"Yes we are working on free throws more. It's one thing that has haunted us," senior guard Robinson said. "It's more mental than anything. We've got to get in and knock down some free throws."
¢Halloween revisited: Aldrich, KU's easygoing 6-11, 240-pound rookie from Bloomington, Minn., as promised, went trick-or-treating on Halloween, his birthday.
His costume?
"Just some crazy mask. I was jumping out, scaring people," Aldrich said with a smile.
¢Not this week: Brandon Rush continues to practice with contact as he makes a steady recovery from June 1 ACL surgery.
"He'll (continue to) wear a yellow shirt (at practice). He would wear red, but since our jerseys are blue and red, there's not much sense putting him in a red shirt," Self said.
The yellow shirt is designed to remind players to not unnecessarily drill Rush during scrimmaging.
"The doctors said he's doing fine," Self said.
What are the odds of Rush playing this week?
"Zero," Self said.
¢Come back soon, Lute: Self said he wished the best for University of Arizona coach Lute Olson, who is on a leave of absence from the Wildcat team. Self was asked if he hoped Olson would make the trip to Lawrence for the KU-UA game on Nov. 25.
"Absolutely. I like Lute a lot," Self said.
More like this story on KUsports.com