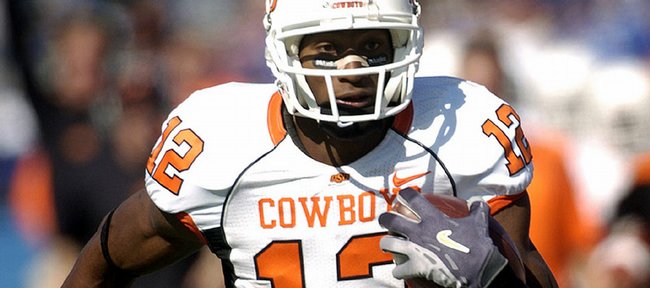 The Oklahoma State media were shocked.
After the Cowboys beat Kansas State, 41-39, on Oct. 20, a few players filed out of the locker room to talk to reporters as they do every week. But this time, standout wide receiver Adarius Bowman emerged, plopped down and answered his share of questions.
Stunning.
Bowman, you see, had been avoiding reporters for six weeks prior to that day, an odd move for a talkative personality who has a Web site dedicated to his greatness.
"I had to go to work, man," Bowman told the Tulsa World that day. "A lot of stuff (is) different about me. I just changed my whole demeanor and put it all toward the team."
As he said this, Bowman had "Big 12" shaved into his head. So that outgoing side of him wasn't all gone.
But it seems, as Oklahoma State prepares to play No. 5 Kansas University on Saturday, that Bowman is back down to earth. The senior wideout undoubtedly was swept away by the stardom that followed him after a phenomenal game against KU a year ago. Bowman had 13 catches for 300 yards and four touchdowns against the Jayhawks in 2006, prompting KU coach Mark Mangino to mutter "he gets my vote for the Heisman."
Bowman seemed to be the perfect combination of talent and make-up to pursue a Heisman run in 2007, but it fell apart about as quick as it started.
It was a Friday night game at Troy on Sept. 14. There, Bowman had seven catches for 57 yards, but dropped several easy passes in front of a national television audience. Worse than that, Oklahoma State lost to the Sun Belt foe, 41-23, to drop to 1-2 on the young season.
Bowman zipped his lips after that game. He hasn't been on a short list of Heisman candidates since.
"I felt like I had too many distractions," Bowman told the Tulsa paper. "We needed to put a lot more focus on playing rather than trying to hear everything else that's been going on."
Such as bowman12.com, a Web site OSU's athletic department launched to bring more attention to the Chattanooga, Tenn., native. Or the Cowboys' media guide cover, which has Bowman front-and-center, sporting a box cut and holding out an iPod with pictures of him on the screen.
With that hype pretty much in the past, Bowman is just buckling up and playing now - something OSU coach Mike Gundy likes.
"Adarius has been a good player for us the last couple of years, whether he's catching the ball or if he doesn't have the ball in his hands," Gundy said. "He's a really good blocker for us. He averages about six knockdowns a game."
Bowman currently is sixth in the Big 12 with 57 receptions, and fourth in the league with 910 receiving yards. He's still in line to put up monster numbers, and his 6-foot-4 frame along with the speed and ability will make him some money in the NFL next year.
Texas coach Mack Brown was impressed, after Bowman had seven catches for 108 yards and a score in a 38-35 loss to the Longhorns on Saturday.
"Bowman was blocking our linebackers," Brown said. "He's tough. He's fast. I bet he's 230 pounds. He's just an amazing player. : He has to be as good as any receiver in the country."
Jayhawk fans don't need the assurance. Even though Bowman had just 308 yards combined in his next five games after the Lawrence visit, that performance against KU was enough to give him some sort of lifetime achievement award.
Bowman probably will have another big role against Kansas on Saturday in Stillwater, Okla. Like the Jayhawks, Oklahoma State is versatile enough on offense to attack the opposition any way it sees fit. With KU's rush defense numbers as good as they are, the Cowboys could choose to air it out.
With the newfound focus, Bowman will be ready. All the hollow hype is behind him, and he is considered just one of the parts now.
It seems to be working better that way.
"Between him and (tight end Brandon) Pettigrew and (running back Dantrell) Savage and the other tailbacks and the quarterback, we just have to use which one the defense gives us," Gundy said. "At times they take the throwing game away, and we run it. If they take the running game away, we try to throw it.
"We just do the best we can to spread it around with what they give us."
More like this story on KUsports.com